| | |
| --- | --- |
| | The Words of the Sun Myung Moon from 2012 |
Letter from Korea -- True Father's Universal Seonghwa
Katsumi Ohtsuka
September 6, 2012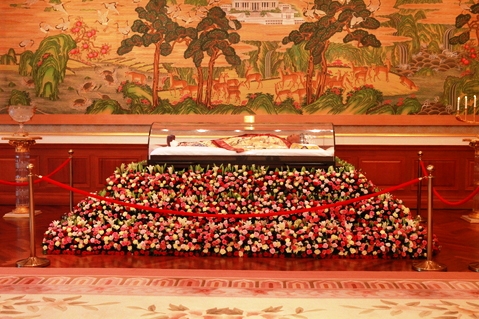 I would like to share with you all about what is happening in Chung Pyung for True Father's Universal Seonghwa Ceremony.
The period to give our condolence began today, September 6th in Chung Pyung. A large number of members started to gather at Chung Pyung training center. Since 50,000 people are expected to come, the road to Chung Pyung training center, which has been under construction, was specially paved for the guests from abroad. The police stated to control the traffic. At this first day, True Parents' relatives and elders were blessed to have a chance to attend True Parents at Cheon Jeong Gung. This morning at 8 o'clock, True Parents' relatives, 36 family members and regional directors gathered at World Peace Center to go up to Cheon Jeong Gung where True Father's Holy Body is. The Altar of Universal Seonghwa Ceremony for True Father was covered by flowers and flowers of condolence from the President of Korea and other nation worldwide were decorating the Altar. After offering flower to True Father in front of the Altar, we all visited Cheon Jeong Gung by bus to offer our attendance and love for True Parents.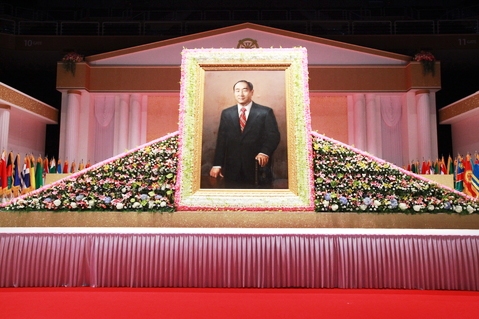 The room where True Father's Holy Body has been kept is the Big Hoon Dok Hae room and was filled with serene and sacred atmosphere. True Father is in the holy robe which was used for the honorable entry to Cheon Jeong Gung in 2006. On True Father's head, the crown of the King of Kings of Peace was shining brightly. True Mother was sitting beside true Father as usual in white Korean traditional wear, Chima Chogori, and received our condolences. Kook Jin Nim and his wife with Jyeong Jin Nim received our greetings on the left side of the coffin. We all could not help but shedding tears with sorrow and deep appreciation. True Father has been our life and all. We never forget His total dedication to God and limitless True Love for all humankind. The Truth He disclosed is eternal and His heart was filled with the heart to console His father: God. Keeping our personal memories in mind, we gave our bow to True Father from the bottom of our heart.
This period of condolence will continue till 13th, and the Universal Seonghwa Ceremony will be conducted on 15th. True Mother is scheduled to speak to members on 17th morning.