| | |
| --- | --- |
| | The Words of the Sun Myung Moon from 2012 |
Report: Rev. Moon's health condition worsens
Cheryl Wetzstein
August 31, 2012
The Washington Times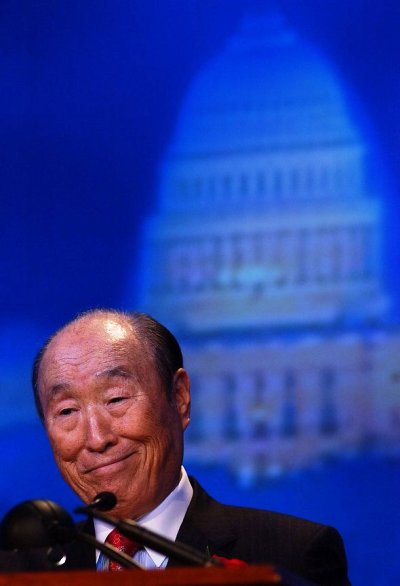 Unification Church head and Washington Times founder the Rev. Sun Myung Moon has been moved to a private complex in Korea where he can be surrounded by family as his health has taken a turn for the worse, a Unification Church leader said. The 92-year-old evangelist has been in intensive-care treatment for pneumonia at Seoul St. Mary's Hospital since Aug. 13.
"For a while, it appeared that [Rev. Moon's] condition was improving; however, during the last few days, the doctors reported that he has entered an irreversible stage of his condition," Joon Ho Seuk, international vice president of the Unification Church, said in an Aug. 28 memo to members that was made public Friday in Seoul.
"In reality, he is currently sustaining his life with the assistance of various machines" and "we have reached the point at which this stark reality cannot be reversed," Mr. Seuk wrote.
The religious leader's illness has led to loss of kidney function and deterioration in the liver function, Mr. Seuk wrote. "He can no longer sustain his life without the supply of oxygen artificially produced by a machine."
This week, Rev. Moon's wife, Hak Ja Han Moon, and several of the couple's children and church elders made the decision to transfer Rev. Moon to Cheongshim International Medical Center, a hospital in the Chung Pyung church complex, according to church officials.
Rev. Moon's primary doctors, a respiratory specialist and veteran nurses will be on hand to care for him around the clock, as well as Mrs. Moon and other members of his family, the statement said, and specialist has been brought in from Japan to assist in the treatment.
Rev. Moon, one of the most recognized Koreans in the world, founded the Holy Spirit Association for the Unification of World Christianity, commonly known as the Unification Church, in 1954, and founded The Washington Times in 1982.
Church officials say the Unification Church now has a presence in over 200 countries and millions of followers worldwide. Among the church's other interests are hospitals, schools and universities, a newspaper in South Korea, Manhattan's New Yorker Hotel, and properties in North Korea, where the Reverend Moon was born.
Rev. Moon's last public appearance came in July, when he participated in the ceremonies opening and closing the Peace Cup soccer tournament in South Korea sponsored by the Unification Church.