| | |
| --- | --- |
| | The Words of the Sun Myung Moon from 2012 |
Rev. Sun Myung Moon's Condition Stabilizing, Say Unification Church Officials
Ariana Moon
August 17, 2012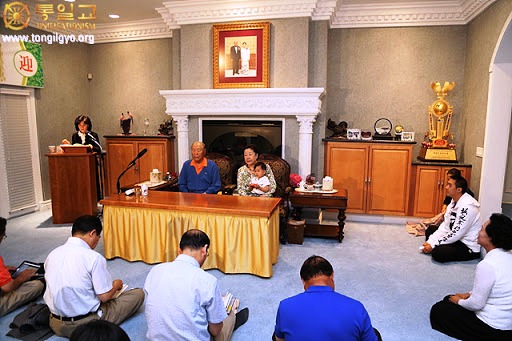 Sun Myung Moon and Hak Ja Han – June 30, 2012
News of Unification Church Founder Rev. Sun Myung Moon's illness, which shook Unificationists around the world earlier this week, has moved thousands to rededicate their faith and set conditions that involve prayer vigils, fasting, bowing and scripture-reading. Rev. Moon, known as "True Father" by church members, was reported to have contracted pneumonia and checked into the intensive care unit of St. Mary's Hospital in Seoul on August 14, 2012.
Yesterday, August 16, 2012, Vice President of the Unification Church in Korea Dr. Joon Ho Seuk delivered in what is his second letter to the worldwide movement the welcome news that Rev. Moon's breathing had stabilized.
Rev. Joshua Cotter, vice president of the Unification Church in the U.S. said: "Rev. Sun Myung Moon's family and his worldwide family of faith are encouraged and giving thanks upon hearing the news that his breathing has stabilized. Nonetheless, our brothers and sisters continue to pray and fast for his quick recovery at St. Mary's Hospital in Seoul."
"We thank the larger family of concerned clergy of all Christian faiths who also have given notice that Father Moon is in their prayers as well."
"This morning, I was informed by the hospital that True Father's respiration is more stable than it was yesterday, and that his lung function is in the midst of gradual recovery," wrote Dr. Seuk. "True Father is still in a deep sleep for treatment, but I believe True Father is aware of the fervent Jeong Seong [a term created by Rev. Moon meaning "true and sincere devotion"] and prayers of the entire worldwide Unification Family, beginning with those of True Mother [Rev. Moon's wife] and the True Children [Rev. Moon's children]. I firmly believe True Father will recover."
In his letter, Dr. Seuk thanked members worldwide for offering Jeong Seong for the sake of Rev. Moon's return to full health in the form of prayer vigils and fasting conditions. "We have always been receiving from True Parents; now we pray that our small Jeong Seong can reach Heaven and be used to bring about True Father's swift recovery," he said.
Rev. Moon's wife and children have gathered at the hospital to pray by his side. Patients admitted to the intensive care unit must be kept absolutely at rest, and it is therefore not possible to touch or embrace the patient, according to Dr. Seuk. However, Mrs. Moon and her children have gained doctors' permission to massage Rev. Moon's legs, arms and other parts of his body, which Dr. Seuk says has "accumulated the toils of ninety-two years of the providence," to the extent that it assists his treatment.
Rev. Moon, himself a firm believer in oriental massage therapy, recently opened the first school of oriental medicine in Nevada, the Wongu Peace and Happiness University (WPHU), which was approved by the States of Nevada Board of Oriental Medicine on April 18, 2012 and is welcoming prospective students for the upcoming Fall semester, starting October 1, 2012.