| | |
| --- | --- |
| | The Words of the Sun Myung Moon from 2012 |
You think my words are good, but actually they are scary
Sun Myung Moon
May 2, 2012
Hoon Dok Hae
Cheon Jeong Gung (3. 12 HC)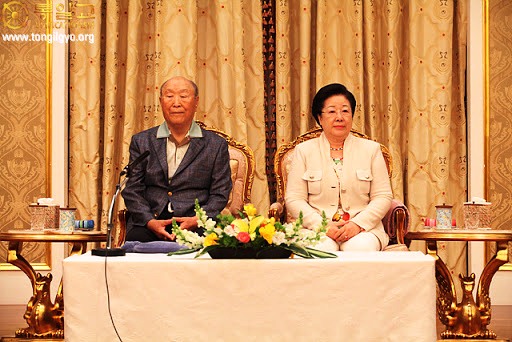 Sun Myung Moon and Hak Ja Han April 25, 2012
Note: These notes are taken from a Peace TV video clip. They cannot be published as definitive texts and should never be used in the future as an "official" publication of True Father's words. However, they do provide a good idea of the "spirit" of the message. -- Rev. Katsumi Kambashi
Mrs. McDevitt read Father's speech from the Sermons of the Rev. Moon, and after the reading Father said the following:
"When you listen to my speech, you think my words are good, but actually they are scary. Can we, who are going the scary path, fight against each other? We should help each other. We Unificationists have only one place to go, not two. Omma! ('Yes.') Do you have anything to ask people here? ('Let's start to sing.') It must be the song of gratitude."
Rev. Pyeong Rae Moon sang "돌아와요 부산항에." (Come Back to Busan) When Rev. Seon Jo Hwang sang the last words of "허공" (The Air) which are '허공속에 묻힐 그 약속 (Promise which will be buried in the air)," Father asked the participants, "What is the promise?" Dr. Peter Kim and his wife Mrs. Phillys Kim sang "행복의 샘터," (Fountain of Happiness) and Father joined their singing. Then Mrs. Phillys Kim alone sang "노란 샤쓰의 사나이." (Man of the yellow dance)
True Parents together sang "산유" (Lactation) and "뒷동산의 할미꽃." (The Pulsatilla Dwitdongsan) When they sang the second verse of "뒷동산의 할미꽃," Mother proposed to change the lyrics from 할미꽃 (grandmother flower) to 할아버지꽃 (grandfather flower). After the song, Father said, "There is nobody who likes grandfather, isn't there.' Mother said, "When you go down from here where grandfathers take flocks of sheep, you can see the grandmother flower is now blossoming."