| | |
| --- | --- |
| | The Words of the Sun Myung Moon from 2012 |
You must be centered on your family clan
Sun Myung Moon
April 27, 2012
Hoon Dok Hae
Cheon Jeong Gung (3. 7 HC)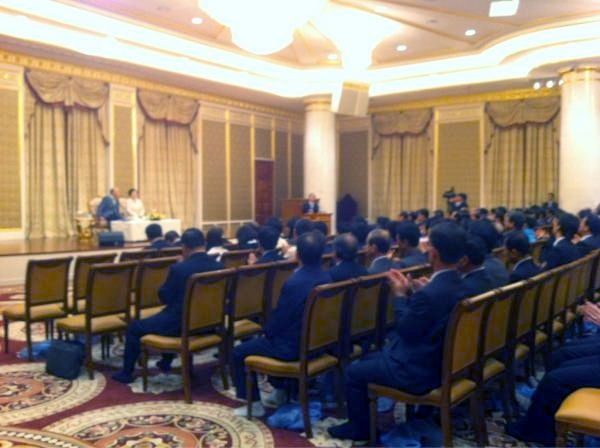 Sun Myung Moon and Hak Ja Han April 25, 2012
Note: These notes are taken from a Peace TV video clip. They cannot be published as definitive texts and should never be used in the future as an "official" publication of True Father's words. However, they do provide a good idea of the "spirit" of the message. -- Rev. Katsumi Kambashi
Mr. Sang Soo Lee (Father's assistant of the Cheon Jeong Gung) made a report.
"At 3;00 a.m. yesterday, Father asked me 'Where did your family originate?' I said, 'the Lee clan from Gyeongju.' Then Father continued to ask leaders there the same question and chose 12 people such as Mrs. McDevitt, Rev. Hwang, and Rev. Og, who are from different family names and tribes. Then Father added the Moon family and Han family, and said, 'the Choi family must be added.' So 15 family clans were selected. Then Father asked all the names of the previous presidents of the Korean church. There are Rev. Hyo Won Yu, Rev. Young Whi Kim, Rev. Jae Seok Lee, Rev. Hwan Choi Hwang, Rev. Seong Pyo Hong, Rev. Chung Hwan Kwak, Rev. Sun Jo Hwang, Rev. Chang Shik Yang, and Rev. Jun Ho Seuk. Also Hyung Jin Nim was once the president of the Korean church, which makes for a total of 10 presidents. Father said 'That number is the same of the previous President of Korea.'
Then Father talked about the workshop. Father said he would hold the workshop and with that condition he wants to bring as many as people with him no matter how big of an indemnity condition he has to pay. Father said the workshop this time is really important. Father also asked us to raise our children well. Then Father said, 'I thought you guys are people I just can throw away on the street, but due to the merits of your ancestors, you are here today.'
Yesterday Father participated at Hoon Dok Hae without having slept. Even this morning, from 1:00 a.m. Father has been busy preparing for the Foundation Day.
I would say that I am following Father, rather than I am attending to Father. From Hawaii, Father continued to emphasize 입적 (入籍: registration.) In Hawaii, Father talked to the leaders for two nights regarding it, saying, 'You as the leaders must become the model for our members. After you register yourself, you can follow me and then the members will do the same.' Then Father seriously told them not to go to Las Vegas with him, but to go back their hometown to take responsibility for their tribes. Father also said with a single condition that we, at least, have been following Father until now, Father wants to bring us to where he goes. But Father said our standards are so low and so Father, by having the workshop and registering ourselves, wanted to have a chance in front of God to ask Him to let us go with him."
Then Father spoke with his eyes closed. The following are some of his words.
"You must be centered on your family clan which represents your relationship with ancestors, and so you shouldn't do things as you like. Heaven provided the people attending closely to (True) parents who are necessary and have merits of their ancestors. I added (to the list of the 12 tribes) those who currently have important missions and those who were necessary in the providence. (Then he opened his eyes.) Heaven connected the necessary people centering on myself who is responsible for the providence."
"At this last stage of the providence, I must choose 12 tribes. The representatives of all over the world come here and their results must be fairly and mercilessly evaluated. There are the tribes of the leaders that Heaven chose, and together with the consideration on the tribes of the senior Unification Church members in the spirit world, 12 tribes will be chosen."
"Centering on the 12 tribes, Unification Church members must decide the position as ancestors centering on True Parents by forming the realm of the Tribal Messiahship, not only in Korea, but also in all the 387 Abel (194) and Cain (193) nations in the world. 3,000 people have already been educated by 172 couples. Centering on the 3,000 people, 12 tribes on a national level must be formed. Tribal Messiahs and the ancestors under the name of True Parents must be chosen. By D-Day, all levels such as family, nation and the world must be connected centering on True Parents through this and everyone in the world must be educated. 3,600 will be educated here in the beginning. How many months left before D-Day? ('10 months') We have enough time to do that."
"Parents must be responsible for and educate the children under seven years old. You have all the textbooks and teaching materials. Babies in the womb must be educated too."
"Receiving the royal seal of True Parents, you will be registered and then True Parents can't kick you out."
"True Parents' birthday, their wedding day, and the registration of the whole will take place at the same time on the same day."
"Not only I, but also all Unification Church members in the world must practice 사생결단 전력투구 (死生決斷 全力投球: Give one's all risking one's life)"