| | |
| --- | --- |
| | The Words of the Sun Myung Moon from 2012 |
You need to cooperate with me
Sun Myung Moon
April 18, 2012
Hoon Dok Hae
Cheon Hwa Gung, Las Vegas (3. 28 HC)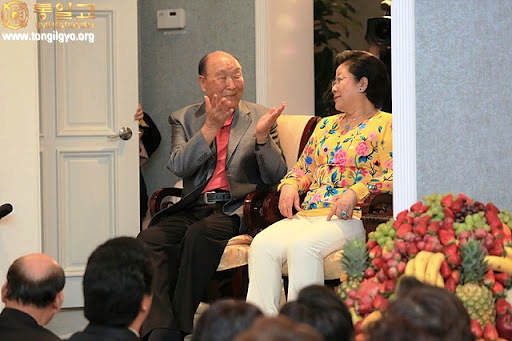 Sun Myung Moon and Hak Ja Han April 6, 2012
Note: These notes are taken from a Peace TV video clip. They cannot be published as definitive texts and should never be used in the future as an "official" publication of True Father's words. However, they do provide a good idea of the "spirit" of the message. -- Rev. Katsumi Kambashi
Mrs. McDevitt read Father's speech from the Sermons of the Rev. Moon # 48, titled "Main Cause and Plan for Unification (통일의 요인과 방안)." The following are some of Father's words after the reading.
"I have to go soon (to Korea)."
"You need to cooperate with me in order for you to be useful in my path. But if you can't contribute and yet still appear in public, you will only give damage. Don't wait for me in advance when I didn't call for you. Such a person only wants to use of me."
"When I have something good, I won't talk with, for example, George Bush about it. In the presence of our members, I would talk to my grandchildren, 'I will embrace and love you more than you do.' Only those who are in the same blood lineage can participate and have the right of inheritance. You should know that."
"People whom I loved in my youth were all gone. My father, my mother, my brothers and sisters… There is only one left, my youngest sister in North Korea. She had a twin elder brother, Yong Gwan (용관). Both caught chickenpox at the same time, and she survived but he passed away. He truly loved my youngest sister. He was 7, 8 years old then and said to me '형님, (brother) I think I will have to die soon for my younger sister." I said, 'Don't say such a thing carelessly.' My family went through such a course."
Rev. Yang read Rev. No Hee Park's report on the successful performance of the Universal Ballet which took place in Taiwan in March.