| | |
| --- | --- |
| | The Words of the Sun Myung Moon from 2012 |
True Parents sang
Sun Myung Moon
April 8, 2012
Hoon Dok Hae
Cheon Hwa Gung on 3.18 H.C.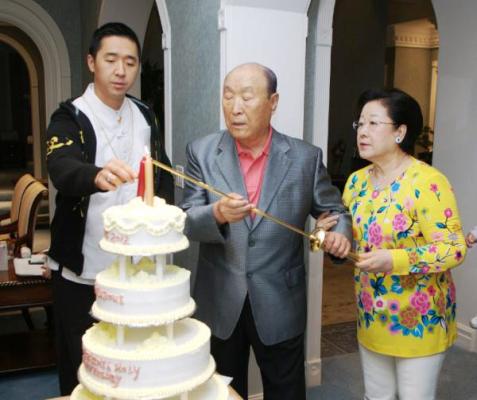 Sun Myung Moon, Hak Ja Han and Hyung Jin Moon April 6, 2012
Mrs. McDevitt read Father's speech from the Sermons of the Rev. Moon #47, titled "Tasks that the Lord, who will come again, must do."
After the reading, Mrs. McDevitt sang "사랑이 메아리 칠 때," (When Love Is Echoed) Rev. Yang Hur sang "한 많은 대동강," (Taedonggang) and all the participants sang together "Glory Hallelujah" in Korean. Then Rev. Jeong Sun Jo sang "처녀 뱃사공". (Virgin Voyeur) Father, who sometimes cradled Shin Pyeon Nim, listened to the songs earnestly putting his head down with his eyes closed.
True Parents sang "농군의 노래" (Farmers of the song) and everybody joined them in singing. After the song Father asked Mother to kiss his chin and the meeting was over ending in applause for them.