| | |
| --- | --- |
| | The Words of the Sun Myung Moon from 2012 |
Every time Father caught a fish, they said "Father, Mother, I love you"
Sun Myung Moon
February 20, 2012
Hoon Dok Hae
Cheon Hwa Gung, Las Vegas on 1. 29 by the H.C.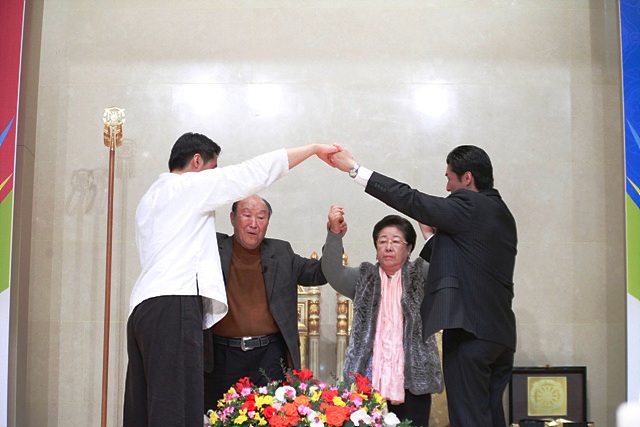 Sun Myung Moon, Hak Ja Han, Kook Jin Moon, and Hyung Jin Moon January 23, 2012
Note: These notes are taken from a Peace TV video clip. They cannot be published as definitive texts and should never be used in the future as an "official" publication of True Father's words. However, they do provide a good idea of the "spirit" of the message. -- Rev. Katsumi Kambashi
Mrs. McDevitt read Father's speech from Sermons of the Rev. Moon #42, titled "Looking for the Path of Restoration." After the reading, True Father left for the Temple Bar Marina on Lake Mead to go fishing.
In the video clip, Rev. Yang Hur (World Mission Headquarters) said that the biggest fish they had caught recently was a 29-cm long carp. Rev. Man Oong Jo (Family department of Cheon Bok Gung) said the spot they were fishing on that day had been newly pioneered, where they had given bait for two days and started to catch carp for the third day.
On the boat Father constantly gave instructions on how to give bait and when to roll up the fish, and as usual the first fish Father caught was released back into the water. Father took breakfast on the boat and drank Kona coffee with all on the boat such as Rev. Ki Hun Kim, Mrs. Cotter, Rev. Pyeong Rae Moon, Rev. Jeong Sun Jo, Rev. Hur and Rev. Jo.
Every time Father caught a fish, they took a photo holding it saying "아버지, 어머니, 사랑합니다," [Father, Mother, I love you] and when they didn't say that, Father initiated it.
In the video clip, Mr. Sang Soo Lee (Father's assistant from the Cheon Jeong Gung) said the night before, Father had stayed up all night without a sleep. He also said Father, concluding Hoon Dok Hae at 5:30 a.m. that day, had said they had to arrive there before dawn. The Temple Bar Marina (Lake Mead) is at one-hour and half drive from the Cheon Hwa Gung, and according to Mr. Lee, when Father needs to pray for the issues in the world, he comes to that place.
Later, when they said 아버지, 어머니, 사랑합니다." [Father, Mother, I love you] for the photo, Father changed "사랑합니다" [I love you] to "참사랑합니다," [Is true love] and they said it accordingly.
In the video clip, Rev. Pyeong Rae Moon, the National Messiah of Paraguay said that the Hoover Dam now represents the Oceanic Providence, one of the purposes of which is for resolving the food problem.