| | |
| --- | --- |
| | The Words of the Sun Myung Moon from 2012 |
What connects the religious and the martial arts worlds?
Sun Myung Moon
February 13, 2012
Hoon Dok Hae
Cheon Hwa Gung, Las Vegas on 1. 22 by the H.C.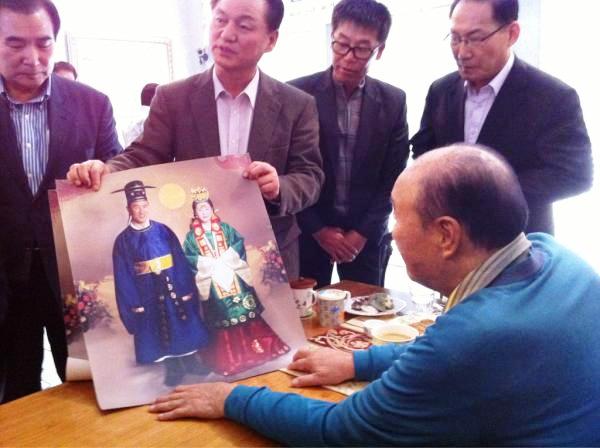 Note: These notes are taken from a Peace TV video clip. They cannot be published as definitive texts and should never be used in the future as an "official" publication of True Father's words. However, they do provide a good idea of the "spirit" of the message. -- Rev. Katsumi Kambashi
Mrs. McDevitt read Father's speech from Sermons of the Rev. Moon #42, titled "Test and Overcoming Reality (시련과 현실극복)."
"What is the ideological cooperate body (사상적 결합체) that connects the religious world and the martial art? It is not the arms nor guns. It is not a woman nor man. It is not animals. I have a dream for which I have invested all of myself forgetting eating and drinking. I think something that stimulates me has always been with me and therefore, I have been able to do it."
"From now on where will we go? There is the cultural sphere of Christianity and that of Unification Church, that is, Old and New Testaments and the Completed Testament. (There will be) no Old and New Testaments, nor the Completed Testament. Where do they settle down and continue? I have realized it is Korea and Korean people."
"I have visited European countries and the world but there is no country like Korea. But I have been kicked out because of Christianity. I failed because of Christianity."
"When I came back home, my elder sister asked me 'Where did you go?' and gave me something she hadn't eaten in front of parents and spared for me. It was more tasteful and interesting to eat such food than foods on the big table at the feast. Anyone who lives in laughter and dance, or even is in the position of the King, wouldn't be able to know the taste and joy of the poetic deep heart that I felt that time, I don't think Korea will fail because I can't afford to fail."
"I am doing the servant job in order for you to become the owners of Heaven."
"From now on, there is no history according to the solar calendar. Heavenly calendar must be used."
Father talked many heartfelt episodes from his childhood in which he explained how he always shared things with people.