| | |
| --- | --- |
| | The Words of the Yong Family |
The Taiwanese members have won the respect of a once hostile government
Chong Sik Yong
October 2011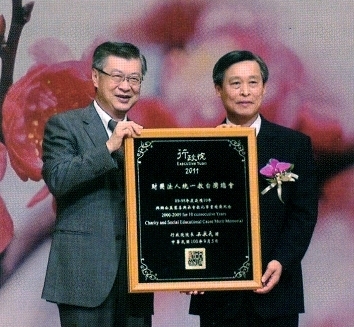 Marking the 100th anniversary of Taiwan, Taiwanese vice premier Sean Chen presents Taiwan national leader Rev. Ker Shung Lee with an award for our church movement's contributions to Taiwanese society.
Each year, over a ten-year period, the Unification Church in Taiwan had been recognized by the Taiwanese government's Ministry of the Interior for its contributions to Taiwanese society. On the basis of that consistent effort to serve society, this year, the church in Taiwan received a special award for excellence from the prime minister on behalf of the president. In the past, this special award has been won by well-established religious groups, such as various Buddhist organizations, but this time the Unification Church, which has but a brief history in Taiwan, was chosen to receive it.
Rev. Chong Sik Yong, Asia continental director, reported to True Parents, "The Unification Church in Taiwan... received this special award from the prime minister, James Cherng Tay Hsueh, on September 5, at an event commemorating the one hundredth anniversary of the founding of Taiwan."
We have achieved many successes in the Taiwanese church; in particular our foundation in society, established through the Pure Love Movement and our Ideal Family Campaign, is recognized by the government and other social organizations. Thus, we are making significant contributions to our society and nation. Taiwanese President Ying Jeou Ma has attended our events and has even given congratulatory remarks. This shows that UPF, through which our work for peace is carried out, has become well-rooted as an organization and is recognized by the government and other NGOs.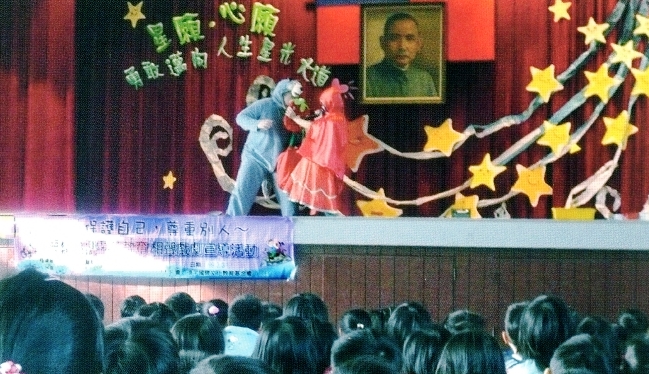 The Pure Love Alliance in Taiwan promotes pure love and the prevention of domestic violence and the use of drugs by performing comic skits in schools throughout the country. Two million students have been reached through this effort.
I believe we were able to receive the special award for excellence thanks to the victorious fortune and work of True Parents on both the physical and spiritual levels.
We have a number of church-related NGOs that have been making a contribution to society over the past ten years, through social activities. These include giving tuition to needy children after school and advocating purity through comic skits at schools around the country (Pure Love Alliance), carrying out an anti-drug-abuse and AIDS prevention campaign in schools nationwide and through a web site and empowering women through education (WFWP), convening national and international seminars on social issues (UPF, PWPA), holding a Pure Love Campaign (FFWPU), and holding the Mister and Miss University Beauty Pageant (International and Cultural Educational Foundation, CARP).
The Ministry of the Interior understands these NGOs are church-related. The church is of course witnessing in order to find new members, but the social organizations (NGOs) are basically applying the principle of living for the sake of others. All the board members in various NGOs understand our background as Unificationists, and most of them try to understand us through attending a Divine Principle workshop or weekly lectures. In general, the various board members are supportive over what we have done for society.
The Unification Church movement began in Taiwan when True Father established the holy ground here on September 28, 1965. In June 1967, a Japanese missionary came to pioneer the nation. In 1975, however, the church was banned by the government from carrying out any activities in part because of the absence of Unification Church members from their respective schools. During the sixteen years of our prohibition, we had inexpressible difficulties, because we could not hold any kind of meeting, let alone go out witnessing publicly. The members did not give up, however.
Finally, in 1990, we received the government's approval to carry out church activities again. We are free to testify to the world about True Parents and carry out activities in the open, and we are truly grateful and delighted for being able to do so.