| | | | |
| --- | --- | --- | --- |
| | The Words of Dae Mo Nim (Mrs. Hyo Nam Kim -- Hoon Mo Nim) | | |

Special Works To Commemorate The 800th Chung Pyung Workshop
Dae Mo Nim
November 6, 2006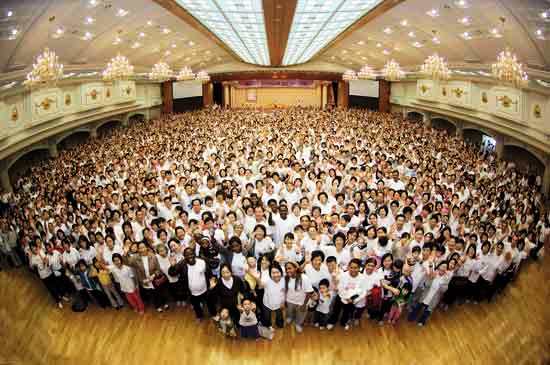 .Commemorative photo taken after the closing of 'Special Works to Commemorate the 800th Chung Pyung Workshop', October 29, 2006
The Chung Pyung Workshop has come to the 800th Workshop, since it began in 1995. Between October 25 – 29, the 'Special Works to Commemorate the 800th Chung Pyung Workshop' was held by Heung Jin Nim and Dae Mo Nim. During this graceful period, the True Children in the spirit world, the 5 Great Saints, 300 billion Absolute Good Spirits and the Angels were mobilized. It was the first Special Works to be held since the opening of Cheon Jeong Gung Museum (June 13) and around 16,000 members from 46 different countries came.
During this time there was the 'Additional' Ancestor Liberation Ceremony for generation 1 -133, Spiritual World and Physical World Matching Ceremony, Grace of dedicating the 'Fulfillment of Wishes Papers'.
Also the sports activity, 'Han-maeum Sports Festival' was held in front of the Tree of Love with many members of different nationalities participating. Dae Mo Nim also attended the sports festival and watched over the participants the whole time.
On the last day, Dae Mo Nim, in her speech, told the members that much grace was received to those members who participated in this 800th Special Workshop. She also reported the following message of Heung Jin Nim.
'Heung Jin Nim told me, 'Those members who can stay for today's evening Holy Song Session should stay and participate. True Children from the spirit world, Heung Jin Nim, Yeong Jin Nim, Hye Jin Nim will come and instruct the Absolute Good Spirits and medical angels directly to remove the evil spirits from the member's bodies. In the world of angels, there are various areas of occupations and the Absolute Good Spirits also had occupations while living on earth. So for tonight's Holy Song Session, for the first time in history, it will be a time for the Absolute Good Spirits to have brotherhood and sisterhood relationship with the members, in order to solve the difficult problems of members.'


Download entire page and pages related to it in ZIP format


Table of Contents


Information


Tparents Home