| | | | |
| --- | --- | --- | --- |
| | The Words of Dae Mo Nim (Mrs. Hyo Nam Kim -- Hoon Mo Nim) | | |

Member of Parliament participating in the Workshop for New Taiwan Members
Dae Mo Nim
July 9. 2006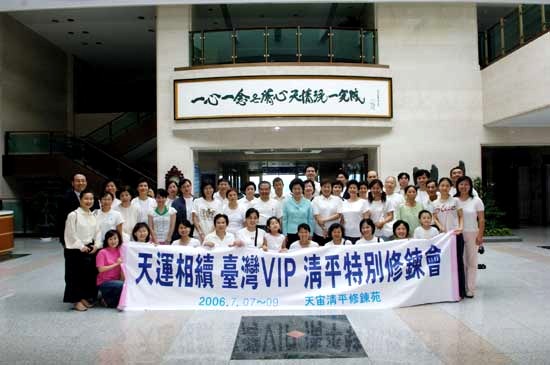 2nd Workshop for New Taiwan Members taking a commemorative photo with Dae Mo Nim at the 1st floor Lobby of Chungshim International Hospital, July 9, 2006
From July 7 to 11 the 2nd Workshop for New Taiwan Members was held at Chungshim Village (Retirement Home), and around 40 people participated and received much grace. It has only been 3 months since the first workshop, and this time not only from Taiwan but there were also people who came from Malaysia and Singapore.
The members who attended this workshop had 3 days to get educated in Chung Pyung and for their last day they visited Korea's famous places and experienced the Korean culture.
An Opening Ceremony was held to start the 2nd workshop for Taiwan New Members as soon as the members arrived at Chungshim Village on the night of July 7.
After Dr. Jong-hyeong Kim, Physician at Chungshim International Hospital did a lecture on 'Health and Happiness' there was a time to do Health Exercise. The Health Exercise was performed 3 times a day with a Taiwan Song in which the members seemed to really enjoy.
There were other lectures from Rev. Myeong-gwang Lee, Department of Education and Planning Director, who gave a lecture about 'The real state of the Spiritual World' and another by Prof. Gwang-bong Jo of Chungshim Graduate School of Theology who gave a lecture 'Rev. Sun Myung Moon's Though Part 1 and 2'. There were also times to watch a program 'Rev. Sun Myung Moon's Peace Activities' and watched a movie 'What Dreams May Come True'.
In the morning of July 9th, the members came to Chung Pyung Heaven and Earth Training Center and joined the 2nd day of the 2 day Special Chung Pyung Workshop. They participated in the morning Holy Song Session, listened to Dae Mo Nim's speech, and joined the Ancestor Liberation Ceremony. In the afternoon, they had a chance to visit the Cheon Jeong Gung Museum and other Chung Pyung Holy Grounds.
And at this workshop there was a member of the parliament from Taiwan who joined and has given their impression below.
What's your impression of Chung Pyung?
I've been to Korea on previous occasions either on business or privately however, it was my first time to visit Chung Pyung. As soon as I arrived it felt like a different world. I could feel it had high spirituality and I felt safe in my heart. The nature here is very beautiful.
What did you feel about the overall program?
It was really great to know Rev. Sun Myung Moon in detail through the lectures. It was great to know the activities of Rev. Sun Myung Moon. And also came to understand that the Health Exercise is not only good for my health but for my ancestors as well.
Why did you participate in this Workshop?
I was invited by the vice president of World Peace Women's Federation of Taiwan. Actually, before participating, my husband and me were representatives of Taiwan and gave flowers to True Parents when they came to Taiwan for their World Tour. We also drank the Holy Wine as a couple when Dr. Han Hak Ja came to Taiwan. As I participated through these events I came to think, 'Why so many people follow Rev. Sun Myung Moon?' After many discussions with my husband I chose to come here and join the workshop with my husband.
How was the Workshop?
I thought it was really great. I've been in contact with many other religions but have never been really familiar with one specific religion. It was a precious time to study and learn the life achievements of True Parents and the movement of Unification Church.


Download entire page and pages related to it in ZIP format


Table of Contents


Information


Tparents Home