| | | | |
| --- | --- | --- | --- |
| | The Words of Dae Mo Nim (Mrs. Hyo Nam Kim -- Hoon Mo Nim) | | |

Holy Wine Ceremony for Starting of Era of Peace and Tranquility of Cheon Il Guk
Dae Mo Nim
June 6, 2006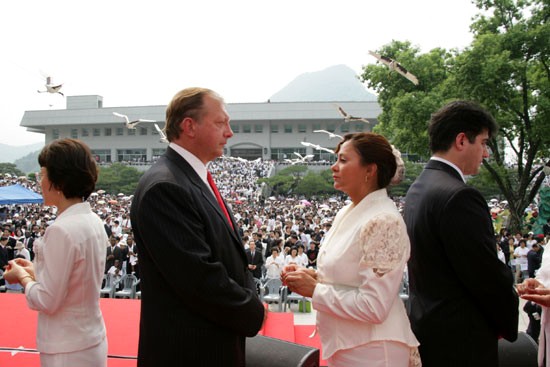 Representative blessed couples receiving the Holy Wine Ceremony for Starting of Era of Peace and Tranquility of Cheon Il Guk, June 6, 2006, at the special stage prepared in front of Jeong shim Won in Chung Pyung Heaven and Earth Training Center
True Parents gave us the grace to hold the Holy Wine Ceremony for the blessed families to become the people of Cheon Il Guk.
At a special stage prepared in front of Jeong Shim Won (Prayer Hall) the Holy Wine Ceremony began from 2:00 p.m. June 6, 2006. Around 30,000 blessed couples gathered from around the world came here to Chung Pyung Heaven and Earth Training Center to participate in the Holy Wine Ceremony. The ceremony lasted about 50 minutes. The blessed families who participated not only filled the space in front of Jeong Shim Won but also filled up the halls of Chungseong Wanglim Palace (Heavenly Palace) and the Chinhwa Hall.
As Rev. Yeong-seok Song, vice president of FFWPU Korea, as the emcee the Holy Wine Ceremony began. After president of FFWPU Korea Rev. Sun-jo Hwang's reporting prayer, Rev. Chung-hwa Kwak, International president of IIFWPU, gave a speech.
Rev. Kwak gave a speech explaining the importance and value of the new Cheon Il Guk Holy Wine, that it is a special grace given to the blessed families to liquidate the original sin. Therefore, Satan will be unable to take away conditions from the blessed families. Also added in detail that the Holy Wine Ceremony held today is a special ceremony for us to become the citizens of Cheon Il Guk.
After Rev. Kwak's speech the Holy Wine Ceremony continued in a very sacred atmosphere. After the 12 blessed couples, representing the blessed families of the world, received the Holy Wine from Rev. Kwak and his wife, then was passed on to all the blessed families. All the blessed families repent and prayed earnestly while Rev. Kwak gave a congratulatory prayer after drinking the Holy Wine. The Holy Wine Ceremony ended with Rev. Jeong-gwan Yu's, president of the Citizens' Federation of North-South Unification, 3 cheers of Eok-manse.
All the blessed families gathered here made a new resolution to become the owner of the Cheon Il Guk and to no fall out of the Heavenly Law. The Holy Wine Ceremony was held on the 21-day breakfast fast condition by all the members of the world.


Download entire page and pages related to it in ZIP format


Table of Contents


Information


Tparents Home