| | | | |
| --- | --- | --- | --- |
| | The Words of Dae Mo Nim (Mrs. Hyo Nam Kim -- Hoon Mo Nim) | | |

Grace of the Fulfillment of Wish Paper in Europe
Dae Mo Nim
April 13, 2006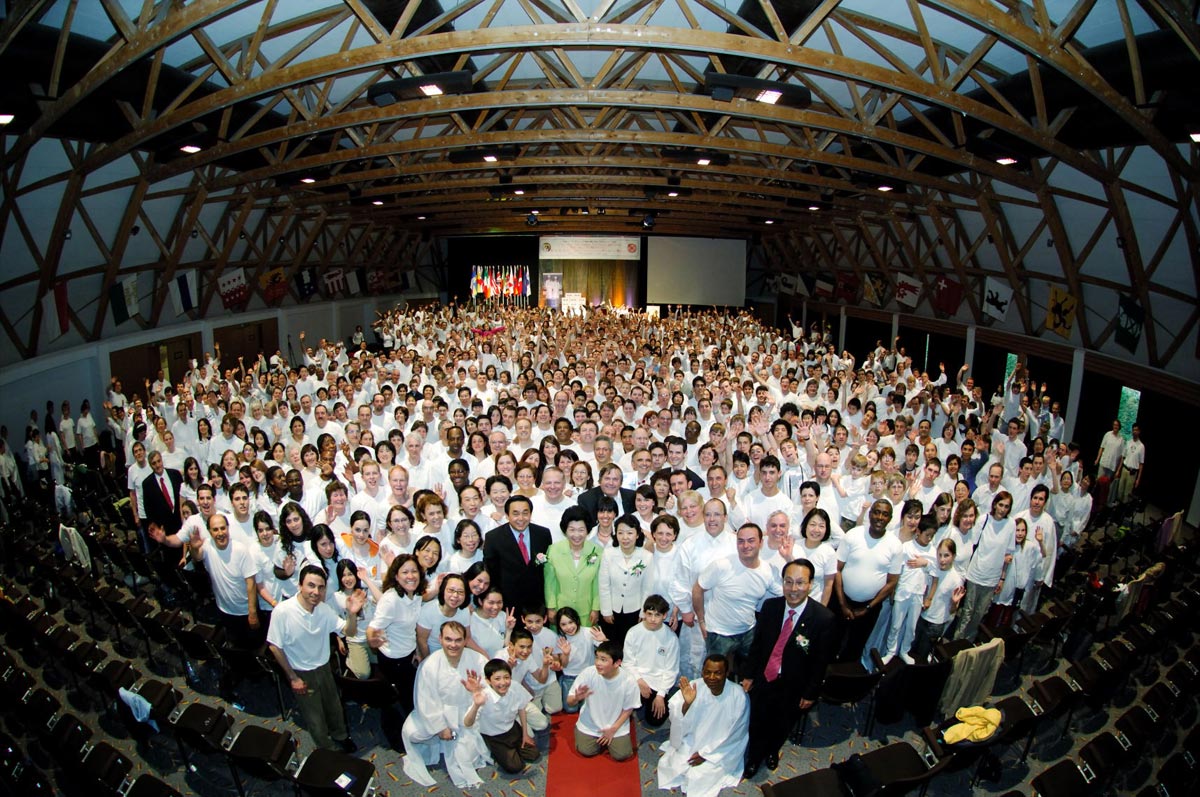 Dae Mo Nim's European Tour, Switzerland, April 13, 2006
From April 10 to 15, Heung Jin Nim and Dae Mo Nim held a European tour and visited Czech and Switzerland. Around 2,000 blessed families and new members from around Europe; Great Britain, Germany, and Italy gathered to inherit Heavenly Fortune and receive grace from Heung Jin Nim and Dae Mo Nim.
Dae Mo Nim granted the following program for the European tour because it is really difficult for the European members to visit Chung Pyung as often. The program was; Prayer Wish Gathering, a special ceremony of offering the Fulfillment of Wish Papers, Ancestor Liberation Ceremony, Ancestor Blessing Ceremony, Spiritual World and Physical World Matching Ceremony as well as the Spiritual World and Physical World Blessing Ceremony, Registration Blessing ceremony, a program for parents of 2nd or 3rd Generations who had passed away received a Tongil Candle from Dae Mo Nim, to be used to enable their child to grow in the spiritual world, and lastly the Commemorative photograph taken with Dae Mo Nim for the completion of Original Palace Donation.
Although it has only been its 2nd time to have a Prayer Wish Gathering in Europe since last year, but the new culture seems to be accepted.
On April 10, Heung Jin Nim and Dae Mo Nim arrived in Prague, Czech, with a warm welcome by Europe Continental Director Yeong-cheol Song and his wife, and by other representatives of each European region.
The Czech Convention began at 1 o'clock on April 11 at Club Hotel Praha Sports Center. 900 members attended the convention and received many grace from Heung Jin Nim and Dae Mo Nim. For the Convention held in Casino Kursaal Congress Center, Switzerland, as much as 1,100 people gathered also to receive grace from Heung Jin Nim and Dae Mo Nim.
On April 14, there was a cultural performance by several 2nd Generations. Also Dae Mo Nim and Continental Director Song and his wife, each had a chance to sing a song, which turned out to be a quality time for the European members who gathered there.
Dae Mo Nim asked the European members to devote more for the completion of the Original Palace, and told them to work hard on witnessing people through the use and knowledge of the Fulfillment of Prayer Wish Paper.


Download entire page and pages related to it in ZIP format


Table of Contents


Information


Tparents Home