| | |
| --- | --- |
| | The Words of the Werner Family |
Martin Porter and Paul Werner receive Doctor of Theology degrees
Nancy Neiland Barton
October 26, 1986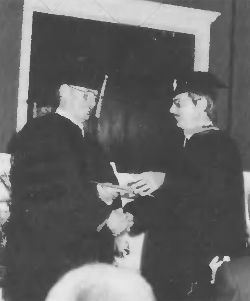 Dr. David Carnrike confers the degree of Doctor of Theology on Rev. Paul Werner.
Rev. Paul Werner and Rev. Martin Porter were each recently awarded the earned degree of Doctor of Theology and the honorary degree of Doctor of Letters by the Technical Institute of Bible Studies in Orlando, Florida. The conferring of degrees took place on October 26, 1986, at the Mobile, Alabama, Hilton Hotel. Both the commencement ceremony and the banquet that followed were attended by about 100 guests.
As his doctoral dissertation for the Doctor of Theology degree, Rev. Werner, head of the Unification Church of Canada, submitted his three books of guidance and inspiration, Heaven Down to Earth, In Harmony with the Eternal, and Tapping the Unlimited Reservoir, Rev. Porter, president of Master Marine, Inc. in Bayou Le Batre, Alabama, submitted transcripts of talks he has given through- out his public ministry, as well as other papers written on a variety of subjects.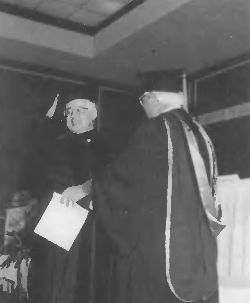 Dr. Les Cunningham confers the degree of Doctor of Theology on Rev. Martin Porter.
More Than Worthy
Rev. Dr. David M. Carnrike, executive president of the Institute, deemed these voluminous dissertations more than worthy enough to earn them each a degree of Doctor of Theology, but he also acclaimed the works as having outstanding literary merit; thus the Institute awarded them in addition an honorary Doctor of Letters degree -- much to the graduates' surprise.
Dr. Carnrike came to know and love the Unification movement a few years ago through Joshua Cotter, then state leader of Georgia. He was one of the ministers who traveled to Korea to honor Father in December 1985. A graduate of Ramsey Theological Seminary, Dr. Carnrike holds doctorates in psychology, church law, and biblical subjects. Currently he is a consulting psychologist for ministers as well as president of the United Gospel Holiness Church. He was one of the men who spearheaded the effort to bestow upon Father the honorary Doctor of Divinity degree from Shaw Divinity School.
Only in his late thirties, Dr. Carnrike is a man of strong determination, keen insight, and wonderfully sharp wit. In his remarks at the banquet, he observed:
I came to Mobile on behalf of the Bible College to honor two great men of two great nations -- one an Englishman and the other one a German.... To be quite frank with you, I'm just not too sure at this time whether or not we have completed that mission, for truly I have been blessed, and the Bible College has been blessed. I feel that we have not honored these two gentlemen, but [that] they have honored us, because with their qualifications, they virtually could earn a doctorate of theology from any major college in America.
The commencement address was delivered by Dr. Hugh Spurgin, who holds a Ph.D. in modern history from Columbia University and is presently the secretary-general of the International Cultural Foundation (ICF) as well as president of International Christians for Unity and Social Action (ICUSA). Dr. Spurgin said of Rev. Werner and Rev. Porter:
I have had many experiences in the past with Rev. Werner and Rev. Porter, and [I] know them as people of faith and integrity. But more than that, and what is especially important today, we need people of action as well as faith -- people that do the work as well as proclaim the message. That is what is especially noteworthy about the people we are conferring degrees upon today. Rev. Werner and Rev. Porter are people in the world, but not of the world, people who have been businessmen and successful in worldly activities, but [rooted] on the foundation of faith and righteousness.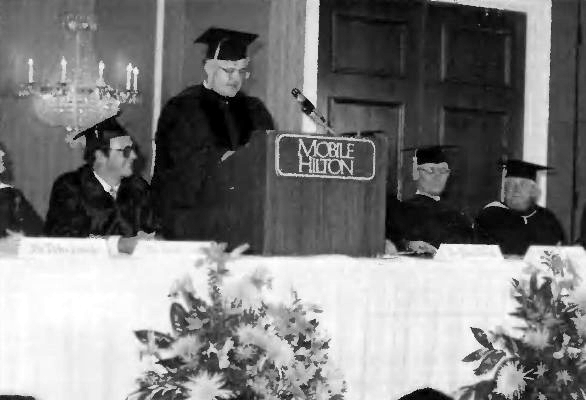 Dr. Martin Porter delivers his acceptance speech.
Testifying to Father
With obvious happiness combined with a tone of deep thoughtfulness, Rev. Porter reflected in his address on the course of his life and his relationship with God, testifying to the profound effect that Father has had on him.
Looking back on my life over the last 30 and more years, I can see that my life was guided by the hidden hand of God. And I realized that the hand of God was much stronger than the will of anybody.... I had deep experiences with Jesus since about 1954.... [But] it wasn't until quite a long time later in 1965 in Italy that I came to a new meeting place with God; this meeting place changed my life totally. I came to realize what God was doing in the world today. This life-changing experience came about through reading the testimony and life experience with God of an Oriental man from South Korea, the Rev. Sun Myung Moon.
Rev. Werner, in his speech, showed misty eyes, and his voice conveyed heartfelt emotion.
I feel very strongly...that honor especially should go to God and Christ today. I am deeply thankful to participate in this event, and I know that as we are very excited about this and deeply honored, God Him- self is very happy today....
Rev. Sun Myung Moon [has] revealed that God is not just a God of law and principle, but that He is a God of love. He is a loving Father and He is standing in front of His mansion with open arms to receive His children who have been lost for many, many years. And so He has been calling us throughout the ages....We are children of God -- sons and daughters of God; whether we know it or not, it is a fact. Since the fall of man we lost the ability to perceive the love of God as well as the ability to return the love of God. The restoration process takes place through the workings of the Messiah. Through him we become able again to perceive the love of God and return it. That is the way to reunite with one another.
The feelings of many church members in the audience were summed up by the master of ceremonies at the graduation ceremony, Scott Simonds.
The words that Rev. Werner and Rev. Porter wrote were written not for their own sake. They probably never even thought that those words would help them to earn a degree in the future, but nevertheless, those words affected each of us -- words of inspiration when we needed inspiration, words of judgment when we needed judgment.... So I think that we can all celebrate this event tonight and feel the effect that [these] words, for which they are being rewarded today, have had on all of our lives.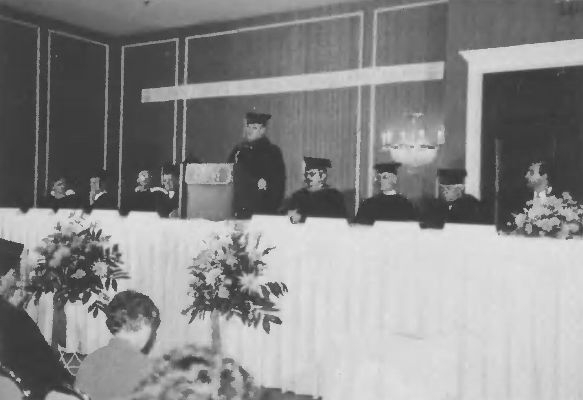 Dr. Paul Werner gives an acceptance speech upon receiving his degree.
A Confession
Perhaps the most memorable address of the evening was given by Rev. Dr. Les P. Cunningham, director of the Orlando campus of the Institute. In contrast to the joyous and relaxed atmosphere of those celebrating the achievements of the two new doctors, Dr. Cunningham's voice was halting and choked with emotion, and at times tears welled up in his eyes as he exposed a deep wound that needed healing.
Many of you are Unification Church members, and this is hard for me to say to you. I am one that stood in the pulpit and in my heart and with my words condemned Rev. Moon. I was one of the first evangelists in this nation, I believe, to call for his imprisonment. I was glad when it happened, and I was sorry when he got out....
Please listen to what I have to say. God has told me, "...you claim to be my servant? I have used you to reach many souls, yet inside of you is the heart of a bigot." You see, I have never been a bigot when it comes to the black or the Hispanic. But during World War II fought the Japanese, and I learned to hate everybody from the Orient. I hope you can understand that. I carried this hatred within my heart, not even realizing that it was there, because it never surfaced until the situation with Rev. Moon. And then God said to me, "You are a hypocrite and a bigot, and I cannot use a man like you." I immediately asked for forgiveness....
All of us sin and come short of the glory of God many times in our life, but it is a sad thing when a preacher of the gospel has an account like that to settle with the Lord. I sat down and I wrote a letter to Rev. Moon. I told him how my ministry had been stopped or hindered by God because of my feelings toward the Unification Church and especially Rev. Moon.... I don't know whether Rev. Moon ever got it or not, but I hope that Rev. Moon and the Unification Church forgive me. God has.
It's hard for me to make this confession to you, but you know, through that experience I learned something about love. I learned that love goes beyond the bounds of bigotry; in fact, it smothers bigotry. It goes beyond the looks, it goes beyond doctrine, it goes beyond theology. The love of God goes so far that it is hard for man to fathom, and when we get the true love of man and God in our heart, we can stand before the world and say, "Lord, we are thankful that we are Christians and we all belong to the body of Christ, and that we are here to build the Kingdom of God together:'
As he finished, not only was Dr. Cunningham's face wet; tears were probably welling up in the eyes of everyone there. There was no more fitting conclusion to his profoundly moving testimony than what happened next -- the entire assembly rose and sang "Amazing Grace" in unison.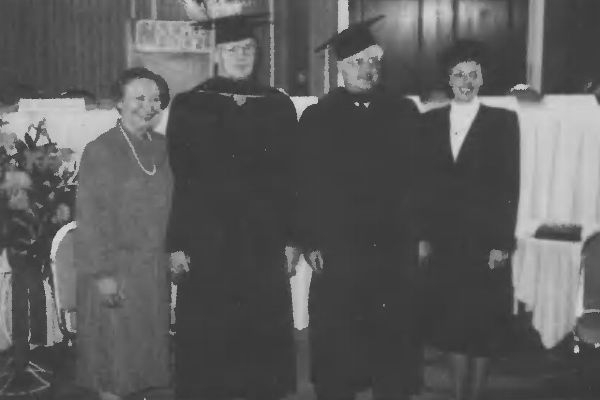 The new Drs. Werner and Porter with their happy wives.
October 26, 1986, witnessed a commencement ceremony that recognized not only the achievements of two men, but the achievements of God and True Parents. Two of our spiritual elders in the Western world were bestowed with honor, but in keeping with their own way of faith, the final glory was given to Heaven. The word commencement means beginning. It was a fresh beginning for the new Drs. Werner and Porter but also for Dr. Cunningham. For all who attended this special graduation it was an experience of how the hand of God transforms people's hearts. All were touched by the words and spirit of those who stood in defense of our True Parents and in dedication to Heaven's purpose. This ceremony reminds us that each day can be a '`commencement',' a new beginning, as we strive to fulfill the motto of the Institute, which is taken from I Corinthians, urging us to "do all things with love"