| | |
| --- | --- |
| | The Words of the Werner Family |
We gained permission by the authorities to sell our new book of Divine Principle
Paul and Christen Werner
June 1, 1971
Essen, West Germany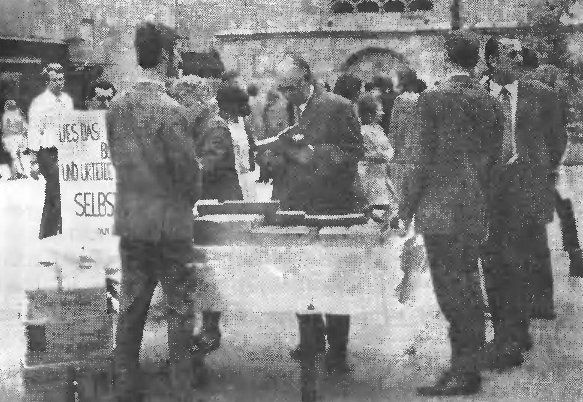 Selling the Divine Principle Study Guide on Kettwiger Strasse, Essen
Dear Mr. [Young Hwi] Kim,
We are thankful to Father for all His blessings and are happy to report to our Parents again about last month's activities, as it was quite an eventful month. All our centers kept us extremely busy and everyone is constantly on the go to fulfill Father's will. New members are coming into the family all over Germany, but the fastest growing family by far is the one in the divided city of Berlin.
A great event for everyone concerned was the district-and center-directors conference from May 14 through 16 in Essen. From all directions our center-leaders kept arriving on Friday night and individual talks were going on everywhere in the house till early morning. Then for two straight days we all met together for center reports, discussions on dynamic leadership, on raising new members, on deeper understanding of Principle through question and answer sessions etc. We also could share some of our personal experiences with Father and how he lead us in different ways. We all are very grateful for the inspiration and spiritual guidance we received as we were gathered, united by love through our True Parents. Time passed all too quickly, but these two days, packed with activities, were of great importance to everyone present and thus a great step forward in the overall development in Germany. Conditions keep getting worse for vie youth of our country and we know we have to act fast to save them.
World Day (Day of all Things) was celebrated within the districts again. All the members belong to a certain district met in one city and spent a wonderful, uplifting weekend together. Especially on these holidays our hearts are in our homeland with our Parents and all the courageous family laying the foundation for the restoration of the world. We are indebted to all of you.
On May 14, 1971 we welcomed one of our Korean brothers, Doek Whan Kim, blessed by our Parents last year, into the family. Two days after his arrival from Korea he visited Headquarters and we were surprised to find out that he speaks German very fluently. Naturally we were very anxious to hear about the activities in our homeland in detail and asked many questions. Doek Whan now works in a home for crippled children in the city of Hannover and visits our center there almost daily.
To set a condition of indemnity the entire Essen family walked around the Holy Ground in a wide circle seven times through the night of May 19. We started out with prayer at the Holy Ground at 12:00 midnight and again finished our march with prayer at the Ground at 5:00 a.m. All in all we walked for about 24-28 km, mostly up-and-downhill through the woods, which was a bit difficult in the dark and therefore good indemnity. Our walk took place in complete silence and thus we had the opportunity to pray for five hours straight. We could feel Father's presence and the spirit world surrounding us very strongly. Around 4:30 a.m. daylight was breaking and the birds began to raise their carols to glorify our Father, and our hearts were in tune with the great orchestra. How grateful we are to our Parents for leading us to such a full life centered on our Heavenly Father.
In the first week of May we gained permission by the authorities to sell our new books (The Divine principle-Study Guide) on Kettwiger Strasse for three days. People's interest was great but they did not want to spend DM 7.00 for the book, as they consider material things more important. Now we are selling the books one by one to people we talk too, and mainly to students, with good results. Most people coming to the center to study Principle, are, gladly buying a book as they like to study further at home.
Last month we have concentrated on two universities, Bochum and Frankfurt, in our effort to win more students. We had four of our members, especially qualified to work with students, quit their good-paying jot's to be full-time missionaries and to become experts in anti-communist work. They drove to the University of Bochum every morning at 7:30 and witnessed to students till late in the afternoon with very good response including the sale of quite a number of books. Despite the strong communist influence we always find students, who are interested to talk about God and His will for mankind. At Frankfurt University the atmosphere is much worse. Communists are controlling the student body and even most of the professors are 'communists, as others don't have a chance to get a professor's chair. But despite all difficulties we found many interested students in Frankfurt also.
A prepared Negro boy from Ghana, Isaac, accepted the Principle and our Parents in our Hamburg Center. He is our first African member.
We are anxiously awaiting Mr. Kuboki's visit to Headquarters to hear first-hand about the situation in Asia and about the outcome of the "First Asian Victory over Communism Rally" on May 22.
We are always with all of you in our homeland and pray for your success.
Deepest love to Father, Mother, the Children, Mrs. [Won Pok] Choi, to you and all the family.
In the Name of our True Parents,
Paul and Christen Werner