| | |
| --- | --- |
| | The Words of the Werner Family |
The birth of little Kook Jin Moon and Mr. [Hyo Won] Eu's leaving the earth plane
Paul Werner
July 25, 1970
Essen, West Germany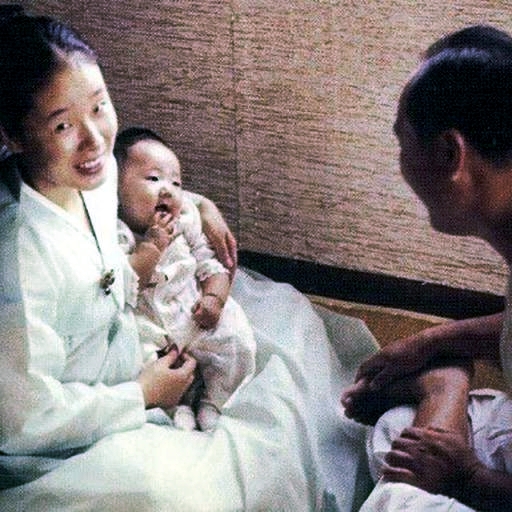 Dear Mrs. [Won Pok] Choi,
An eventful month has passed and it is not easy to put into words what we feel in our hearts at this moment.
Two meaningful telegrams reached us from Seoul at an interval of exactly seven days. When the first one came, announcing the birth of little Kook Jin, the seventh child of sour beloved parents. The German family rejoiced with you and all our brothers and sisters over the whole world. With a grateful heart we united in prayer giving thanks to the Father for carrying Mother thru and blessing our Parents with this little Prince.
The other telegram informed us about Mr. [Hyo Won] Eu's leaving the earth plane to carry on his activities for the movement in the spirit world. We recall his powerful actions before the blessing last year, his dynamic testimony and his love for Father and our parents and the tenderness in his voice, when he talked about his own family. It is so wonderful to know that there is no separation. May his children grow up to be strong warriors for our Heavenly Father carrying on their father's heritage. We realized -clearly that our life in the physical world is very short and each moment precious for the mission and our own development. May we use our time and energy, in fact all we have and are, for the fulfillment of Father's will.
Realizing the great importance of the events to take place in the fall, the entire family started the month of July with a special indemnity campaign of fasting and prayer. We'll fast a total of 360 days, that is 120 days each in July August and September. Family prayer starts at 11:00 p.m. every night. Except for the members lecturing at that time everyone attends. We can really feel the urgency of the time and the concern of our Parents in regard to the communist threat in Korea and Japan.
Our members still continue their prayers in the streetcars and buses of Essen, causing many people to stop and think about God. The reactions vary from admiration over indifference to nasty remarks, but we know, someday all people will glorify our Father.
At the beginning of this month one of our boys witnessed to a young social worker, who was engaged to be married a week later. He came to study the principle with his Fiancée. Both of them only 18 years old accepted three days before their wedding and decided to really follow principle with all consequences. But Karin's parents wouldn't let her go. So the only solution was to get married before the Justice of the peace on schedule in order to get her into the principle, truly a unique case. Right after the ceremony they moved into the center, Hans-Werner into the boy's quarters and Karin upstairs into the girl's quarters. Both of them are struggling hard to- grow and fulfill their mission separately according to Principle to be blessed someday by our parents.
On July 14, our little center in Duisburg-Hamborn was almost overflowing with people. Besides some others a catholic chaplain came together with 16 teenagers to attend the lecture. When our girl explained the polarity of God he really got mad, shouting: "There is no God only exists in the minds of people" and went on and on disrupting the meeting. So finally Rosi, our center-leader, asked him politely to be quiet and to listen to what we have to say or else leave the center, so that at least the other ones who came to hear the lecture, world have a chance. He kept quiet for eight minutes and then he started screaming again. Finally he had to leave the center and some of the teenagers followed him. But the ones staying on were eagerly listening to the message.
On July 18, we had another poster-action on Kettwiger StraBe. Many hand -bills were distributed and the atmosphere was very good. One old lady asked: "What are you protesting against? Are you for or against God? "When she found out that we want to awaken people to God, we got her O.K. When we stopped our march in front of the Munster-Church right on Kettwiger (this is the church where the bishop of Essen celebrates) and sang a few songs crowd of about 100-15 people gathered around us, drawn by the spirit and voices of so many young people.
One of our girls witnessed to a young woman on Kettwiger today and during the conversation the woman mentioned, that she belongs to the Young Mother's Group of her church, where our Principle is already well-known. Several group members had been contacted on Kettwigers StraBe and were very interested to get Principle material. So the chapters of our translation of the Study Guide are really in circulation and on Wednesdays, when the young mothers meet, they have exchange day. The chapters switch hands like in a library, and everyone is eager to get the next one. This makes us very happy, because we can see clearly, that the seeds we are planting are falling on good soil, even though the thousands of people we have witnessed to don't respond right away. The young mother herself was very interested and eager to get more information. Father's Truth is really penetrating into the hearts of men.
All the family is working hard for the restoration of Germany and our hearts are filled with joy over our new members we welcomed into the family this month. An Austrian girl had to come to Berlin in order to be confronted with the Principle. We took her with us on our return trip from Berlin last time we visited our center, and now she is a happy member of the Essen family.
Our foreign missionaries, Ingrid Schneider [Jorgensen] in Oslo, Friedhilde Bachle [Becker] in Stockholm and Suresh Patel in New Delhi are tireless in searching for Father's children in their respective countries. We were happy to hear from Ingrid, that in Oslo a third Norwegian girl, Leila, has accepted the Principle.
All our love goes to Father, Mother, the Children, to you and all our brothers and sisters in our homeland and everywhere in the world.
In the name of our True Parents,
Paul Werner