| | |
| --- | --- |
| | The Words of the Werner Family |
Our girls are running day and night to proclaim the Principle
Paul and Christel Werner
June 26, 1970
Essen, West Germany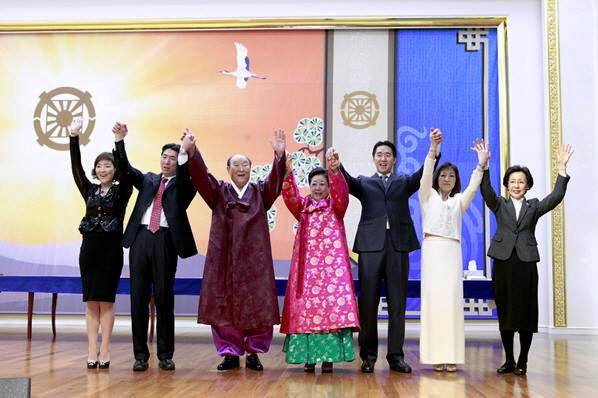 Dear Mr. [Hyo Won] Eu,
With a thankful heart we look back at this month's activities. For World Day only the members of the centers in the vicinity of Essen gathered here at headquarters for the celebration, since everybody had to be back at work the next morning. We joined our family all over the world in giving thanks to the Father and our True Parents, feeling so close to all of you despite the physical distance.
Around midnight we left the center for a walk to the Holy Ground. It was pitch dark out in the woods, as about 40 of us tried to keep track of each other. It seemed that we were guided by radar. The spirit world was happy with us that night and brought us safely to the ground and back. A high atmosphere engulfed us all at the Holy Ground and everybody opened their hearts to the warmth of Father's love.
For weeks and weeks now our members read the Principle in the streetcars and buses. People got more aggressive as the time passed by and our girls even were attacked physically. We decided to change our method and the very next morning on their way to work our members started praying out loud instead of reading the Principle. People were taken very much by surprise through this action. Everybody listened quietly and some even said "Amen" after one of our girls was finished.
Some of the co-rides show concern and compassion for those praying and we have a feeling, that they would really protect us in case something should happen. They feel the love of the Father flowing through the boy or girl praying at that moment.
Afterwards we hear remarks like: "They must have a deep conviction to be able to pray like this" or "they sure are brave; I wonder, what they'll do next". One man said jokingly: "I already said my morning prayer." Some of our members, who usually drive a car to work, sometimes purposely take a bus or a streetcar to be able to pray.
A funny incident happened in the streetcar a few days ago. Two controllers came in to check the tickets of the passengers. As they approached one of our members, who was wearing the badge with our symbol, one controller said to the other one, who was just about to ask for his ticket: "You don't have to check on him. Do you see the badge he is wearing? That's like a guarantee, that they have a ticket. So don't even bother". Our symbol is really well-known all over the city and we have to be careful not to damage our reputation.
On June 17, we had a national holiday. The parents of one of our members invited us to their estate for the day and we were free to use the lawn and the swimming pool. Everything was prepared the night before for the picnic, but when we looked out the window the next morning, the weather was somewhat discouraging. Yet filled with joy and anticipation we proceeded according to our plan anyway and it turned out to be a beautiful day. After a long walk through the woods we had worked up a good appetite and really enjoyed our meal outdoors. We sang and played games and had a happy time together, but as soon as we boarded the cars at 5:00 p.m. nobody could wait to get back to our Kettwiger StraBe to witness. Strong in spirit and with a heart full of joy we swarmed out to find new brothers and sisters, so that they also might experience true happiness.
This month Akihiko Kunitoki visited the Essen center giving us more information about the anti-communist movement in, Japan and the forthcoming conference in September, and answering our many questions concerning the family in general. We enjoyed having our Japanese brother with us.
This week Teddy, Pauline and Naeran [Verheyen] came for a two-day visit. Teddy's main purpose was to share his experiences at the factory in Seoul. We also discussed the conference to be held in Tokyo and he told us many things about our homeland. We were happy to have them with us.
In the economic field we are trying to push ahead also. We opened up an engineering office and found a firm for personnel-service similar to Man-Power or Kelly Girl. Our aim is to offer the services of our own members to companies in need of manpower such as engineers, draftsmen, office-workers etc. and we hope, it will be a good source of income despite heavy competition.
We welcomed several new brothers and sisters into the family, but we need many many more. Therefore we are witnessing full force in all cities. In the city of West-Berlin we are experiencing, that many young people are in favor of the communist ideology. Our girls are running day and night to proclaim the Principle, which is the only means of stopping this dangerous development. We have to re-educate people fast.
Suresh Patel, our missionary to India, also reports, that communism is spreading throughout the country. So he not only has to cope with reincarnation so deeply embedded in the hearts and minds of his people may supply him with everything he needs to be victorious in his great mission. We are enclosing his personal testimony along with his picture.
Our girls in Norway and Sweden also are doing well. Attached you'll find a few pictures of the conference in Essen in May.
We are sending all our love to Father, Mother, the Children, Mrs. [Won Pok] Choi, to you and all our brothers and sisters in our homeland and all over the world. Let's keep up the good fight to bring joy to our Heavenly Father and to our beloved Parents.
In their Name,
Paul and Christel Werner