| | |
| --- | --- |
| | The Words of the Werner Family |
On April 13th our first missionary left for Berlin to establish a center there
Paul and Christel Werner
April 27. 1970
Essen, West Germany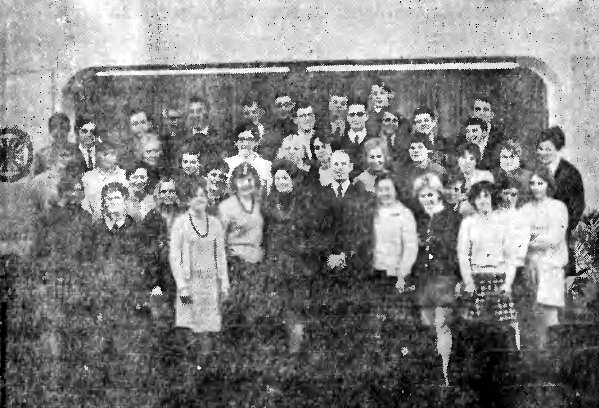 Parents' Day 1970 -- Part of the German Family in Essen
Dear Mr. [Hyo Won] Eu,
An action packed month has passed and we are so grateful for all the blessing Father has showered us with.
Over the Easter weekend all our members were off work for four days. So we decided to combine our family reunion with a training session especially for the benefit of our members, who are out in the mission field and can be home at headquarters only on special occasions. They miss those evenings of intensive Principle study we have together here in Essen, and the discussions of specific questions, to deepen our understanding. The atmosphere was high and full of anticipation as our members began pouring into the center from all different directions on Thursday evening. Joy and happiness filled the whole house. We heard the report of each center and their experiences in contacting people and witnessing to them. Our badges with the symbol are quite a point of interest to many people, as they recall seeing them in different cities. Our members are wearing them even to work.
We started our training session on Friday morning with prayer, reading and discussion Principle, and we even took short written tests of seven questions each of the chapters we read. Everybody took it very seriously and it was so quiet in the hall, that we could even hear a needle drop. After lunch the whole family took a break meaning, that everyone went out witnessing on Ketwiger Strase. It was like an invasion. In the evening we were deeply moved by your (Mr. Eu's) testimony, given during you visit in 1969.
On Saturday morning the whole family boarded the cars for our first poster action in the university city of Bochum. Being the last shopping day before Easter, the pedestrian street was packed with people looking in utter amazement at our posters, especially at the one saying, that Jesus' crucifixion wasn't the will of God but the victory of Satan, which was so fitting for this day before Easter. After we had marched around, many people stopped and listened to the voices of all the clean looking young people.
Then we proceeded to Essen to repeat the same thing on Ketwiger Strase. For those family members, who took part in this kind of action for the first time, it was quite an experience. Afterwards we all remained on the street's witnessing till 3:00 p.m. Because after that time the stores were closed and the street completely empty. We resumed our studying and singing, and in the evening we had a special meeting of sharing, recalling the events of the first European blessing on this day a year ago. Thank you Father and Mother for all your love. We all would like to have you with us again soon.
Sunday we started out with a prayer meeting at the Holy Ground and then, again studying, singing and sharing. Mr. Kuboki's testimony and part of our Master's addresses here in Europe of last year were and all of us felt Father's spirit present.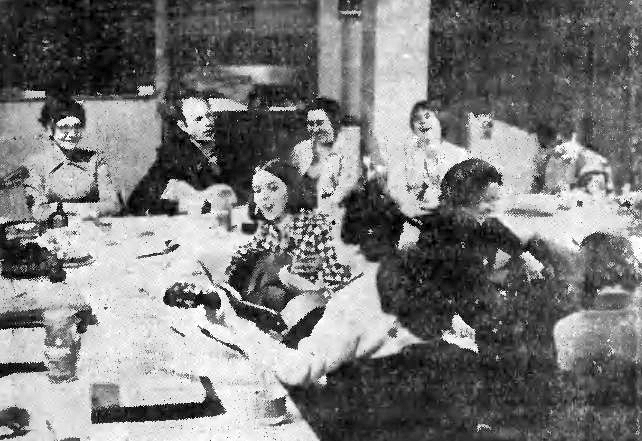 Essen, Easter 1970 -- Family singing
On Easter Monday we discussed questions leading us deeper into Principle and then had some happy hours of singing, hearing instrumental music and some testimonies of our members. All too soon the time of departure came for all of those from different cities. But they all left with so much joy and determination in their hearts to work even harder to restore our country.
For Parent's Day only our members from Essen and vicinity gathered at the center to give honor to the Father and our True Parents. We talked about the fulfillment of the ideal of creation, the struggle and suffering our Parents went thru, and the joy relief of our Heavenly Father, to see his idea of man in perfection realized. We also sang and shared together and closed the day with a prayer meeting. The whole family was overjoyed to hear, that on this very special day three physical sisters in the city of Bochum accepted the Principle. One girl had accepted on Easter and another one last week. So now we have five new members at the Bochum center. They are all under age and only one girl was able to move in so far. The others are trying hard to get their parents' permission, although we know it isn't easy for the parents to let go of their three girls all at once. But they come to the center every day anyway and are spending hardly any time at home.
On April 10, we left for West Berlin to spy out situation for Principle work in this important city and returned the next day. There days later our first missionary to Berlin left Essen to establish a center there. On her third day in Berlin she found a suitable apartment already which was considered an impossibility in that city. To find a good job was no problem either.
Father really supplies us with everything we need, if we just do our best and him. A second girl will follow this week, because she couldn't get off her job any sooner. This suffering divided city has almost given up hope to be united again. When we stood at "The wall" our hearts were aching. They really need Principle.
On April 12, we had our first Sunday morning service but just for the family, since the official opening of our hall can only take place after going thru the usual formalities with the authorities and they take their time. It's a very wonderful experience for the family to take part in the service. As you can see on the pictures, the hall turned out to be really beautiful and the capacity to hold 400 people.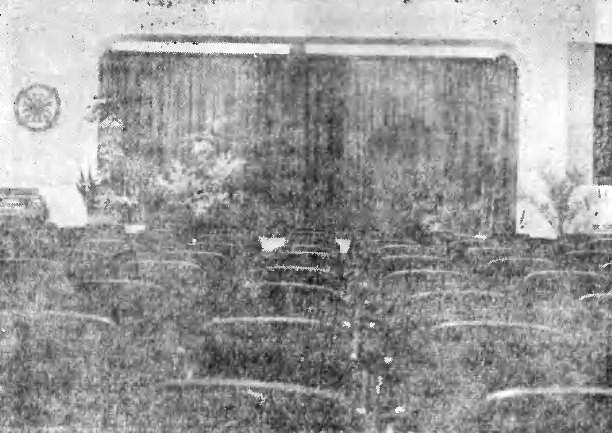 Essen, Germany 1970 -- Meeting hall
Our young people are so eager to spread the word. Therefore last week we tried a new method by reading the Principle out loud in the busses and streetcars of Essen. Every morning on their way to work we give the people something to think about for the day. At first they were speechless over so much boldness, but now our members encounter different reactions every day including physical attacks. One man began reading his newspaper out loud in protest, but our Principle reader was more persistent. Another one said: "Lady, stop it, keep it to yourself, will you? I can't just go ahead and sing the national anthem either!" Others tried to kick us out, the bus driver stopped them, saying: "We have freedom of speech in our country, remember?" Of course it makes us happy, when we hear remarks lie: "They really got guts" or "Young people talking about God and Christ, that's a switch," or "That is very interesting". A few days after we started this acting one of the two leading newspapers in Essen became interested in this unusual endeavor. A reporter boarded a streetcar and took some pictures of one of our girls. His story made headlines in the weekend edition and today in the offices and shops around the city the Unified Family was being discussed. May this help to awaken the people to join us in our fight against Satan.
On April 23, we welcomed a Norwegian girl, which Ingrid sent to us from Oslo. Johanna felt at home right away and is very impressed by the family and the center life. We hope she'll completely accept the Principle and become Ingrid's first member in Oslo. So last Sunday six nations were happily united at the breakfast table.
Last week we printed 20,000 new pamphlets with a picture of our first poster march on one side and 14 points of the Principle on the other side, like the one attached, and are distributing them in all the cities of the "Ruhrgebiet" as we witness in the street.
The German translation of the first chapter Study Guide is being taught in some religious classes at high schools here in Essen. Teenagers, whom we talk to in the street, are very interested and take the material to school. At last they get answer to their questions. We also gave lectures in different youth groups again, but witnessing in the street still is our most successful method.
Incidentally, the attached photos were developed in our own photo lab. It's so wonderful to see the foundation expand spiritually as well as physically.
We are very happy over the news of the great blessing to take place in Seoul this year, but we like to hear much more about the activities in our homeland.
The German family is sending love and greetings to Father, Mother, the Children, Mrs. [Won Pok] Choi, to you and all the Family. In the name of our True Parents,
Paul and Christel Werner