| | |
| --- | --- |
| | The Words of the Werner Family |
Christel Werner visits Germany and Austria
September 2, 2013
Frankfurt, Germany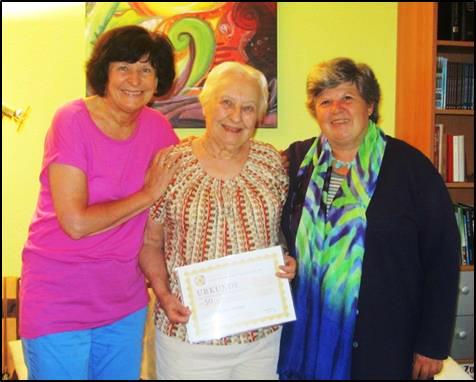 From left to right: Ellen van Kampen, Christel Werner, Hildegard Piepenburg
Christel Werner is back in Germany for a couple of weeks. Together with her late husband Paul they returned to Germany in 1964 after having met the church in the USA, then pioneered Austria as first missionaries from 1965 till 1969, and from 1969 to 1977 brought much growth and prosperity to the German church. She arrived last Tuesday and stayed during her first week with Ellen van Kampen in Kalbach, near Frankfurt. During her stay she opted for quite a program, visiting many old acquaintances, such as Ursula Schuhmann (who in 1965 went to Spain as a pioneer, where she stayed in Barcelona till 1974) and Friedhilde Baechle in the Black Forrest (who went pioneering Sweden in 1969 where she stayed as National Leader till 1978). Christel will also go to Austria visiting the Klammsteiner family in Lienz. Ellen herself is one of the early members of the German church, joining in 1970. In 1972 together with Kirsti Laaninen she went pioneering Finland, where she took care of the young church till 1983.
Last Thursday Christel and Ellen visited the Piepenburg family at their residence in Glashuetten. After exchanging many news and old memories, Fritz Piepenburg on behalf of the German church presented Christel with a certificate of recognition and appreciation for faithfully serving in the Unification Church for the past 50 years. She was very moved by this gesture of the German church.
We agreed that next time she comes to Germany, she will visit some of our communities in order to share her rich experience during the early days of her pioneering days in Austria and Germany. This will be especially precious for our 2nd gen and young members. Just recently she was invited by the Washington community to give her testimony in front of a large crowd of mostly young Unification Church members.
We wish her a pleasant stay in Austria and Germany and many more years in good health.
Fritz Piepenburg
Frankfurt, Sept. 2nd, 2013