| | |
| --- | --- |
| | The Words of the Werner Family |
World Environment Day Observed in Buenos Aires
Miguel Werner
June 8, 2012
UPF -- Argentina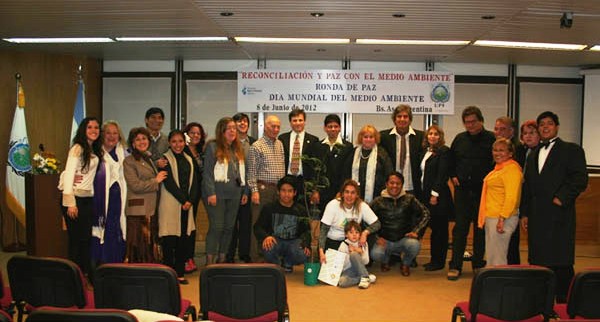 Buenos Aires, Argentina -- Under the motto "Reconciliation and Peace with the Environment" an artistic and cultural celebration took place on June 8 at the Peace Embassy in Buenos Aires. The program was part of the Peace Round 2012 and in celebration of World Environment Day.
After opening greetings, the message of the UN Secretary-General Ban Ki-moon on the occasion of the World Environment Day 2012 was read. Then first-class artists playing music of different rhythms, dances, and poetry combined to create a warm environment, despite the intense cold of the day. At the end the video "School of heroes" was shown, inviting people to commit to the daily care of natural resources and all life. Four young trees were donated to the public to spread the same feeling.
The meeting was in synergy with other entities and activities that took place during the week across the country in line with the motto "Building Peace with the Environment."
In Peace Round 2012, the Peace Council of Argentina invited organizations around the world to join the commemoration of the World Environment Day with various activities in the network that "foster awareness of global citizenship about the multiple environmental damage that the human being is infringing their home planet, promote reconciliation between Man and Nature in all areas where mutual coexistence has been jeopardized, and promote a healing awareness of our personal relationship with the Earth."
By Resolution 2994 (XXVII) of December 15th 1972, the UN General Assembly designated June 5th as the World Environment Day. The UN seeks through this date "to motivate people to become active agents of sustainable and equitable development, to promote the essential role of communities in changing attitudes towards environmental issues and promote cooperation that will ensure all nations and people to enjoy a safer and more prosperous future".
"To love nature is to love God and humanity. When human life resonates with nature, human character will flourish in perfection. The flowers of the true culture of the heart, the world of true art, will bloom. It will be the Garden of Eden, the original ideal where human beings and all creation live in complete harmony and express their original nature." -- From the UPF Message of Peace N° 5, Korea, June 13, 2006.
"On this World Environment Day, getting ahead at a landmark conference, I urge governments, businesses and all members of society to take holistic decisions that achieve a sustainable future, the future we want" Message from the UN Secretary-General on World Environment Day, June 5th, 2012.
Order of Mother Nature
Donato Perrone
Translation by Ricardo Gómez
Pay attention and listen
to the chirping birds in the forest,
that gives them protection
in the storm and rain,
without asking anything.
Program
Masters of Ceremony: Raúl Peredo and Maria Lidia Maciel
Welcoming remarks and reference of the meeting: Mr. Miguel Werner, UPF General Secretary of Argentina
Reading of the Message from the UN Secretary-General on the World Environment Day: Marta Ranieri, Ambassador for Peace UPF
Musical numbers: Facundo Vallejos and Reynaldo Llanos, Alejandro Zarate
Poetry: Silvia Garolla
Musical number: The Manriques
Poetry: Donato Perrone
Musical numbers: Carlos Picazzo Melisa Casso (vocals) and Roberto Casso (guitar)
Dance: Argentine Prints, Manuel Soto and Mariana Manuel Soto and Jose Robles
"Rooting for my country" a tableau alluding native people in defense of the land
Video presentation of "School of Heroes": Constance Sena, President of Rotary E-Club West 2011/2012, and connected with the Water and Youth Movement in Matanza, Argentina
Presentation of trees to the public donated by Water and Youth Argentina: Constance Seine, Alicia Maciel, Donato Perrone and Miguel Werner
Presentation of a kapok tree to UPF-Argentina: Liliana Pelayo and Daniel, Director of the Historical Museum of Flores