| | |
| --- | --- |
| | The Words of the Werner Family |
A Family Experience of Christ's Return
Christel Werner
January 2010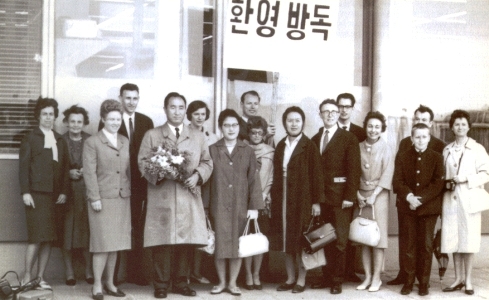 Mrs. Werner shares how she and her husband, Paul, who ascended in 2008, met the church in the early 1960s after twelve years of marriage and how they devoted the rest of their fifty-seven years together in response to God's call.
We were a close-knit family and always attended parties together, never one of us alone. This one time though, during the summer of 1963, one of our secretaries at IBM was leaving and I, along with all the other girls, was invited to her farewell party. I accepted the invitation and intended to be home by 10:00 PM To my surprise, one of my former co-workers, Sandy Pinkerton, showed up too. I hadn't seen her for some time and we had a lot to talk about. When it was nearly time for me to leave the party to be home on time, Sandy offered to take me back to the IBM garage to pick up my car.
She was usually very talkative but now she was quiet and started crying. I was at a loss as to what to do and asked her how I could help. Sobbing, she told me, "Christ has returned. He is now on earth." I was so shocked and started to explain to her that, according to Bible prophecies, certain events had to take place before his return and to our knowledge these prophecies were still unfulfilled. We discussed different aspects of the Bible, and I realized this would take many more hours to explain and I was already late, knowing that Paul would get very nervous. I had to head home. We agreed to meet again soon. Needless to say, Paul was very upset about my arriving so late. He had already called the police and the local hospital to find out about car accidents in the area and was in no mood to listen to my explanation. After he calmed down the next day, I told him about my experience with Sandy and his reply was, "Why didn't you tell me?"
"Well," I asked him, "How could I?"
As it turned out, these two simple sentences changed our lives forever. Sandy knew we were good Christians and were actually waiting for Christ's return. When we invited her for Sunday afternoon coffee, three people showed up at our house. Sandy had brought along her husband, John, who also was a co-worker of mine at IBM, and Pauline Philips Verheyen. As we were very familiar with Bible quotes concerning the return of Christ, fireworks erupted as soon as they started explaining highlights of the Principle.
Certain parts, like everlasting life after our physical death, the spirit world and prophecies of the Bible were in accord with our Christian beliefs. But most disturbing were statements about Jesus, our Savior. How could they dare tell us that Jesus didn't come primarily to die for our sins but to take a bride and form a true family, thereby fulfilling the ideal God held at the time of the Creation, and that Jesus wasn't able to fulfill God's primary purpose because of the disbelief of his people? They told us that he would return in the flesh as a man to completely fulfill his mission, and as stated in the Bible, he would have a new name. God's promise had now been fulfilled by sending his son, Sun Myung Moon, to earth.
The confrontation got so intense that I felt quite uncomfortable. I had a good relationship with John and Sandy and didn't want to hurt their feelings, but the sparks kept flying. We believed in the Bible as the word of God and expected Jesus to return in the clouds. Logically, we felt this was not possible by human reasoning, but with God, nothing is impossible.
Our struggle during the following weeks and months is hard to describe. Just thinking about it now, I'm reliving this difficult period, overcome by emotion. We studied the Principle, prayed, fasted and cried to God and Jesus for help.
We wanted to be true to our faith and serve the Messiah at his Second Coming. But how could we be sure? We waited for the return of Christ and didn't want to make the same mistake as occurred two thousand years ago. According to the Bible he would have a new name. Could it be Sun Myung Moon?
We continued to attend Sunday services in our Lutheran Church, and I prayed desperately during the service for guidance concerning the Principle and Father. Jesus embraced me and told me, "I love you." This was comforting and confusing at the same time. I needed a clear answer.
I had to go to work daily, but Paul checked his construction sites just briefly and returned home, trying to come to a decision. He studied the Principle in reference to the Bible and prayed and prayed. When I came home in the evening, trying to maintain at least part of our family life for the sake of Klaus, our eleven-year-old son, it was extremely difficult. Our discussions continued even at dinnertime, and the atmosphere was heavy.
Very soon, Pauline, John and Sandy moved into our home and really took over. They practically decided what should be done and when. I knew then that this was the end of our family life. We slept in different rooms right away, and practically everything changed overnight. Life at our home was upside down. How could I protect our child, who wasn't sure of what to make of these drastic changes in our family life? At that age, he needed a stable environment and enough rest to manage his school life. He was so patient and supportive, and all I could do was pray for his protection and try to help him cope as best I could.
True to Paul's character, his struggles in prayer were very intense and his conditions of indemnity dramatic as you may know from his testimony. It was heartbreaking for me to watch his suffering and not be able to help. After his decision to join the movement, he decided to subjugate his physical body and reach perfection very fast, or so he thought. Along with other extreme conditions, he took his daily bath in ice-cold water, literally containing ice cubes. I feared for his health. But he wouldn't listen to reason. Half a year later, the effects of these conditions became obvious, and he had to seek medical treatment in New York before boarding our ship to Germany.
My nature is just the opposite, and my indemnity conditions were not as extreme. I studied, fasted and my deep prayer life carried me through these difficult times. Deep in my heart I knew that my intimate relationship with God and Jesus would guide me.
Then Miss Young-oon Kim came to Sacramento for a two-day workshop. We attended all the sessions and were very impressed by her lectures and her personal testimony. Up to that point, we had no idea that she had been a professor of Theology in Seoul. The atmosphere was very high, and we felt God's presence. During the question-and-answer session Paul bombarded her with questions, quoting Bible prophesies concerning Jesus and the Second Coming. Finally, her patience reached its limits and she said, "Do you think I'm that stupid to accept something that isn't true?" The meeting with Miss Kim marked the turning point in our struggles. Her lectures were down to earth and yet spiritual at the same time. While studying her English translation of the Divine Principle, we were amazed at the new horizons opening up. This could only be the work of God explaining His plan of salvation. We also understood that we were prepared through generations of ancestors to be among the first in the Western world to follow God's call.
We had gone through much pain and sorrow throughout our lives, but here in California we finally had a good life as a family and I knew that accepting Christ at his Second Coming meant the total sacrifice of everything dear to our hearts, meaning all our dreams and plans and above all our life as a family. Even to this day, I can never sing the Holy Song "Light of Grace" without shedding tears: "I'll give my life and my love unto one thing to sing this song, but to actually do it is a different story. As Paul often told new members, once you give your life to God, it belongs to Him and you can never take it back. It's a very serious decision.
Up to this point, we had done everything together as a family, but I knew that Paul's decision, once he made it, would be final, even if it meant sacrificing our family. His motto was "God first" and then his family. At that time, he was increasingly convinced that the Second Coming had taken place and that we were called to serve the Messiah. I saw only two choices -- either we would follow the Messiah together, or we would go our separate ways.
In my agony I turned to God for guidance. I fasted and prayed in tears and by studying the Principle many hidden things in the Bible became clear. My trust in God was so deep that I knew He would never forsake me and I felt surrounded by His love. The atmosphere was so high and I knew this was from God.
On August 11, 1963, we joined the movement together and shortly thereafter decided to return to Germany as missionaries as soon as our business affairs were taken care of.
In the meantime we started witnessing right away. We visited people in their homes and taught the Principle. This was actually our first Home Church mission. We also attended the prayer meetings and church services of different denominations, but as soon as we talked about the return of Christ and his new name, we were not welcome anymore. One experience within a large congregation is unforgettable. At the beginning of the service the minister greeted and welcomed new guests, specifically our group. We were ushered to the middle of the church and the minister had us all standing up to be welcomed. Every eye turned in our direction and then the minister said, "These people are following the Antichrist, Rev. Sun Myung Moon. Beware! They came to try to convince you of his teachings. Don't follow them because they'll lead you to eternal damnation. According to the Bible, Christ will return in the clouds of heaven, and this prophecy has yet to be fulfilled." As young members this was hard for us to swallow. We had been asked before to leave a church or meeting, but we were never made so unwelcome in such unequivocal terms. Yet at the end of the service the minister stood at the exit and shook our hands with a smile.
On weekends we frequently drove to our center in San Francisco on Masonic Avenue to be with Miss Kim and our brothers and sisters there. On one of those visits, Klaus followed Miss Kim to her room and saw a photo of True Mother. Up to this time we had never seen pictures of Father or Mother. Afterward, Klaus came to me and said, "Morn, True Mother is so beautiful."
As we were witnessing every day, right from the start, we had no family life and this was very hard for Klaus. By that time, we were planning to go back to Germany as soon as possible. We thought it best to send Klaus ahead of us to my parents in December 1963. When the day of his departure came, we drove him to San Francisco International Airport. I think only a mother knows how heavy my heart was to send our eleven-year-old son across the continent and the Atlantic Ocean all by himself to Frankfurt, Germany. When we saw him disappear at the gate, aided by a flight attendant and waving for the last time, I thought my heart would break. We quickly left the airport and watched his plane disappear until it was a mere speck in the sky. My tears flowed quietly and I felt somewhat numb. Abraham's sacrifice of Isaac came to mind. Would we ever see him again? I prayed silently for the protection of our precious son and felt Heavenly Father comforting me.
My parents received him with open arms, although they couldn't understand how we could abandon our child, as they saw it, and they felt sorry for him. Klaus couldn't speak any German and my parents didn't have command of the English language. This made communication very difficult for both sides. He needed to go to school and had to learn German quickly. It was a difficult and demanding situation.
Our return to Germany
From that point until March 1964, Paul concentrated on disengaging from all his business activities, and finally traded in his new Chrysler for a Volkswagen van. For me it was not easy to quit my job at IBM; my departure on March 31 was tearful. The following day, we loaded the van with a few suitcases and were on our way from Sacramento to New York, taking Elke Klawiter van der Stok, a German member we had met in San Francisco, with us. In those days, all churches were open and accessible at all times, so on our way through different states we stopped at forty churches, at least one in each state we passed through, where we prayed and Paul read some parts of Miss Kim's translation of the Divine Principle from the pulpit as a condition for future missionary work in these states.
Our last stop in the U.S. before boarding the ship to Germany in New York was at Dr. Pak Bo-his home in Washington DC. Dr. Pak and his wife, who hosted us for almost a week, warmly welcomed us. For the first time we experienced the life of a blessed family and were deeply moved by their total dedication to God and True Parents. To this day, we are very grateful for this precious experience, which helped us very much to cope with our situation and our work in Europe.
On May 8, 1964, we arrived in the German port city of Bremerhaven on board the M/S Berlin. After our VW van was unloaded, we drove to Frankfurt and met our three other members, Peter Koch, Barbara Koch Vincenz and Ursula Schuhmann. All of us had joined in California. Soon it became clear to us that it was best to start our mission in a different city, so we decided to look for an apartment in Wiesbaden, about thirty five kilometers west of Frankfurt. Before moving to Wiesbaden, we drove to seven major cities in Europe -- the Hague, Holland; Brussels, Belgium; Paris, France; Madrid, Spain; Rome, Italy; Geneva, Switzerland; and Vienna, Austria and placed a Divine Principle book in each of the main Cathedrals of these cities.
In Wiesbaden we worked during the day and started street- witnessing in the evenings right away, even though according to German etiquette, one just didn't approach strangers in the street. Paul's focus, however, was directed at churches and other religious groups. Yet, as soon as he revealed that the Second Coming has already occurred, he was prohibited from stepping onto the church grounds again. We worked tirelessly for about a year and had very good contacts, only to lose them all because of the hostile influence of Christian ministers.
Our mission in Austria
When Paul received God's direction in prayer to pioneer Austria, his mind was already made up even before discussing it with me, though of course I wholeheartedly supported his decision. Within days, he asked his employer for a leave of absence from his job for six months. A few weeks later, when he decided to stay in Austria, I handed in his resignation. Together we prepared our VW van to serve as temporary sleeping quarters and packed up all the items he would need to be self-sufficient in Vienna.
On May 18, 1965, he was on his way to his new mission in Austria, our first mission country, and our prayers were with him. Klaus attended high school in Wiesbaden, and I continued working at a large insurance company to support our family as well as the mission in Austria. In Vienna Paul lived in his VW van and started witnessing and fasting to the extreme right away. He lost so much weight that some friends hardly recognized him when they saw him in Vienna. I really was worried about his health, remembering his severe indemnity conditions in Sacramento and started sending him "care packages" with homemade cake and other goodies. When Father came to Germany on his first world tour to bless Holy Grounds on July 26, 1965, Paul returned to Frankfurt with his first spiritual son, Walter Linder, a student working on his PhD degree in Economics.
For all of us, this was our first meeting with True Father, the Messiah, and of course we were all nervous, not knowing what to expect. Money was in short supply, but we tried to prepare for True Father and his party as best we could. When he and his party finally arrived at the airport, he greeted each one of us with a warm smile and a handshake. We missed True Mother; she hadn't been able to come this time. We didn't know, though, that she had her own seven-year course to fulfill and be victorious in. All in all, we had twelve glorious days with our True Father in Germany, practically from morning to night. We were able to participate in the blessing of two German Holy Grounds, in Frankfurt and Essen; we shared all meals together and had marathon meetings, sometimes all night long, when Father taught us holy songs over and over again, very much to the dismay of our neighbors who didn't appreciate the noise.
He also had each one of us sing individually and always listened very attentively with his eyes closed. On his last day in Frankfurt Father presented us with the official Unification Church flag and a beautiful wall clock for the center. He then personally gave each one of us a gift. We felt such a deep bond of heart that at the time of his departure we felt like orphans. Tears started flowing and we missed him already. After Father left, the center felt empty.
Before Father left Frankfurt, he honored our family by visiting our apartment in Wiesbaden, discussing our future mission. Father said that after the tour through Europe, Paul should go back to Austria, Klaus should continue to attend his school in Wiesbaden and my mission was to support my family and Paul's mission in Austria.
Paul's center in Vienna for the first six months was his VW van and our only communication was through letters and prayer. Once Paul received a mission, he totally focused on fulfilling that mission and needed all the support I could give him. This was true for all missions Father entrusted our family with, and all of us felt determined to persevere. When the load was heavy, our Heavenly Father was always close, wiping away our tears and comforting us, enabling us to go on just a bit longer.
Paul was still living in his VW van when winter set in. Winters in Vienna are quite cold and accompanied by heavy snowfall, so sleeping in his van was no longer possible. He fasted and prayed desperately for a place to stay, while Klaus and I, back home in Wiesbaden, supported him in prayer. Through a contact, he finally found a small place on the outskirts of Vienna. We were so happy and grateful that he had found shelter from the elements. However, when Klaus and I visited him for the first time in December 1965, we were shocked by his living conditions. Coming from a warm and comfortable apartment in Wiesbaden, we had to enter his upstairs "center" by an outside staircase, which was little more than a ladder.
It had no running water, not even cold water, no sink, no toilet facilities and no heating system. Every drop of water we used had to be carried upstairs from a pump and the dirty water carried downstairs in a pail and discarded. Even the homeowners, an old couple, had no sanitary facilities. The outhouse could only be reached by walking through a chicken coop. This was a real nightmare, especially when we had to use it at night, bracing against the bitter cold wind and snow and always mindful not to let any of the chickens escape. To prevent the snow from blowing into his front room every time we opened the door, Paul nailed a blanket in front of the opening from the inside.
The room in the back, where Klaus and I were to sleep, was even worse. Paul usually used it for storage. The only window was ice-covered and frozen shut and our breath was visible, just as it was outside.
Even so, when we first entered Paul's front room, we felt the peaceful atmosphere created by his deep prayers. As it was located in an attic, the ceiling was slanted. In one corner he had placed his little altar with a candle and Father's official photo for 1960, the only picture we had. To get even a little bit of heat, he had bought a 500-watt heating lamp to keep his back warm while praying for his contacts after coming home from witnessing.
When I voiced my concern about his health under these severe conditions, he replied that True Father had survived in a cardboard house in Busan and added, "Heavenly Father knows why I am here." This of course was true but we have to fulfill our part by taking care of our body. This worried me quite a bit. Feeling my concern he said, "I'm not home most of the time anyway. I'm witnessing and teaching every night into the morning hours, or I pray at St. Stephen's Cathedral, where countless candles are lit by other people continually coming in for prayer. That keeps the area pretty warm." When Klaus and I returned home to Wiesbaden, I prayed and fasted for decent living conditions for my husband.
When Klaus and I visited Vienna again in 1966, Paul had already found many members, and all of them had moved into a better center on Zirkusgasse, though it was a neighborhood infamous for its vices. They had turned this apartment into a haven for the spirit of God, where many members and guests had spiritual experiences. So many more people joined that soon even this center was too small to house all of them, a very happy problem.
When Paul left for Austria, he had resolved not to come home for the next three years, or before laying a solid foundation in our mission country. This he accomplished in the summer of 1966, a year after starting his mission, when he visited Germany for the first time with his nine spiritual children.
When it finally became clear that Paul would remain in Austria indefinitely, Klaus and I joined him in 1967. At that time, because the members had multiplied, they had just moved into a larger center on Oelzeltgasse. For Klaus it meant changing schools and an entirely different school system again; for me, it was the most difficult time in my life, my personal valley of tears. We were a family, yet since joining the movement, my husband and I had lived as brother and sister, and so it was in Vienna. Sometimes there were family matters to solve, and it was difficult to even find time to talk. When the situation was almost unbearable, I felt that perhaps someone else was much better qualified for my mission, and I should leave Austria. In that instant, Heavenly Father scolded me saying, "My child, I never make mistakes. I know about your situation, just go on a bit longer and I'll be by your side every step of the way." At that point, I resolved to endure silently whatever and however long it took. One dear sister in Vienna, Romana, supported me all the way and I'll be forever grateful for her unconditional love. I'm also greatly indebted to my wonderful sisters in Holland for their understanding and support. Heavenly Father definitely kept his promise.
During those years, we always kept in close contact with Miss Kim, who kept us informed about True Parents' activities in Korea. When she visited Vienna in 1968, she comforted me by saying that Klaus and I had to pay all the indemnity for Paul's great success and to endure just a little longer. She told me that True Parents were in the process of obtaining visas for their second world tour (in 1969) and many things would be resolved. She also said that Father was planning to hold the first blessing outside Korea at that time and we should prepare.
In March 1969, we travelled with our Austrian family to Essen, Germany, to meet our True Parents. For the first time we could welcome Mother. Her inner and outer beauty impressed everyone. Father and Mother, who was pregnant with Hyun-jin nim, sat with us on the floor; we had the feeling of being one big family.
As we all know, Father truly is full of surprises. One day before our blessing, Peter Koch and Paul were called suddenly into True Parents' room and Father told my husband, "Paul, you are now the leader of the German movement, and Peter, you take over the Austrian family." It came as a shock to us and to all our members. Tears started to flow when Paul broke the news to our Austrian members. Yet, this was God's will and Paul started right then and there to focus on our mission in Germany. This meant a great upheaval for my husband and I as well as for Klaus, who was still attending high school and had to change schools for the thirteenth time.
A few days later, our engagement took place. Each couple was called into True Parents' room individually and while True Parents held our hands, Father said to Paul and me, "You two were made for each other." After the ceremony, he added, "No more separation for you." It truly felt like a father speaking to his children. After our Blessing Ceremony on March 28, 1969, we resolved to try to live up to our True Parents' expectations, however bumpy the road may be -- and it was very bumpy at times.
The Day of Hope campaigns
The most memorable of all our missions were our participation in the Day of Hope campaigns in the United States (1974-1975) and the Washington Monument Rally in 1976, because we could work directly with our True Parents. Our team was assigned an itinerary of certain cities, and every two weeks we traveled to another state. In each of these cities, we prepared a banquet for many dignitaries and invited people to attend Father's speech.
After Father's public speech, True Parents would usually treat our team and the New Hope Singers to a celebration dinner at McDonald's and have many of us sing. It usually ended with True Parents singing for us. We felt like one big family and could get a glimpse of the future kingdom of heaven on earth.
As Mother was always heavily pregnant during those years and tired because of the strenuous schedule, she would sometimes rest her head on my shoulder during Father's speech, and I felt so incredibly happy, but on the other side I was so sorry for what she had to endure. Those intimate experiences with True Mother are no longer possible, but they will live in my heart and mind for eternity.
When we purchased the Pasadena house, Father called it West Garden. I clearly remember one visit in 1975 when True Mother was pregnant with Kwon-jin nim and extremely tired. We picked them up at the airport, and as soon as Father entered the house, he called all the leaders present to come to True Parents' room for a conference within the next ten minutes. I felt so sorry for Mother and wished that someone could suggest to Father that we could accommodate such a large group much better in our spacious living room, but for some reason it had to be True Parents' quarters. When all the leaders had squeezed in, there was no room to spare. As Mother came out of their bathroom, she had to find a way around the leaders on the floor to reach the bed, and I was happy thinking that she would lie down to rest. To my astonishment, Mother walked around the bed onto a little floor space between the bed and the window and then slowly and carefully eased herself down to the floor without saying a word. I was searching my brain frantically for how I could help Mother to be more comfortable without disrupting the meeting. All I could to do in that situation was to bring her a pillow and a blanket and whisper, "Sorry Mother." She smiled gratefully and closed her eyes.
Sometimes Father asked his staff, "What team is working in the next city?" When he heard that it was Paul and the German team, he said, "I'm sure everything will be prepared in detail and I have nothing to worry about."
I truly wish our second generation could have these parent -- child experiences with our True Parents, but this only happens once at a certain time in all of history. Our generation was truly blessed, but we also had to pay an equal amount of indemnity to be chosen by Heaven to follow True Parents at such an early time.
Remembering my husband
Paul's outstanding quality was his deep love for Heavenly Father, True Parents and our brothers and sisters. He was like a rock, never wavering in his unconditional commitment, no matter how difficult the circumstances. Father said once in a leader's meeting, "Paul's standard is very high. Outwardly he has a tough shell, but inside he is like butter."
For members working directly with us, it wasn't easy sometimes to live up to Paul's expectations, but one thing is absolutely true: He loved every one of our brothers and sisters deeply, appreciating and never forgetting their work and commitment to True Parents during those early years. He realized later that he sometimes hurt a member's feelings by coming on too strong, and he was very sorry about that. He told me that if he had been given the opportunity to do over again, he would have handled some situations differently.
As all the leaders know, Father often chastised Paul in leaders' meetings over the years, but he did recognize him during the forty-day fishing workshop in Alaska in 1998. Paul participated in the workshop despite a heart condition, which really required a leap of faith. When he came home he told me, you won't believe what I experienced one morning during Hoon Dok Hae in Kodiak. I was sitting way in the back when during his speech Father suddenly called my name and said, "Paul, I am very proud of you; you are number one." Paul was stunned because this had never happened before.
His last days and nights on earth I spent at his bedside, holding his hand, until his spirit ascended to the spirit world in a heavenly and peaceful atmosphere, knowing that he would now be free to continue his mission in the other world where his ailing physical body couldn't drag him down any more. When True Parents were informed about Paul's ascension, Father said, "Congratulations for a victorious life" and honored him with a national Seunghwa Ceremony.
After Paul's ascension, I received more than five hundred letters, from all over the globe, honoring Paul for his hard work and steadfast commitment to True Parents.
Now I share my daily life with Paul and pray that he can teach and help many people in the spirit world -- including our ancestors -- to find True Parents and to develop into glorious divine spirits. I am very proud of my husband, not so much because of his accomplishments but because of what he really is, a loyal son of God and of True Parents and a loving husband and father.
Our family had many hurdles to overcome, but we also had the privilege of a very personal relationship with our beloved True Parents here on earth and I am sorry, especially for our second generation, that this is no longer possible for all our members. When True Father told us long ago, that this time would come, it seemed impossible to us, because our being with True Parents was so normal.
I have just turned eighty recently, and I'm so grateful to our Heavenly Father for the gift of a long and fulfilled life, for His guidance and protection, for my family, for all my brothers and sisters throughout the world, and above all for His leading me to our True Parents during their lifetimes on earth.
I pray for their good health and long life as they put their lives on the line over and over again for the salvation of humankind.