| | |
| --- | --- |
| | The Words of the Werner Family |
National Level Seung Hwa of Rev. Dr. Paul Werner
Angelika Selle
July 10, 2008
Paul Werner, a new member, (lower left) at a meeting at 1309 Masonic Ave., San Francisco CA circa 1964.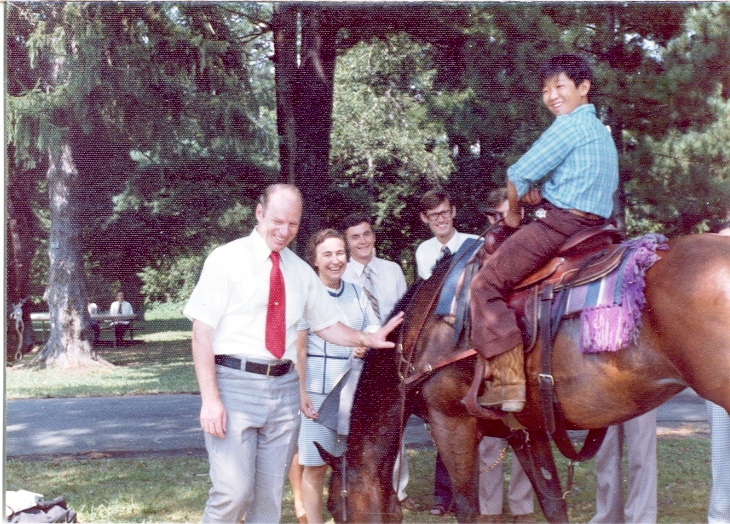 Paul and Christel Werner with Hyo Jin Moon at Barrytown, NY circa 1975.
A Great Christian Pioneer, Spiritual Leader and Spiritual Father of Many Has Gone Home
On the hot morning of July 10, 2008, some 250 friends, Blessed Central Families and acquaintances gathered at the Fairfax Memorial Funeral Home to bid farewell to our dear Rev. Dr. Paul Werner, pioneer of the Unification Church in Austria, Germany, and Canada who had passed into the spirit world on July 4. Among the attendees were Dr. Pyung Hwa Kim, Rev. Michael Jenkins, the German national leader Karl-Christian Hausmann, representing the German family together with Stefan Schmid, Peter Zoehrer, national leader and president of the FFWPU in Austria, Dr. Martin Porter, a very close friend and companion of the same Blessing as the Werners, as well as Rev. Reiner Vincenz, also former national leader of Germany and first pioneer of France. Also present were our American elders Dr. Hugh and Nora Spurgin.
Rev. Werner's body lay dignified in his casket. Next to him was a vibrant picture of himself in his younger years. He looked quite peaceful. According to his wife, Christel, Paul thought that he would be on this earthly plane a while longer, ever since True Father told him, "Don't go to Spirit World before I do!" But actually, he was well prepared to go anytime the call would come and was looking forward to getting "wings," without being tied down by his ailing physical body, preventing him from doing Father's work on earth.
Obviously, God had another plan.
Rev. Hiroshi Goto, pastor of the Northern Virginia church, emceed the Seung Hwa Ceremony, calling to the stage several speakers who reminisced about Reverend Werner's life. Werner Seubert read excerpts from Paul's biography, which were very dramatic. Then three individuals gave their personal testimonies -- "too much to be told in five minutes," as Rev. Terry Yamane of Alabama said. All of the testimonies contained funny stories and anecdotes that made everyone laugh and thus brought Paul right into the midst of us.
Gerhard Peemoeller shared about how he joined under Paul Werner and also his experience with Paul after he entered the spirit world. Rev. Phillip Schanker animatedly recounted his experiences and challenges with Paul (that's how he preferred to be called by everyone) during the time of the One World Crusade and the IOWC teams in the early seventies. Rev. Yamane talked about the time of great persecution of our movement in Alabama and how Paul dealt with it successfully and fearlessly. Most of all, she recalled that it was more than a business experience for the Alabama families -- it was very spiritual and very focused. Every night, Paul would provide internal guidance in public meetings and then personal guidance to each individual, which she could still feel in her heart.
The newly appointed North American continental director, Dr. Pyung Hwa Kim, expressed his heart and greetings to the Werner family, giving them words of encouragement and praise for Paul Werner's great accomplishments as an envoy of Heaven. He said this ceremony is one of celebration and joy, since it marks the third high point in a person's life; the first being birth, the next, Blessing and marriage, and the third, passage into the spirit world. "Paul has lived a fulfilled and significant, as well as victorious, life here on earth," said Dr. Kim. "A new, even more exciting phase is awaiting him now. Let us celebrate his life!"
Rev. Michael Jenkins, after expressing his great admiration for Dr. Werner, one of our first pioneers and elder of the Western world, read words from the Cheon Seong Gyeong book on the significance of the 43 Couples Blessing and proclaimed that the Werners' lineage is secured.
After the Seung Hwa (part one), everyone followed by car in a procession to Fort Lincoln Cemetery in Maryland, where a plot of land was purchased by our Blessed Central Families as our National Won Jeon. Here, we brought Paul to his final resting place. Pastor Angelika Selle of the Maryland Family Church, also born in Germany, conducted the final ceremony, welcoming everyone with Paul's words to his wife Christel not to cry at his Seung Hwa but to rather dance.
Truly, a rather joyful and light spirit carried that part of the ceremony. Our dear Austrian sister, Sylvia Eberly, provided accordion music, as everyone sang some of Paul's favorite songs and thus created a most beautiful atmosphere. Reverend Hausmann, of Germany, opened with a prayer, comforting Paul that he can rest assured that his family will be taken care of and wishing him a good new beginning in the spirit world, as we here would continue the work for Heaven.
Another testimony was given by Reverend Vincenz, who recalled historic memories with Paul. Reverend Porter described Paul's true heart and personality, which were driven by his love for God and total obedience to True Parents. Our dear sister Sylvia then sang the "Andachtsjodler," a famous Austrian yodeling song, since Paul loved Austria and adored music.
While the casket was lowered, we all hummed and sang "I'll Never Leave You," followed by a flower offering by the immediate family and Family Federation leadership. Our elders, the Spurgins, spoke a most moving send-off prayer in tears, honoring this great pioneer, leader, and son of True Parents.
Rev. Mark Hernandez, district leader of Texas, offered three cheers of Mansei!
The final words of the service leader were, "Paul, we love you, and don't worry about us. We will do even better than you!"