| | |
| --- | --- |
| | The Words of Dae Mo Nim (Mrs. Hyo Nam Kim -- Hoon Mo Nim) |
Congratulatory Banquet for True Parents' Birthday and Father Sun Myung Moon's 90th Birthday - Proclaiming the Peace UN as the Parental UN
Dae Mo Nim
January 30, 2009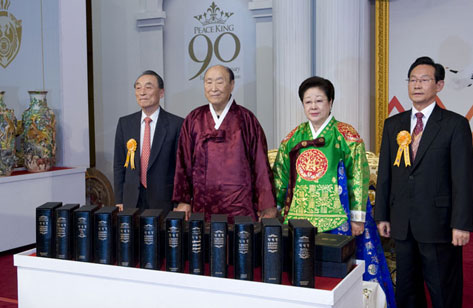 True Parents was offered the Cheon Seong Gyeong, translated in 13 new languages, by Rev. Yeong-hui Kim (left) and President Bong-tae Kim, Sun Moon University (right) to commemorate the True Parents' Birthday and Father Sun Myung Moon's 90th Birthday January 30, 2009, Cheonseong Wanglim Palace (Heavenly Palace)
On January 30, 11 a.m., in the Main Hall of Cheonseong Wanglim Palace (Heavenly Palace), the 'Congratulatory Banquet for True Parents' Birthday and Father Sun Myung Moon's 90th Birthday' was celebrated with True Parents, and around 1,000 people of Ambassadors for Peace, religious leaders, distinguished guests from each levels from around the world attended. Many members affiliated with the media also attended the celebration. Rev. Chang-shik Yang, President of FFWPU-Korea, was the emcee for the celebration.
The celebration officially started as True Parents emerged onto the stage wearing traditional Korean wear and cutting the congratulatory cake. True Parents smiled as Shin Jun Nim and Shin Nyeo Nim offered the bouquets. After the prayer offered by Rev. Do-sun Lim, General President of FFWPU-Japan, there was the introduction of distinguished guests. Then there was a brief congratulatory video message from former British Prime Minister Margaret Thatcher. Congratulatory telegrams were also received by President Barrack Obama, former President George H. W. Bush, and from Korean Prime Minister. Sung-su Han, were introduced.
True Parents' Universal Achievements
Then, Hyung Jin Nim, Chairman of FFWPU International, said, "Rev. Sun Myung Moon, my father, is the greatest leader for humanity, and he lead a thorny path with the mindset of Absolute Faith, Absolute Love and Absolute Obedience for the humanity. As they say, 'Behind a great man, there is a great woman.' I also want to offer my congratulatory remarks to True Mother who raised 14 children," for his welcoming address.
After the video presentation, titled, 'Peace King Sun Myung Moon and Mrs. Hak Ja Han Moon', that showed True Parents' life and achievements, Rev. Chung-hwan Kwak, Chairman of UPF International, introduced True Parents' universal achievements in his congratulatory address.
After the Representatives of 12 Continental Directors offered gifts to True Parents there was a time of dedicating publications to commemorate the 'Congratulatory Banquet for True Parents' Birthday and Father Sun Myung Moon's 90th Birthday.' First, Rev. Yeong-hui Kim and President Bong-tae Kim, Sun Moon University, offered the Cheon Seong Gyeong that was translated into the following new languages; Hungarian, Croatian, Swedish, Polish, Slovene, Indonesian, Turkish, Arab, Brazilian, Sinhalese, Armenian, and in Kazakh. With these new volumes, the Cheon Seong Gyeong has been translated into 41 different languages. Then, Dr. Nan-yeong Moon, President of WFWP, and Dr. Jun-ho Seok, vice director of World Missionary Head Quarters, offered the following commemorative publications; True Parents Life Course' (improved edition) Volume 1 - 3, The Path of Pastors (improved edition), The Path of the Providence (improved edition), Pictorial of Letters, True Parents in the Era after the Coming of Heaven, Pyung Hwa Shin Gyeong Description, Testimonies of True Parents' relatives, and Pictorial of True Parents' Life Course.
As a special gift, North Korean Leader Jong-il Kim sent 60, 80 and 90 years old wild ginseng for True Parents' longevity, and a wreath made by 90 roses and lilies, and added to the great historical meaning for True Parents' 90th Birthday who have offered his life for the unification of North and South. After the congratulatory address offered by Dr. Il-shik Hong, Former President of Korea University, and several other distinguished guests, a congratulatory song was followed by Professor Mi-ran Kim, Sun Moon University, and the 'V.I.P. Children's Choir,' which was magnificent.
True Father said, as he came onto the stage, "Please open your spiritual five senses and feel that the Era after the Coming of Heaven, 'A Life for the Sake of Others', in other words, True Love is here. I will distribute a booklet that has core contents of the teachings of 'One Family Under God' that I have emphasized all my life, thus, make this your family law and live your life and create a family that has heavenly fortune." Then, True Father gave words about the Peace UN and the Peace King Representatives (Bunbongwangs). "The Peace UN is the Parental UN in a position to govern the Abel-UN, which was proclaimed by heaven as the revolutionary era after the coming of heaven started, and the Cain-UN, the current UN. The Peace King Representatives, who are the substitutes and inheritors of True Parents, must fulfill their mission in the Parental UN as it creates World Peace." Also, True Parents testified of his life since the day he was summoned, at age 15, by heaven in Jeongju County in Northern Pyungan Province until now, the lonely life to fulfill God's will.
At the end, 3 cheers of Eok Mansei were offered by Rev. Seon-jo Hwang, President of UPF-Korea, that shook the whole hall and the first part, the celebration, ended.