| | |
| --- | --- |
| | The Words the Hose Family |
Painting the town: Monroe Muralist David Hose is leaving a permanent mark on the valley
Polly Keary
June 3, 2008
Editor
The Monroe Monitor and Valley News
www.monroemonitor.com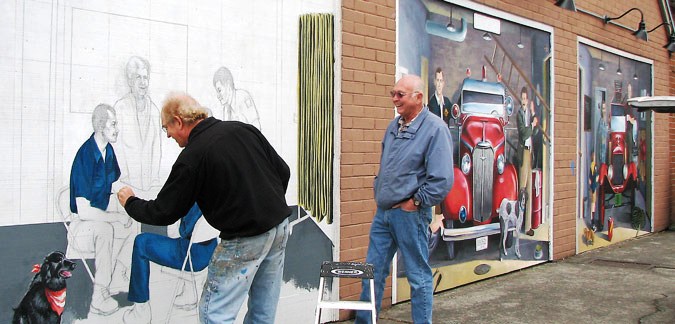 When Monroe muralist David Hose gets excited, he shuffles his feet.
When he gets really excited, he bounces. Last Wednesday, as he painted in a juicy red fire truck on the wall of the old fire station in Sultan, he got a surprise visitor. Clyde Jelinek, whose wife Genevieve was killed on U.S. 2 last year, stepped up to the emerging painting. Genevieve was a staunch supporter of fire fighters, and her face is sketched out in pencil in the mural, where she will be depicted as part of a fire crew in the triptych.
"She's going to look a lot better with the paint in," said Hose, but Jelinek was already smiling.
"Oh, that's beautiful," he said.
"God bless you," said Hose, and he shuffled his feet. "Did she have any favorite necklaces I could paint in?"
Jelenik described a gold medallion necklace his wife had worn.
"Okay, we'll do it," said Hose. And he bounced.
It's those details of the murals he paints that excite him the most, he said. And in the four years he has lived in the Sky Valley, he has painted the details of the lives, history, and ecosystem of the area in more than a dozen public artworks.
"I'm 63, and I've never been more excited in my life," he said. "I love this valley. A lot of people are winding down at this age and I am just getting started."
It is true that Hose's career as a muralist began to take off when he came to the Sky Valley. He had loved art all his life and had been painting professionally for about 10 years when he came to Monroe. But work was hard to get.
"I started in Bellevue in 1992, but it's really hard to break in down there," he said. "I just struggled, job to job."
In 2004, Hose moved to Monroe with his wife Takeko. He joined the chamber of commerce, and that very day, chamber of commerce director Neil Watkins gave him a call that would prove to be a break. He said that the Monroe Arts Council wanted to commission a mural on the wall of Haight Carpet, and encouraged Hose to apply.
"I had to fight like heck to get that mural," said Hose.
When he inquired, he was told that another art work was likely to be chosen.
"I told them I could beat the price and the design," he said. "I wasn't actually sure, but I said 'Let's go for it.'"
He did, creating a mural called River of Life, a sun-dappled above-and-below cross section of the Skykomish River, featuring floating kids and hefty salmon.
Since then, he's hardly had time to put his paintbrush down. He has created murals for Eddie's Trackside in Monroe, Monroe's Napa Auto Supply, a giant train on the wall of the Sultan Visitor Information Center, and numerous small murals at Monroe's Hitching Post Cafe, among others.
"I'm full-time plus, now," he said.
That is a source of considerable joy to the artist, who approaches his work with a great deal of passion. He gets that passion from connecting with the people who hire him, he said.
"If you come in with all the answers, you will lose passion very quickly," he said. "Your ego gets in it. But there's a reason that the person wants the art. I try to get into the world with the person, until I catch it. Then I'm ready to paint."
Emotions capture Hose quickly, and manifest themselves into details in his works. On the wall of the fire house, for example, the first image to be completed was that of a firehouse dog. The owner of the real-life model paid $500 for the privilege of having her pet's portrait included in the mural. When she met Hose, she was grieving. The dog, Max, had recently died.
"She loved Max like a son," said Hose, shuffling his feet. "I finished Max first, she had such a passion to see him."
Max had loved zucchini squash, so in the dish depicted at his feet is a green abundance of the vegetable.
Upon finishing a mural of a train on the wall of the nearby visitor information center, Hose grew emotional himself, choking up as he described the visits he received from people while he worked.
"I'm irrationally in love with this area," he said.
Hose's success since arriving in the Sky Valley represents more than just a strong start to a second career. It represents the culmination of years of change, some of it very painful. Although Hose loved art since his youth, the first 28 years of his professional life were spent working for the Reverend Sun Young Moon in the San Francisco area.
It was there he met his wife Takeko 38 years ago. The young Japanese woman had come to the United States as a missionary to work for Moon, who was then more popular in Japan.
Hose and Takeko were wed in a mass ceremony and together remained highly involved with the Moon church, in which Hose earned a good living traveling and working for the reverend. But Hose, who describes himself as a truth seeker, and his wife developed serious differences with the church as the 1980s drew to a close. In 1991, Hose and Takeko were preparing to leave the church and move back to Hose's native city of Seattle, where he would pursue a career in art.
But as they made plans, a serious tragedy struck the family. One of the family's two sons thought he heard a deer in his mother's beloved orchard and fired at it with a 22 rifle. The bullets left Takeko, who had been pruning in the orchard, paralyzed from the waist down.
David and Takeko Hose wrote a book called "Every Day God" about the process of grieving that took place in the following months. But in the midst of their grief, they decided to stick to the plan, and Takeko, in spite of her injuries, was determined to support Hose in his new career.
The two started a business while Hose tried to get his painting career off the ground, and at times, it was hard to bear seeing how hard she worked, said Hose.
"We manufactured plaques, laser engraved, and she would paint them," said Hose. "She did a damn good job for 12 years while I was getting established. She'd be sitting at the table all day long painting plaques and she had pain from her injury. I owe her so much."
Now, though, she is able to pursue a less arduous schedule, but rest doesn't come easy to her, Hose said.
"The woman gets more done in a wheelchair than I do on two feet," he said, bouncing. "She's a force of nature, let me tell you. I have more respect for her now than I ever have before."
Today, closer to his wife than ever and living his dream, Hose is at peace with his spirituality and although money is sometimes still tight, he feels secure in his career. Now he is dreaming about the future.
"By the time I'm 70, I want to make a national mark as a muralist," he said. But before that, he wants to make a permanent mark on the Sky Valley.
"I wish they would give me a wall and let me do what I want," he said, his eyes widening behind his small oval lenses.
"But I don't know what it would be!" he burst out, bouncing. "I know the wall though. It's that wall across from were Curves used to be, by where the taco truck parks. And I have a one-man campaign going to do the smokestack by the Grocery Outlet."
He does know what that would be.
"I would study very hard to know the history of the area and I'd do something like River of Life, with strong images, faces, Native Americans, steamboats going up the river. And the top would be like the sky. It would look like the smokestack would disappear in the sky," he said.
He raised his hands, following the smokestack into the air.
And he bounced.