| | |
| --- | --- |
| | The Words of Sun Myung Moon from 2008 |
The dangers of talking about oneself
Sun Myung Moon and Gwi Ok Park
February 1, 2008
FFWPU International
Translation of notes taken by the Unification Church History Committee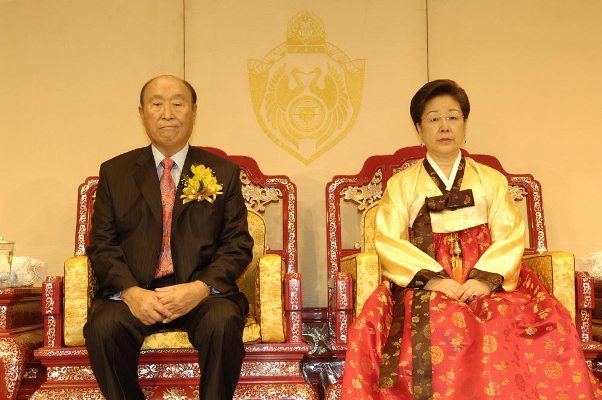 Sun Myung Moon and Hak Ja Han January 1, 2007
This morning's Hoon Dok Hae first began with a pledge service for commemorating the start of the new month.
After all were seated Father asked the participants where they were from. This morning's Hoon Dok Hae was filled with members from Gwangju and Jeollanam-do.
Father talked about the Ocean EXPO that was to take place in that area and pointed out how people were not opposed to the projects that our movement was carrying out in that area. Yet, he indicated that though the people there may welcome our activities the question was whether they were welcoming us as an owner or as citizens.
Father warned the dangers of talking about oneself, that people would leave you if you just talked about yourself. Father asked the members from Gwangju to embrace their neighbors in Daegu (referring to the regional sentiments between the two cities) advising them to live for the entire nation and not just their city.
True Father talked about the need to create roads interconnecting Busan, Tongyoung, Yeosu and Mokpo. He also emphasized the need to link the harbors off the coast of Korea. He explained that Korea situated in an important area and highlighted its importance in conjunction with the Pacific Rim Providence.
True Father also explained the effects of moxa. (ssukteum)
True Father then asked Rev. Sun Jo Hwang to give a report on the development of the south coast of Korea. Then Father asked Mrs. Wonju McDevitt to continue the Hoon Dok reading. Mrs. Wonju McDevitt read chapter three from the Pyeonghwa Hoongyeong.
After the reading Father asked Ms. Jang Song Kim to sing and had Mrs. Gwi Ok Park to give a testimony. Mrs. Park was born into a Confucian household. She had studied hard on her own and became a teacher. She joined the Unification Church in 1959.
Summary of Mrs. Gwi Ok Park's testimony:
From a child I dreamed of many things which later became a reality.
My grandfather's religion was Confucianism; he had strong feelings against the Japanese. I grew up in a Confucian household. Yet, my mother was an ardent Buddhist. When I was in middle school I often went to the temple with my mother. I was quite frail as a child. Later I began going to a Christian church. I couldn't understand how the lord was to come on the clouds and to bring the dead back to life. I pestered the minister with my questions but never got an answer that quelled my questions.
In March 1959 my cousin told me about the Unification Church. I was a teacher by then when I first heard the Divine Principle. I was deeply inspired in the introduction which stated that all religions were going to be united. Since God was one it made sense to have all religions united.
From that day on I began to go to the Unification Church instead of going to the Christian churches. I was impressed by the logic of the Principles of Creation and was convinced there was a God. I remember borrowing the Wolli Haesul and reading it many times. I was puzzled however because it did not indicate who the author was. When I asked I was told it was the Rev. Sun Myung Moon.
I felt that I had to know more about him so I diligently studied the Principle while going to church. I also conveyed these teachings to my students. When my Christian minister found out he was shocked and spoke baldly of Rev. Moon. So I asked the minister if he ever made the effort to find out about the Unification Church or pray to God about it. I asked him Doesn't the Bible say to love one's enemy?
The minister spoke ill of the church telling me that the Unification Church was not worth praying for. I left him realizing that I had nothing more to learn from this minister.
I offered devotions and conditions and prayed for an answer. I found it in a dream. In my dream I met the lord at his second coming and saw that we were in a place decorated in gold in the midst of a field of lilies.
After I had this dream, I took part in a gathering in Daejun where Father was expected to come. I went there with Hak Sil Kim who introduced me to Father personally as a teacher.
Hoon Dok Hae this morning ended at around 8:00 a.m.