| | | | |
| --- | --- | --- | --- |
| | Sun Myung Moon's Speeches From 2006 | | |

Sixteenth Chil Il Jeol Celebration - Pledge Service And Commemorative Service
Sun Myung Moon
July 1, 2006
Chung Pyung Heaven and Earth Training Center
FFWPU International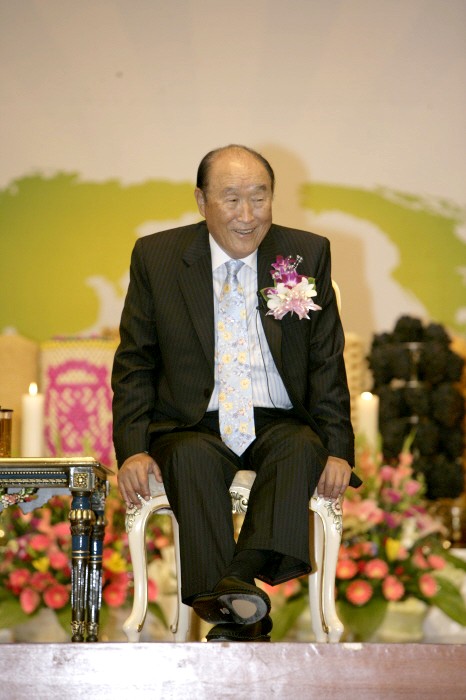 On July 1, 2006, 8 AM, the 16th Chil Il Jeol celebration was held in the Chung Pyung Heaven and Earth Training Center. This was the first Holy Day to be celebrated after True Parents delivered the speech, "Cheon Il Guk Is the Ideal Heavenly Kingdom of Eternal Peace" for the opening ceremony of the Cheon Jeong Gung Museum.
Nearly 5,000 people gathered that day to join True Father in celebrating this Holy Day, while True Mother continued in her world tour of delivering a message of peace.
Rev. Sun-jo Hwang was the emceed for this day. The ceremony began with pledge service; Rev. Hwang led the congregation in the recital of the family pledge and then with his wife offered the representative prayer. True Father then cut the commemorative cake, tasted the offering food along with Shin-june nim.
Rev. Hwang then briefly spoke about the significance of this day's celebration in that it was the first Holy Day to be celebrated after True Parents' coronation and entrance into Cheon Jeong Gung. He passed the microphone to Prof. Lan-young Moon, president of WFWP, who then read the Hoon Dok reading for this day. She read the prayer that Father gave on the day he declared Chil Il Jeol and some excerpts from that day's speech.
Mr. Noh-wook Pak and his wife Hyun-sook Han offered a flower bouquet to True Father. Mr. Jae-hyuk Choi (tenor) and Mi-ran Kim (soprano) went on the stage and sang "To the nation of hope" to congratulate this day.
After the song, Father walked to the center of the stage and leaning on the chair that was prepared for him, he began to speak:
Some excerpts from Father's speech.
"I have been working alone until now; I had to walk this path alone but now times have changed." "Now God can be with me and God's will and my path can now move together."
"It is no longer the time for forgiveness and understanding. The time has come now to deal [with your problems] on your own."
True Father also talked about the Holy Ground in Israel saying, "Israel is not the holy ground of Judaism; it is Jesus' holy ground. Consequently, with Father's authority I can relocate the holy grounds." "You must march forward in restoring your tribes and breaking through in your community for the sake of the reunification of this divided homeland."
At the end of his speech that day Father called Lim-yeol Ra and asked him to give a testimony about how he was saved from death when he served in the army.
Rev. Chong-gwan Yoo, president of the Citizen's Federation for the Unification of North and South Korea, led the congregation in three powerful cheers of og-mansei to end this day's celebration.


Download entire page and pages related to it in ZIP format


Table of Contents


Information


Tparents Home