| | | | |
| --- | --- | --- | --- |
| | Sun Myung Moon's Speeches From 2006 | | |

Leaders Rally For Korean Ambassadors For Peace
Sun Myung Moon
March 16, 2006
Seoul Korea
FFWPU International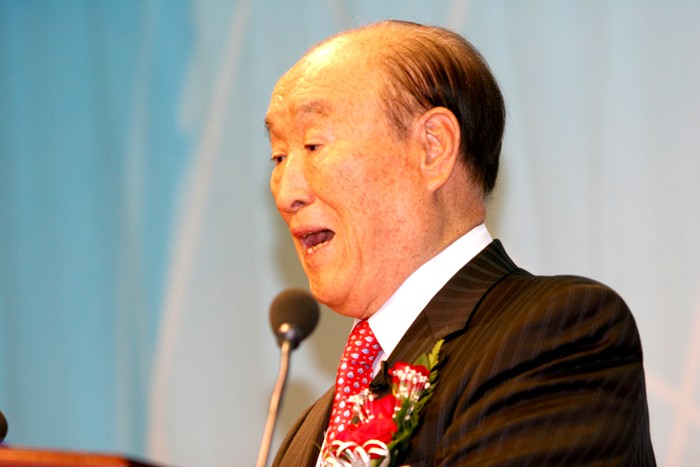 True Father: "The age in which those who are evil are allowed to live better than others is passing away.
True Father speaking before Korean Ambassadors for Peace including former government officials, prominent figures in the religious and professional circles at the "Leaders Rally for Korean Ambassadors for Peace." [March 16, Millennium Hall, Central City, Seoul Korea.]
"Until the day of peace comes upon the global village"
The "Leaders Rally for Korean Ambassadors for Peace" took place on March 16 at the Millennium Hall in Central City where 1500 Ambassadors for Peace from Korea gathered to pledge to bring about unification on the Korean Peninsula and the realization of world peace.
The event was organized by the International and Inter-religious Federation for World Peace (IIFWP) under its Chairman, Dr. Chung Hwan Kwak. Many prominent figures in Korean society participated in the rally that day including Lee Cheol-seung [Standing chairman, Korean National Congress for Freedom and Democracy], Kim Min-ha [Chairman, Association for Korean Ambassadors for Peace], Kim Bong-ho [former vice Speaker of the House], Yang Jeong-gyu [former vice-president, Hannara-dang], Cho Cheol-gwon [former minister of labor], Kim Yoon-deok [President, Korean Women's Leaders Federation], Park Sil [former member of parliament], Lee Jin-seol [President, Central City], Huh Moon-do [former minister of National Unification], Na Yong-hwa [Head of the Buddhist Limje Order], Pak Gang-soo [former president of Pai Chai University], Cho Nam-poong [former army commander] and Shin Eun-sook [President of Korean Women's Political Caucus]. Participants listened to reports on the activities of IIFWP followed by a special address by Rev. Dr. Sun Myung Moon, founder of IIFWP. At the end of the rally they made a resolution to play a role as Ambassadors for Peace in bringing about world peace.
In the congratulatory address, Dr. Kim Min-ha spoke about Rev. Moon saying "What Rev. Dr. Sun Myung Moon has done throughout his entire life was initiating a movement toward peace based in true love so that all humanity could live in peace and happiness." He called on all participants for their support in Rev. Moon's efforts saying, "When you, as ambassadors for peace, contribute your experience and wisdom accumulated in each of your respective fields in this movement for peace, I am sure that it will help advance Rev. Moon's cause for peace and will play a significant and meaningful part in bringing peace and prosperity to the Korean Peninsula."
On this day Rev. Dr. Sun Myung Moon spoke on "God's Model Ideal Family and Nation, and the Peace Kingdom." In his address Rev. Moon emphasized about the ideology of true love, which shows that peace was not in the distance but could be found in each person's family.
Rev. Moon explained, "a world of peace is where people live together in harmony" and that "The family sets the pattern for living together in harmony." He stressed that "we should all create and live as ideal families based on true love."
He reminded those there, "expanding the ideal family is the mission of an Ambassador for Peace as well as God's desire," and that "when the model ideal family is anchored, that is when the peace kingdom in other words the world of peace will be ushered in."
Explaining, "The age in which the unreasonable and corrupt world plays havoc, allowing those who are evil to live better than others, is passing away." he urged them to "become the proud 'peace kingdom police' and 'peace kingdom corps' of the Universal Peace Federation, and protect the blessed families of the world," and to "fulfill our roles as the sentinels watching over this blessed land that is our planet."
Three ambassadors for peace, Lee Cheol-gi [vice chairman, National Elders Council], Kim Joo-seob [former executive secretary to the prime minister], Seo Dae-seok [former international vice president, Lions Club International], also took the podium and talked about their successes in educating the Korean people through their lectures that they gave on peace as they toured the nation.
IIFWP will host similar rallies on the 22 and 23 for ambassadors for peace in the field of society, education, religion and journalism, and those involved in politics, the economy, security issues and gender equality respectively. From March 25 to April 3 a series of education on peace in Korea will be held in the major cities in Korea including Seoul and Cheonan for 1 million people.


Download entire page and pages related to it in ZIP format


Table of Contents


Information


Tparents Home