| | | | |
| --- | --- | --- | --- |
| | Sun Myung Moon's Speeches From 2006 | | |

Message To Filipino Brothers And Sisters During Sunday Service
Sun Myung Moon
February 4, 2006
Letter to Filipinos by Supaporn Zablan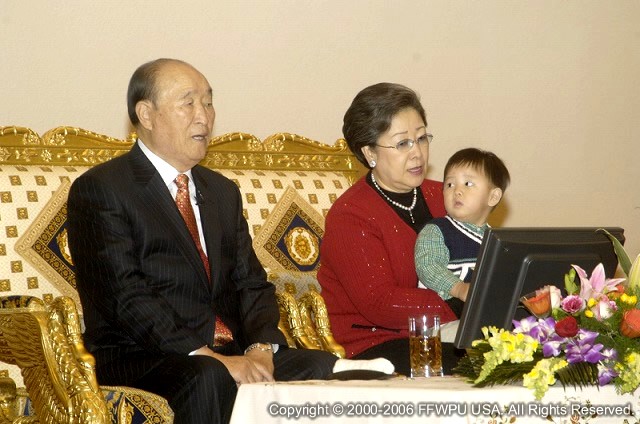 Dear brothers and sisters,
Attach below is the formal letter from K. Mike regarding TPs visit, However I would like to informally relate message from Sunday service yesterday from kuya Mike. It is touching and more...
kuya Mike reported to us on World Leader Assembly that he had attended in Korea last True Parents Birthday (Feb.4, 2006)
During the celebration of birthday, it ended with Salmon, our member who are very famous magician in USA. He performed very beautiful magic and said, "I wish you a long life and good health". Then it is beautifully ended.
In the morning HDK time, the whole speech of True Father was filling up with tear. Father said "Now I am 86 years old but still we don't have nation for God" he asked "Why?, why you want me to have long life? Good health? Why ... Rather you should pray for me to go to spiritual world" then He asked Won Joo that did she already looked for his tomb, his graveyard?" (in Korean culture before the person will die normally he will visit his own tomb) Father cried and every leader was crying. Normally Father don't show how weak, how tired. Even he was almost collapsing, he would still try to hold, but this time Father cried so much.
Father said, I need to talk to you now because I don't know when I can see you again. Father consumed 6 hours talking to leaders, he asked "what about you? Are you going to fulfill your responsibility?"
Since last 3 years, Doctor strictly prohibit Father in traveling by Plane because Father heart and lung is filled with water, in case Father need to travel, he need to rest for a month before to travel again. But True Parents did 100 city world tours 1 day 1 city. What do we think and feel on this as children.
We should remember that messiah is not only one, we should be extended body, and we should be True Parents by ourselves
Father asking leader, you promise me that you will fulfill your responsibility, True Father said to True Mother that "you must work hard" . Then Father pressured true children to work hard. Father gave so many directions and guidance during 6 hours, in the same time Father let us make pledge how to restore the nation.
In this 6 years of Chon Il Guk, Philippines must fulfill foundation of Barangay at least 12 barangay. Now we already have Tatalon, 3 brgy.in Cavite, Flat way, Commonwealth, Montalban, brgy.in Tanay and Antipolo. One good result is Maragusan town.
We have to substantially identify and creation of core member and core teachers.
CARP committed to make 5,000 core member within the year. Every Saturday morning to Sunday night , our chapel full of students who joining lecture, receiving interview, they went out for service for peace, so that we can have chapel for our Sunday service, immediately after Sunday service ended, the students will come back for continue activities. This kind of activities also happening in Cabanatuan and Isabella.
Father gave direction to raise up 7,000 peace ambassadors. In the beginning we don't understand why we gave award to Peace Ambassador, now it become clear this Ambassador will be the main people to build Abel United Nation. We are looking for head quarter of peace U.N. in each region. In Asia most likely Philippines will be chosen.
This Peace ambassador will be helping to solve problems in Middle East, all conflicts Father have clear plan. Father now organizing Peace Police, by using Martial Art Federation and accepting volunteer who will be under the lecture of culture of heart. This will be working to help solving conflict. Peace Zone education, etc.
This is something need to be pray for.
Regarding for preparation for True Parents visit, actually we loss the booking in Araneta Coliseum, but it seem everything so spiritual... Our director who help us for convention this time is very famous director who organized big event many time, he is organizer of Regin Velasquez and other, he booked Araneta on March 25, and it was confirmed. Suddenly the booking was cancel without knowing. There was big fighting of director and Araneta about this.
However originally we want to organized convention for 50,000 people gather at Amoranto Stadium in Rizal, and we have reported that to True Parents (True Parents desire is to give Blessing to all people) however we are worried about security of True Parents so we decided for Araneta and organized only Brgy Leader, Teacher and Religious leader to gather in Araneta Coliseium which can only accommodate 25,000 people.
But because of Araneta was cancelled so we have to look for another one, then Yen Makabenta suggested us for Rizal Stadium which could gather for 50,000 people.
We went to check, and we satisfied with the security. Surprisingly from Feb.1 to April 30, every day is booked excepted for March 25 is vacant. How great it is!!!!
Financially, it is not easy to make offering. Even us leaders, we have to find way to donate as the first people. However, I'm happy that leaders are very committed and show the good example. True Parents are coming to the Philippines, we computed the expense, it would reach 12 million, even we try to cut many expenses.
So please find way to support and make the utmost success."
Thank you very much and God Bless you all.


Download entire page and pages related to it in ZIP format


Table of Contents


Information


Tparents Home