| | | | |
| --- | --- | --- | --- |
| | Sun Myung Moon's Speeches From 2006 | | |

True Parents' Birthday Ceremony
Sun Myung Moon
February 3, 2006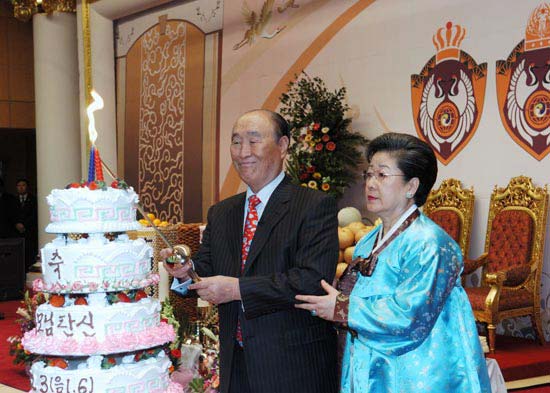 On 3rd of February, 2006, a special event was held. The celebration of the day of True Father and True Mother born, took place in Chungseong Wanglim Palace (Heavenly Palace). Many distinguished guests attended, as well as many others filled the Heavenly Palace.
The ceremony took place in the main hall of the Heavenly Palace, which started from 8:00 a.m. After True Parents came to the stage, the opening remarks were given by Rev. Dr. Chung Hwan Kwak who also emceed the ceremony. The pledge ceremony was given by True Parents, True Children and then the members attending the ceremony, respectively. Following the pledge ceremony, an Invocation was given by Rev. Dr. Chung Hwan Kwak. While True Parents cut the Birthday Cake the whole crowd sang the Happy Birthday song (Korean), followed by partaking of Holy Food. Which True Father first took some for himself, then fed the True Children, and True Mother. Then the Introduction to True Parents' Lives and Achievements were presented in a video presentation. Rev. Dr. Chung Hwan Kwak added, "If we present all of the miracles after miracles that True Parents have achieved in their lives for the world and God, there would not be enough time, so I regret to just show part of their tremendous achievements, but we all know how much True Parents have given their lives for humanity."
After the Video Presentation, Commemorative Address was given by Rev. Dr. Chung Hwan Kwak. Honoring True Parents for their accomplishments, and sacrifices, and introduced part of True Father's movement for world peace through introducing the many organizations that True Father has established.
Following the commemorative address, a Congratulatory Address was given by two persons. First person, representative of international guests, Rt. Hon. Tara Nath Ranabhat, speaker of the house, from Kingdom of Nepal, gave a speech, of True Parents of their miracle of visiting his country. The 3 days of True Parent's visit to the Kingdom of Nepal, there were no violence at all. This is unusual for the country which experiences never ending violence. Finally, praising True Parents, and wishing for their long living.
The next Congratulatory Address was given by Chul Seung Lee, the chairman of Seoul Peace Prize Cultural Foundation, a representative of national guests. He addressed True Parents in great pleasure, and thanking for their tremendous lives. Emphasizing on how True Father is always thinking of the Korean people and its nation. Also wishing True Parents' health, and wishes that everyone will give more support for True Parents, finishing the speech.
A Congratulatory Song was sung by Jae Gwang Lyu, a Tenor, followed by Presentation of Flowers by Hong Joo Kim, and Kyung Sun Lee.
Special Remarks were given by True Parents. True Father, in his speech, shared with us of his mission, and thorny path that he had to take to this moment. Yet, he still has to do more for God, and humanity, and sacrifice even more and give more. The strong word that he gave us was the importance of being unified with your wife, and family to feel God. "You need a partner to feel the love of God. A wife cannot learn the love of husband by herself. Also a husband cannot learn the love of wife by himself. When husband and wife are united and then receive a 1st born child, then and then become the owner of love, and becomes a true family. God is the ultimate teacher, owner, and parent of true love."
During the speech, True Father called Shin Jun Nim to dance along the song, "London Bridge." Some time after, True Father suddenly gathered Japanese wives of Korean men who attended the 40-Day oceanic training in the city of Yosu, and made them sing a song, a song that describes the spirit of fisherman. Then called Hyeong Jin Nim to sing a song. Hyeong Jin Nim chose to sing "Flying Without Wings". True Parents also added, that the Japanese wives represent the whole female guests, and Hyeong Jin Nim representing the male of the guests gathered at the ceremony.
Finally there were 3 cheers of Mansei by Rev. Jong Kwan Yu, chairman of Citizens Federation for the Reunification of Korea. Closing Remarks by Rev. Dr. Chung Hwan Kwak, ended the Birthday Ceremony of True Parents at 11:45 a.m.


Download entire page and pages related to it in ZIP format


Table of Contents


Information


Tparents Home