| | |
| --- | --- |
| | The Words of Sun Jin Moon (daughter of Sun Myung Moon and Hak Ja Han) |
Father always seemed so invincible, ever so passionate about God
Sun Jin Moon
August 23, 2013
International Leadership Conference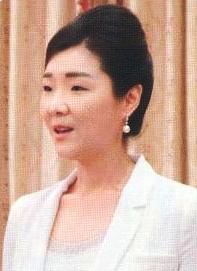 Thank you Dr. Walsh, but I am the least charismatic in my family and the most shy. I have been asked to read a speech of gratitude to all of you and to our True Parents from our family. Our hearts are filled today by all your love. Mind, body and soul, we have been moved. It is a wonderful, amazing moment to be with you all. I want to thank you all.
Your Excellencies, Religious Leaders, Worldwide Leaders and Representatives from the Family Federation for World Peace and Unification, the Universal Peace Federation and the Women's Federation for World Peace: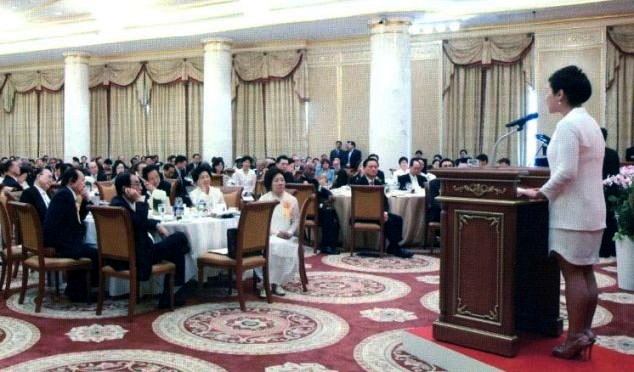 Welcome. I am honored to have this opportunity on behalf of my mother and my entire family to say how grateful I am to all of you here today for honoring and paying your respects to my father on the first anniversary of his Seonghwa. I am especially grateful for those of you who have travelled great distances from more than 120 countries. It means so much to us all to be here as one united family, remembering and celebrating a man who had dedicated his life to peace and to establishing his legacy of true love for all.
The passing of my father came as a real shock to our worldwide family. He had always seemed so invincible, ever so passionate about God. He worked tirelessly in educating the world about true love, true life and peace for all humanity. Even in his last days, he focused on praising and honoring our beloved True Mother and giving hope to our worldwide family. Even as he offered his last breath on earth, he taught us about liberating God's heart by becoming one family with him eternally. At ninety-three, he lived every day as if it were a thousand years, with complete focus and intensity on realizing the vision of world peace. When the time came for him to pass on to the spirit world, he was at peace, completing his mission, and trusting his legacy of peace to be accomplished by all of us working as one united family. Celebrating our father's heroic life with all of you here today gives us great pride and hope because each of you is an ambassador for peace. Now, together, we all stand as one to realize this great vision. This is not a day of remembrance of loss, but a glorious day of joyous gratitude and greater resolve in all of our hearts to work together for peace.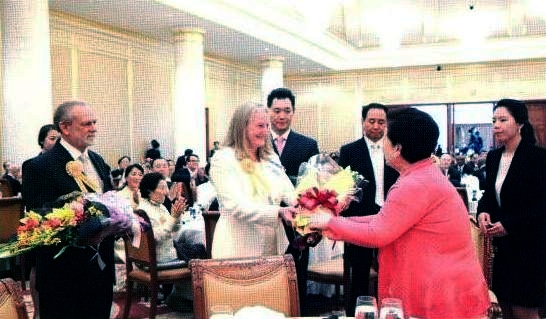 Father always taught us that our ascension to the spirit world was the third stage in life; the first being our life in the womb; the second being our life in this world, and the third being our life in the spirit world. He would tell us that just as a newborn child is cherished and loved by its parents when the baby comes out of the womb, God, our Heavenly Parent, awaits our "birth" into the spirit world with an even greater love. We are so happy and actually consoled knowing he is at peace and embraced by God's eternal love.
In some ways, it has been a challenging and difficult year for many of us. We have had to adapt, learn and attempt to do what he did. Those who tried were left with a greater heart of gratitude to our Father who seamlessly did it all with a heart of pure joy, never shrinking away when he was asked to take the world's heaviest burdens. He gave to and set up charities and foundations worldwide to aid, educate and alleviate the world's most difficult issues. We, who have received all these blessings, miss him dearly. A day does not go by that we do not think of him, feel his presence or recall his guidance.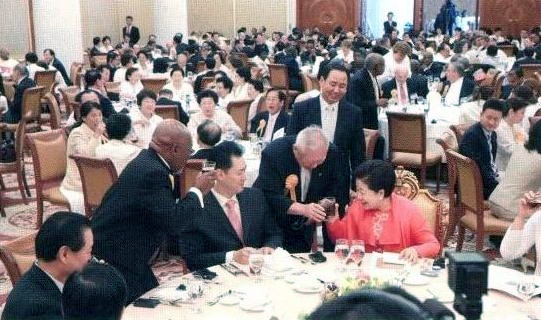 At the same time, my father prepared us all for this day and we know he is here with us eternally. He has granted us the true wisdom and the Divine Principle and has educated us all through the volumes and texts about realizing peace in all facets of our individual lives and our lives as one global family. What we are here to do has been passed down to us by his exemplary life and texts. We know our responsibility and we bow to honor his legacy and realize his dream for one peaceful world under our Heavenly Parent. It is our hope to maintain this groundbreaking momentum for peace that he set forth and honor him by carrying it out with greater effort and with the vision True Mother has given us for 2020 and Cheon Il Guk. She devoted each day of his memorial year to giving her whole heart of sincerity and love to our worldwide families and she has accounted for and pulled all our worldwide resources to honor her husband's legacy of peace as a true wife, our True Mother and the greatest ambassador for peace. My mother spent more than fifty years standing at my father's side through thick and thin, ups and downs, and did it all from the purest heart of love and joy. She has fearlessly fought and toiled side by side with our father, building worldwide peace foundations and risking her life countless times for world peace and religious freedom. Every step with father, our mother has worked and stood as a historic pillar supporting and carrying out our father's greatest work.
I have watched my mother these past twelve months. While I saw some private moments of sadness or loneliness, I have to say that I am so deeply proud of my mother. She amazes me for she has demonstrated incredible strength, courage and vision. There is no question that she is directly guided by my father's will and teachings. In some ways, it's only natural. After all, no one else has done as much work for peace, not any woman in history has done more than our mother has, working with our father as our True Parents for more than fifty years.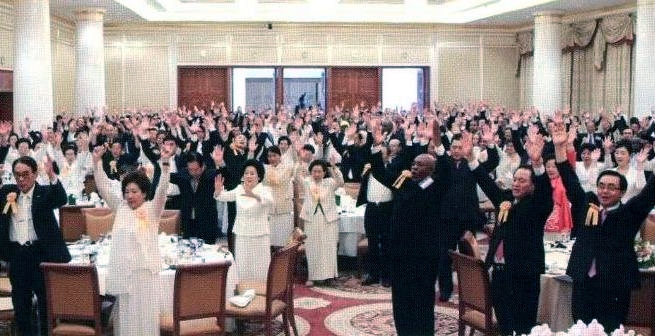 So I offer appreciation today to the legacy, life and teachings of my father and to all of you. I want to express special appreciation to my mother, Dr. Hak Ja Han Moon. You have given birth to fourteen children and raised the children of the world as your own with absolute love, faith, hope and obedience.
We just finished the workshop in Hawaii, where True Mother gave us two points, the most important two points to inherit the hearts of our True Parents and our Heavenly Parent and we wish that these two points are realized in your families. One is gamsahabnida in Korean, which means thank you. It is an offering of gratitude. The next one is saranghubnida, I love you. So, we say we love you dearly Omma nim and all of you and we are so proud of all of you. We bow together to honor you both, True Parents, until we have global peace and prosperity. As we honor my father's life on this day, let us think most of how we can move forward, taking responsibility to transform the world and make it a manifestation of God's ideal of true love and one global family under God. Once again I thank you all for being here. It has brought honor and dignity to today's very special Seonghwa anniversary ceremony. We are eternally grateful. May God our Heavenly Parent always bless you and your precious families.