| | |
| --- | --- |
| | The Words of Sun Jin Moon (daughter of Sun Myung Moon and Hak Ja Han) |
True Mother sends Sun Jin Nim and In Sup Nim to South America
Dong Mo Shin
October 6-13, 2012
Latin America Regional President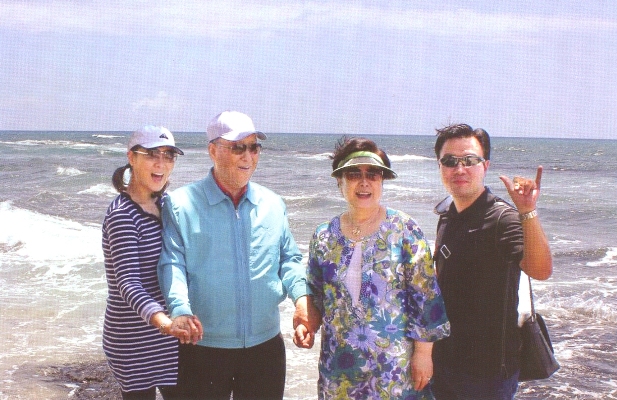 A recent photograph of True Parents with Sun Jin Nim and In Sup Nim in Hawaii, taking a break from the ongoing demands God's providence. In Sup Nim says hello with the popular and casual Hawaiian "shaka" gesture.
At one point, we became worried that Sun Jin Nim could not keep up her strength, so I suggested that she just convey, to the Sunday Service congregation in Uruguay, True Mother's two special instructions, namely, to focus on witnessing and on educating those in our second generation, Mr. Alejandro de Souza could read Mother's speech. Sun Jin Nim, however, answered resolutely that one of the main purposes of her visit was to "convey what True Mother had said"; thus, she could not ask someone else to do that. With that firm resolution, she read the speech, tears running down her cheeks all the while. The members too were wiping tears from their eyes as they listened intently. It was a precious time for all of us.
Apart from conveying Mother's directions, Sun Jin Nim and her husband made a pilgrimage of the holy grounds in South America, at which True Parents had invested and made conditions to guide the providence moment by moment. It was a tight schedule but Sun Jin Nim and In Sup Nim took it on with a joyful and grateful heart of offering Jeong Seong.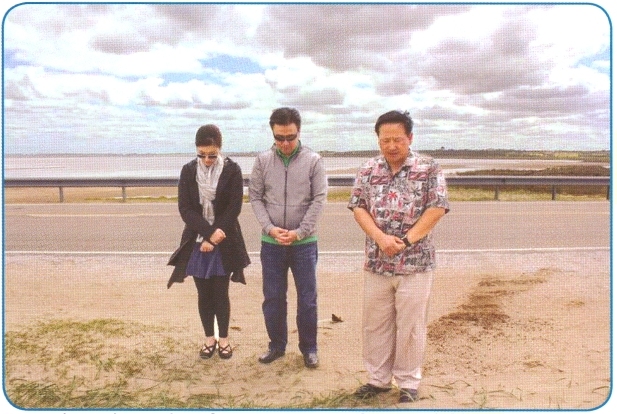 Prayer in Jose Ignacio, where True Parents began a fishing condition with thirty-three poles, one for each country in the region; at right, South America Regional President Dong Mo Shin
Their South American Pilgrimage
We departed immediately after Sunday Service and arrived in Campo Grande in the afternoon. We first visited the Campo Grande church, and on our way to the Jardim Training Center, stopped by the CENE Football Club and had a look around. We arrived at the Jardim Training Center in the evening. Wherever Sun Jin Nim and In- sup Nim went, members came out to meet them, and they bestowed great love on all the people they came across, taking pictures with each and especially embracing the youngsters with love. Though she was tired, Sun Jin Nim passed on True Mother's special instructions to the members that had come flocking to the main hall of the training center, just as she had done several hours before at Campo Grande.
The meal that followed delighted Sun Jin Nim and she complimented the cooks and took photographs with them, thus giving encouragement to the hard-working members. She was scheduled to leave early the next morning but took time that night to look at the things that True Parents had personally used, displayed in the Jardim Training Center, such as fishing rods and clothes. She also photographed them. Knowing that this was part of what True Mother had asked them to do, we had exhibited them, so that Sun Jin Nim and her husband could look at them with ease.
The next day, we arose at 4 AM and left Jardim Training Center for Leda. While on the move, they asked to hear about the various activities carried out by True Parents in Jardim. They also asked those who were accompanying them to tell how they had come to join the church and the lives of faith they had led. Sun Jin Nim expressed her gratitude to those who had given testimonies for having faith that compelled them to serve True Parents absolutely.
From the Training Center to Porto Murthino takes about three hours by car. When we arrived at the port, we boarded three boats to begin our 200-kilometer journey to Leda. In pleasant weather though under rather strong sun, we departed with thankful and joyous hearts....
At each holy ground we visited, Sun Jin Nim, In Sup Nim and the other pilgrims offered prayers together, and we learned of the dedicated efforts True Parents had invested and the history of the places we visited.


Left: True Parents' official South American residence at Punta del Este in Uruguay, with local members, members from Argentina, and ambassadors for peace; Right: Sun Jin Nim conveys Mother's message to the assembled members in Sao Paolo.
As we looked at the shabby surroundings and poor facilities in Olimpo, it seemed that Sun Jin Nim and In Sup Nim were reflecting upon many things. In particular, they spoke of their heart of repentance, mentioning several times that they wondered if True Parents had resided in such places in order to deliberately experience pain. They were visibly moved by the experience of the suffering course True Parents had willingly followed in South America. They testified that even during that time, True Parents had loved them, encouraged them and supported them throughout their studies [in America].
At Olimpo, the national leader and other Paraguayan members welcomed them. They had driven eight hundred kilometers from Asuncion to do so. Yet immediately after drinking beverages the members had prepared for them, Sun Jin Nim and In Sup Nim had to leave for Nabileque, from where we would board boats and head to Leda.
It is now the dry season in Nabileque. With a great number of fuel cans and five people aboard, the boat might easily touch bottom, and so we were in a situation where the local boat captain had to anchor about a kilometer from our destination. There was no road, and we would have had to walk. The area was full of eulalias, taller than a man, in which poisonous insects, wild animals or snakes could lie hidden. We felt we could not possibly escort the True Children through such a place. The boat captain, Paolo Pinheiro, made strenuous efforts, asking the people aboard to move to the front part of the boat to make it tilt forward as much as possible. In the end we were able to reach a point near enough to see the Nabileque holy ground, the wooden hotel building. Plantain lilies covered the surface of the water completely, further impeding our advance, so we stopped while Paolo Pinheiro and Futoshi Hirano, both of whom had served True Parents during their time in the region, testified about the intense fishing conditions True Father had made. Then we offered a prayer and continued on to Leda. After the testimonies, I gave a brief introduction about the Nabileque holy ground and True Parents' work in relation to it. It was there that Satan had surrendered, and it had been the original holy ground, the root holy ground and the holy ground of victory. True Parents had passed through it during their course in Uruguay to abolish Hell and to offer a forty-day special devotion for the Coronation Ceremony for the Kingship of God.


Sun Jin Nim and In Sup Nim are warmly welcomed in Jardim in Brazil, where for some years from the late 1990s True Parents held workshops to educate families who came from all over the world.
Visiting the Visionary Leda Community
When we arrived in Leda, local police officers, the national messiahs and Paraguayan members came to meet us. After Sun Jin Nim rested briefly, our group, went on a tour of Leda before it became dark, because most of us would be leaving early the next day. At 5 AM Hoon Dok Hae the next morning, we were given a brief introduction to the farm. We also read True Mother's second official message and a section from True Father's explanation of Leda.
Sun Jin Nim conveyed True Mother's two special instructions and expressed her great love and appreciation for Leda's hardworking Japanese national messiahs. She had made cookies, which she handed out to the national messiahs, who were moved to tears by the gesture. While sharing a meal together, leaders that speak English explained what is happening at Leda. Then, until right before the small plane was scheduled to depart, Sun Jin Nim and In Sup Nim were shown around the training center, swimming pool, fish farm and a tract of land dedicated to agriculture. The two of them then planted a tree to commemorate the occasion.


Sun Jin Nim and In Sup Nim visit Leda, the experimental farm and community in the Pantanal. Senior Japanese members built it from scratch, beginning thirteen years ago at True Father's behest.
We had planned to leave Leda in three boats, but Leda members had rented a small plane to take us to the airport nearest to Porto Murthino, so we had the chance to view the Pantanal from the air. When we touched down on the unpaved runway at the secluded rural airport, we found well-armed local police officers waiting to escort us safely and courteously to the wharf. They had come downriver by boat for this purpose. It became clear to us that through love and devotion the brothers and sisters working in Leda had formed wonderful relationships with not only the local residents but also with the local constabulary and the local army unit, and that this had contributed to the solid foundation laid down in Leda. They are hoping that Leda will no longer be home to just the gray-haired, aging residents, but that it will become a place where young men and women of the Unification Church can develop a sense of responsibility toward volunteer work in the area, through which these young people might acquire skills and have diverse experiences.
Sun Jin Nim and her husband were moved by and corn- mended the modesty and hard work of those who had turned a wasteland into a paradise in Alto Paraguay's vast wilderness. The couple added that their hearts were touched by the faith and absolute love members there had for True Parents. Even though they are True Family members, they attested to having learned about True Parents through their visit. Several times, they said they had set their minds on adopting the strong faith they saw evidence of on this tour as their model. They also testified that they realized why True Mother had sent them to the Pantanal, and that they now felt closer to True Father and True Mother. In particular, Sun Jin Nim frequently remarked to the leaders who were accompanying her, "What a hard time Mother must have had in the Pantanal as one woman amongst all these men!" Though we had been unaware of it, through our conversation with Sun Jin Nim, we could feel that True Mother had sent her and her husband here to guide us to the innermost part of True Parents' hearts.

Left: Gathering at the National Garden in Montevideo, Uruguay with former first lady Graciela Rompani (red jacket) and other dignitaries; Right: Preparing to travel the waterways of the Pantanal to discover Father's path
Uruguay, the Other Side of the World from Korea
In the evening of that day we arrived in Uruguay and held an official meeting with the members. They shared a meal with prominent leaders, took photographs with members' families and expressed their deep appreciation and encouragement. Though they had slept little, they attended 5 AM Hoon Dok Hae with local members the next morning at the church. True Mother's message was read in Spanish, and Sun Jin Nim emphasized the two points deemed most important by True Mother. Wherever they went, and to whomever they met, they conveyed to members the focus of Mother's efforts and maintained an attitude of following True Mother's instructions to the letter.
Afterward, they visited Punta del Este, the location of True Parents' South American residence, which is in need of some repairs. Alejandro de Souza and one new ambassador for peace are repainting the house. They welcomed us warmly.
They also went to some of the places True Parents loved to visit in the locality, such as the McDonald's where Father and Mother liked to eat, and the little house by the sea they had once rented for two months.
As they had done in San Paulo, Brazil; in Uruguay, Sun Jin Nim and In Sup Nim gave gifts to the members, the men ties and women scarves, which they had personally bought, with hand-written thank-you cards. This was their way of showing appreciation for the members' hard work and devotion to True Parents. Everywhere they went, Sun Jin Nim also gave her homemade cookies.
Sun Jin Nim and her husband said that as a means of encouragement they were also going to translate what Mother had asked into action by donating profits that the Hawaiian coffee farm generates (even though it is not a lot of money) to the South American movement.