| | |
| --- | --- |
| | The Words of Sun Jin Moon (daughter of Sun Myung Moon and Hak Ja Han) |
Happy World Chairman Sun Jin Moon Showers True Love on Japanese Members
July 19 2010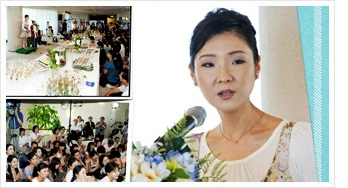 Over 120 men and women gathered at the Urayasu Training Center (Isshim Special Educational Institute) in Japan on July 19 at the invitation of Ms. Sun Jin Moon, chairman of Happy World. Ms. Moon had prepared a special gathering in which she would thank members for their dedication to God and True Parents, and give back to them as a member of the True Family. This event was especially planned for mothers and daughters, who could come and receive clothes and bags which Ms. Moon had personally used, in the same way that True Mother gives her clothes to members as presents.
Everyone that came to the event was able to receive one copy of True Father's autobiography signed by Ms. Moon, one bottle of Acqua Vivo and sample Hawaiian Queen Coffee. Clothes and bags were displayed as if in a boutique shop, and made available for members to choose from. There was more than enough to go around. Lottery winners received the following special prizes:
1st prize: Black pearl (Bought by True Father for True Mother at Hirohatty in Kona, then given by True Mother to Ms. Moon) --- received by two people 2nd prize: Hermes perfume, bath gel, shampoo set --- received by four people 3rd prize: Video camera, digital camera, compact camera --- received by three people 4th prize: I-pod nano (16G) --- received by three people Surprise present: A ring that Sun Jin Nim was wearing Ms. Moon explained the purpose of the event in the following words:
"This event was to honor True Parents and their life, true love, and sacrifice to bless all mankind. The focus was on True Father's autobiography, especially the chapter on True Mother in the autobiography. True Father and True Mother have given all they have spiritually and physically so that we can truly live blessed lives. This event invited mothers and daughters to celebrate, give, and honor mothers, parents, and family. True Father's autobiography, especially the chapter on True Mother, inspired this event. In that chapter, she always gives what she has to others. This is the true heart of our True Mother. We also wanted to give back gratitude and praise to True Parents and our Unification Church guests with gifts from Happy World and a choice of vintage items from us. True Parents' example was shown through the Hoon Dok Hae reading of the chapter on True Mother to remind us of the true love, true life and true lineage we have been given. The chapter also highlighted the significance and precious value of that teaching to remind us of how our hearts and actions should also respond in kind."
Ken Saito of the Happy World Marketing Department reflected:
"This type of event is very unique in our Japanese Unification Church history. Those who participated in the event were very moved by the speech of Sun Jin Moon, who spoke in tears, and felt a great joy to be able to meet with her and her husband in an intimate manner."
88% of the people who filled out a questionnaire distributed after the event were "very satisfied," and 11% were "satisfied." The only person who was "slightly dissatisfied" said, "I was the only person from my church which made [it] difficult [for me] to find someone to talk to. [The] party itself was very satisfying."
Others expressed in the questionnaire that they were grateful for the opportunity to be physically close to True Children (many took photos with Ms. Moon and her husband), that they felt "warm and deep love" from Ms. Moon and her husband, and that it was a very relaxed atmosphere in which they could enjoy the party. People especially enjoyed listening to Ms. Moon and receiving presents (such as a signed copy of True Father's autobiography) from her.
78% of those who filled out the questionnaire said that Acqua Vivo (one bottle of which was given out to each person) tasted so good that they wanted to go out and buy more, while one person expressed that she felt that it was better than the Water of Life one can receive in Chung Pyung. 90% loved the sample of Hawaiian Queen Coffee so much that they wanted to buy more! (Hawaiian Queen Coffee is the Kona coffee which True Parents enjoy when visiting Kona, Hawaii.)
In a representative testimony, one member wrote, "I felt the true love of God. [Ms. Moon] inherited the love of True Mother, and her husband has such a deep love. I would like to inherit the love [they] showed, and become a good woman who can live for the sake of others!"
The wife of continental director Rev. Yong Seok Song, Mrs. Mija Park, was in attendance, as well as many of the church headquarters executives.