| | |
| --- | --- |
| | The Words of Kook Jin Moon |
Kook Jin Nim meets the rebels in Busan -- general observations
November 13, 2011
Tongil Foundation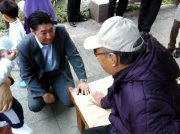 Kook Jin Nim receives instructions from True Father.
(This is the third in a series of notes on Kook Jin Nim's Nov. 10 meeting with six members of the Busan Unification Church board of elders who have decided to follow the Kwak group.)
The meeting at a restaurant in Busan began at 5 pm. At 8 pm, Kook Jin Nim had to leave to go to his next speaking engagement in Daegu. Members of his senior staff remained at the meeting, answering questions until 10 pm, when the restaurant employees asked the group to leave.
For those who support True Parents, the meeting was useful in providing insights into the kind of education the Kwak group is using to convert people to their side.
Some of the rebels' questions and statements revealed how the Kwak group is twisting the truth.
"The Unification Church today no longer teaches the Four Position Foundation," one of them said at one point. "Only the Trinity is taught."
When I heard this I felt like shouting, "What?" It was as if we were meeting with people who knew nothing about our church.
Kook Jin Nim, though, was more patient. He explained that every employee of the Tongil Foundation is required to attend at least one three-day Divine Principle workshop. No one is required to join the Unification Church, but they at least need to know the basic teachings.
The content taught in the these workshops is the same Wolli Bonchai Ron (current official English translation: "Original Substance of the Divine Principle) that Rev. Yu Jeong Ok teaches. It includes the Principle of Creation, which covers the Four Position Foundation.
Members of the Busan Unification Church board of elders still loyal to True Parents were also at the meeting. For them, it was an important opportunity to see how far their long time friends had been pulled away from True Parents in their thinking and faith. A member of the board of elders is expected to provide an example of faith for others to follow. So it was sad to see how these six had allowed themselves to be pulled away from True Parents.
It remains to be seen what decisions the six rebels will make as a result of the meeting. It would be wonderful if they could make the decision to break their ties with the Kwak group and return to the congregation. By their own choice, they have not attended church since the departure of the former minister Jin Tae Choi, who has stated publicly that he decided two years ago to dedicate his life to Hyun Jin Nim.