| | |
| --- | --- |
| | The Words of Kook Jin Moon |
My father is the Messiah
Kook Jin Moon
September 5, 2011
Remarks for delivery at One Korea Cup Banquet
Hotel Okura
Kobe, Japan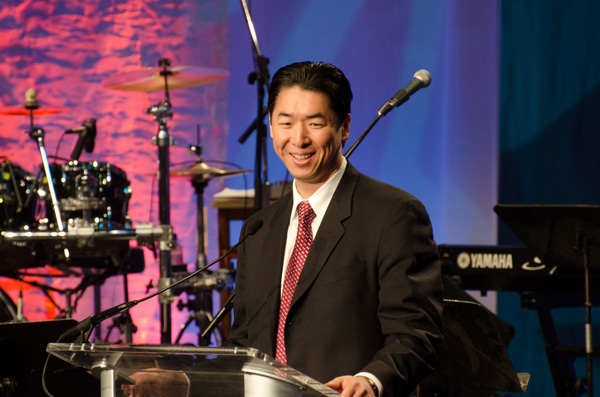 Kook Jin Moon speaks at Lovin' Life Ministries in New York USA
Respected players and manager of our compatriots in Japan, players and managers of the celebrity teams from Japan, Korea and China, judges from the Korea Football Association, President Moon Jang Hong, and other dignitaries:
I would like to express my sincere gratitude that you have come a long way to participate in the ONE KOREA CUP.
In particular, I would like to offer congratulations to my father, the Rev. Sun Myung Moon. Though he could not be present today, it is only by his inspiration and support that this event could be possible.
To Christians, my father is the Messiah, Savior and Lord of the Second Advent. But he does not come for Christians alone. He comes for all people, regardless of their beliefs.
My Father teaches us that human beings can know God's divine essence, and that this essence is His true love. He defines true love as a love that can bring even satan to voluntary surrender. As His children, it is our responsibility to inherit that essence.
My father has inherited this true love, and this is the reason he has spent his life loving people who could not be loved and forgiving people who could not be forgiven. This is what is so extraordinary about my father's life.
The reason we are here today is to inherit his true love and put it into practice in our own lives.
My father has long maintained an interest in promoting football teams and events such as the ONE KOREA CUP, because sports provide one way for us to learn the values of harmony and team work.
So the ONE KOREA CUP is not an ordinary football tournament. It represents one more way in which my father seeks to help humankind learn how to inherit God's true love and live in a world of interdependence, mutual prosperity and universally shared values.
On this occasion of the ONE KOREA CUP, please join me in conveying our grateful heart to the victorious king of peace, the True Parents of Heaven, Earth and Humankind with a warm round of applause.
Thank you.