| | |
| --- | --- |
| | The Words of Kook Jin Moon |
Special Address at Blue Sea Garden
Kook Jin Moon
September 2009
Yeosu, Korea
40-day workshop
Translation: Daniel Elder
Editing: Tossa Cromwell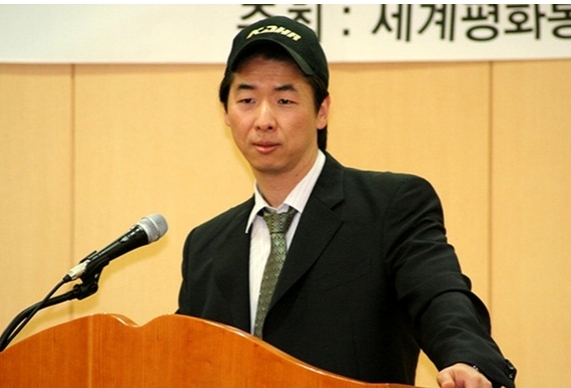 Kook Jin Nim visited the 40-day World Ocean Leaders Special Workshop currently being held (from August 20 -- September 28, 2009) at the Chung Hae (Blue Sea) Garden in Yeosu and gave a special address to participants. The 467 trainees of the 42nd and the 43rd workshops first watched the DVD of Hyung Jin Nim's 21,000 bow special condition.
Afterwards, the head of public affairs of the Korea Foundation Mr. In Young Lieu gave a report regarding recent activities and media reports. Next, the trainees welcomed Kook Jin Nim with a warm round of applause. He came up to the stage and gave an inspirational special address.
Kook Jin Nim's Special Address:
Whenever I look at Japanese members, I feel close to them in heart. Up until now, Japanese members have suffered with a lot of burdens on their shoulders for the sake of the world providence. Whenever you thought that you reached the peak of your suffering, another peak loomed in the distance. But I know well that Japanese members have overcome all their suffering with nothing but faith.
When I first came to Korea in 2005, the Korea Foundation and the Korean Church were full of problems. There were 34 affiliates but 80% of them were operating in deficit. First, I initiated restructuring, which brought the Foundation and its affiliates into the black. Then I began to work on the church in order to revitalize it. It was a difficult task but we overcame. As soon as we had overcome, True Father commanded me to solve the problems in the Japanese Church. Even though waves of suffering approached and the number of things I had to be responsible for grew larger, through that experience I came to understand your painful hearts even more.
Fortunately, the situation in Japan ameliorated. Our task at hand is to construct a new system and method that enables Japan, which is the Mother Country, to accomplish its mission for the world providence. As you are all aware, we are an organization operating under the law. Therefore, we must respect the law. However, we must find a way to operate in balance with what is demanded from the world providence. What we have to be grateful for toward God is that without His help, turning the Korean Foundation and its affiliates into profitable ventures would never have been possible and if today's economic crisis overlapped with our past situation, things could have been much more dire.
Even in the midst of adversity, I am always grateful to God and True Parents. I can only be thankful that I am able to attend True Parents and return all the glory to God and True Parents. To return the glory to True Parents is to return joy to them. True Parents gave me many difficult tasks but in doing so, they actually blessed me with opportunities to return true glory to them by resolving the issues. Also, I am truly grateful to God who made possible all the things that I thought were impossible.
I want you all to think about this. We are undergoing difficulties but the Unification Church is a new religion with only 50 years of history. In that short period of time, we have created an astonishing foundation that stretches out all over the world. If you look at the long-term future, you will see that there's nothing to feel but hope. Also, when I see the ministry of our world president Rev. Hyung Jin Moon, I feel God's love again and gain the confidence I need to march forward.
Folks, have courage and confidence. Even though our current situation may look dismal, there is nothing we can't overcome with true courage. Let us make a determination to have faith and to move forward united so that we may return true joy to True Parents.
Thank you.