| | |
| --- | --- |
| | The Words of Kook Jin Moon from 2012 |
Kook Jin Moon has asked to be relieved of his position in the Tongil Foundation
Tim Elder
October 17, 2012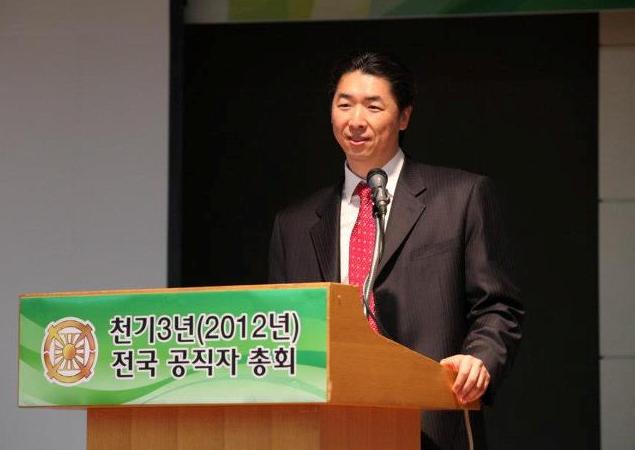 Kook Jin Moon -- April 23, 2012
Kook Jin Nim has asked True Mother that he be relieved of his position in the Tongil Foundation by a majority vote of the Foundation's board of directors. He said he was acting in response to True Mother's decision to turn the Foundation over to new leadership.
Speaking Wednesday at a previously scheduled luncheon with members of the 36 Blessed Couples, Kook Jin Nim said he did not feel free to resign as Chairman of the Foundation because of promises he made to True Father. Before Father went to the spirit world, he asked Kook Jin Nim not to leave his position as Foundation Chairman and to help and protect International President Hyung Jin Nim, he said.
Though he is not resigning, he will not resist the board of directors as they move to relieve him, Kook Jin Nim said.
Tongil Foundation is governed by a seven-member board of directors. The members are Kook Jin Nim, Hyung Jin Nim, Yu Jung Ok, Peter Kim, Lee Dong Han, Seok Jun Ho and Ahn Jin Sung.
The bylaws of the Tongil Foundation allow a majority of the board to request a meeting of the board. On receiving such a request, the chairman is required to call such meeting within 20 days. Kook Jin Nim said he has asked Peter Kim to gather the necessary signatures from board members to initiate this process. He said he would like for this process to play out in the next seven days so that he can leave Korea and return to the United States.
Kook Jin Nim told the 36 Blessed Couples attending the luncheon that he was grateful for their support and assistance during his eight years at the Tongil Foundation and that he hoped the church and its organizations would continue to develop after his departure.