| | |
| --- | --- |
| | The Words of Jin Sung (Pak) Moon (husband of In Jin Moon) |
I Am Not Worthy
Jin Sung Pak Moon
February 20, 1984
Bridegroom of In Jin Moon
The Blessing Celebration
Manhattan Center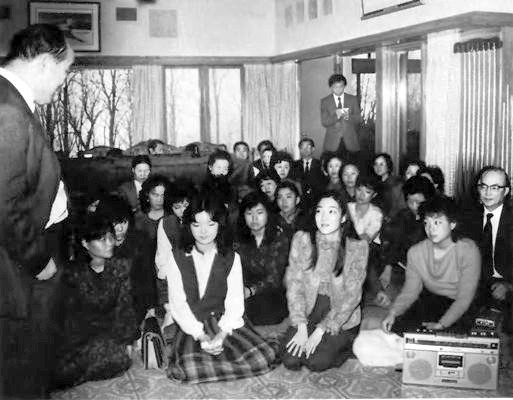 On Feb. 12, 1984 Father called several blessed children to Belvedere to find eternal mates for Heung Jin Nim and In Jin Nim.
My Dear Brothers and Sisters, first of all I apologize to our True Parents that I have to speak in English tonight. I promise Father and Mother that I will speak Korean fluently very soon. I won't need until 1990 to do it either, that's for sure.
Father and Mother, I have no proper words to speak at this hour for the great blessing you have bestowed upon me in this Holy Wedding with In Jin Nim, your True Daughter. In a million years, I would never deserve to become the husband of In Jin Nim. For this reason, I can only thank God and True Parents for this extraordinary blessing.
Father and Mother, today, I have become your son, a member of the Moon family, the greatest, most sacred family in the entire history of mankind and in the entire world. Again, I am not worthy. The only logical way I know to take this blessing is as a pure gift from God and as a gift from you, True Parents. And my mission is to work to deserve it for the rest of my life.
I promise and pledge, Father and Mother, that I will do everything in my power to deserve this blessing. Father and Mother, In Jin Nim is now my wife, the finest young lady and most beautiful princess in the entire world. Please, Father and Mother, be assured that I will serve her, love her, attend her the way Heavenly Father wants me to.
But, I also know through the teaching of our True Father that this blessing and any blessing is not for ourselves. We are blessed because you expect us to fulfill God's that is, to consummate the purpose of creation here on earth so that we can create the Kingdom of God on earth. So I know in my inmost heart that this blessing came today to fulfill True Parents' ideal.
I pledge today, and I know In Jin Nim joins with me, to pledge our lives to protect you, serve you, love you and fulfill your dreams unto our lives. My life is yours, Father and Mother, so please take it, command it, do as you wish. We shall be your obedient son and daughter.
True Parents and Brothers and Sisters, you know, I have been born and brought up in the Pak family. I was very fortunate to have Col. and Mrs. Pak as my physical parents. They are wonderful parents to all of their children and they are absolutely dedicated to True Parents. I have always admired my Dad. Since he is so close to True Parents, Satan has hated him, and now all of the communists hate him. I always look to my Dad as my future model and I want absolutely to follow in his footsteps. My Mom for me is a saint. She has been my perfect mother.

Jin Sung Pak Moon speaking at the banquet
But then today I joined the Moon family. The first thing that came to my mind is that now I must be better than my Dad. That is virtually impossible. That is not a small order. But, Father and Mother, I pledge today that I'll do my very best to be better than my Dad's standard because I am now your son. If I cannot keep up with my Dad, then I know I have a good helper. I'll borrow some of In Jin Nim's power and push.
Father and Mother, I pledge I will live with pride and honor as a member of the True Parents' family. I will absolutely live up to your standard and I will uphold the Unification Church tradition. I will work for the entire Unification Church movement around the world. I will give tears, sweat, blood, and my life in love of humanity and the world, as you, our beloved True Parents, have so powerfully demonstrated with your own lives.
Now I want to thank you, Jin Whi Nim and Ye Jin Nim, for all of the guidance and help you give me. I respect you as my eldest brother and sister and will unite completely with you. I will love Shin Bok Nim and Shin Goon Nim very much.
Hyo Jin Nim, you are truly another dear, dear, elder brother. I will never let you down. You have your most lovely wife, Nan Sook Nim, and your beautiful daughter, Shin Jung Nim. In Jin Nim and I will follow your beautiful footsteps. I will love all my new brothers and sisters. I will faithfully help them in whatever way I can as their elder brother.
Father and Mother, I give our special thanks and appreciation to you for choosing my sister Hoon Sook as Heung Jin Nim's bride. I know Hoon Sook very well. I truly feel your choice is absolutely heavenly. I know my sister Hoon Sook will faithfully discharge her sacred responsibility as the bride of Heung Jin Nim, and I will totally love and support her. Please trust us that we will never let her down in our entire lives.
Now, I want to thank all of the Unification Church leaders and members worldwide for your dedicated service and love to our True Parents. Thank you for your kind congratulations for our Blessing today. We can repay you only by living up to our True Parents' standard and expectations. I have every intention to do so. Thank you very much for your support and prayers.
Finally, Father and Mother, I have one more thing I beg you to understand. I'm not such a good singer. I know I am already failing the True Parents' family tradition because all of the True Parents' family members are such great singers. So I am afraid I may have to disappoint you. That's why I know you gave me a wife who is not only beautiful, but also a great singer. I know she can compensate for my poor singing. Again, I promise you I will become a better singer in the future.
Thank you very much.