| | |
| --- | --- |
| | The Words of In Jin Moon from 2011 |
Innovative Sport Fishing Boat to Be Unveiled in Las Vegas
In Jin Moon
August 16, 2011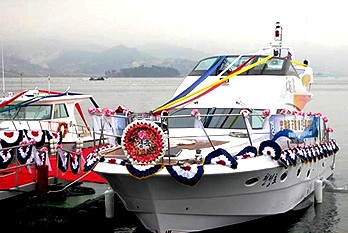 Boats With Revolutionary Hulls to be Manufactured in Nevada
Las Vegas, NV – The Reverend Dr. Sun Myung Moon of Korea, honored by millions around the world as a prophet, peacemaker, wedding convener, newspaper publisher and fisherman, will add a new credential to his resume on Thursday in Las Vegas: inventor.
Not one to rest on his laurels, the 91-year-old Rev. Moon has been tinkering for years with new designs of fishing boats, which are manufactured by his company, Master Marine Yacht Building Co. At 9:30 a.m. on Thursday, Aug 18, 2011, Rev. Moon will unveil the prototype of his newly invented, 28-foot sport-fishing boat, complete with a revolutionary new hull construction, at 6590 Bermuda Road, Las Vegas, Nevada, 89119. The new boat, which will be manufactured and sold in Las Vegas, is the product of an innovative "negative NC resin mold" that allows it to move through water at 45 knots an hour. Branded the Won Mo Boat, it is lighter and faster than any vessel in its class, and virtually unsinkable, according to executives at Master Marine.
Doors open at 9:00 a.m. for a reception, entertainment and the boat dedication. Dr. Hak Ja Han Moo, Rev. Moon's spouse, will deliver the keynote address at the dedication ceremony, and later she and Rev. Moon will test the Won Mo on the fresh waters of Lake Mead. Introductory remarks will be given by Rev. Moon's son, Rev. Hyung Jin Moon, who leads his worldwide church, and Rev. In Jin Moon, who leads the Unification Church in the United States. Rev. Moon has told friends and members of his congregation that Las Vegas is destined to become the hub of family-friendly entertainment that will include world-class shows, fishing on Lake Mead and visits to the majestic natural wonders nearby. Whereas some see 2012 as the year the world ends in calamity, Rev. Moon has said he foresees a new era of peace and prosperity to be inaugurated in 2013, and he sees Las Vegas as a city with a bright future.
Rev. Moon has supported boat-building since he supervised the manufacture of his first fishing boat in the 1960's. He continued through the 1970's with manufacturing facilities in Alabama, New Jersey and North Carolina. Since 2008, he has been focusing on recreational opportunities on Lake Mead. The Won Mo Boat is believed to be taking the small-boat industry to a whole new level and will greatly enhance sport fishing and commercial fishing, according to Master Marine representatives. As he has explained frequently to members of his worldwide congregation, Rev. Moon's vision for the maritime industry encompasses feeding the world through the oceans and enjoying the tranquility of the lakes, rivers and seas to rejuvenate the human spirit.