| | |
| --- | --- |
| | The Words of In Jin Moon from 2011 |
Original Divine Principle Workshop in Las Vegas Had the 'Wow' Factor
In Jin Moon
June 29, 2011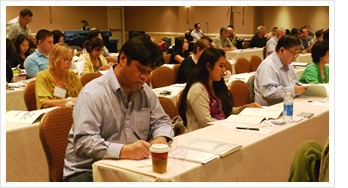 Written reflections by participants of the 146th Original Divine Principle (ODP) Workshop in Las Vegas, reveal that they felt deeply enlightened and refreshed after encountering aspects of the Divine Principle they had never heard before. The ODP Workshop (the Education Session Proclaiming the Completion of the Liberated Realm of the Portion of Responsibility in God's Providential History) took place at the Flamingo Hotel from Saturday June 18 until Wednesday June 22, 2011.
120 participants from around the country attended to hear education sessions on True Father's teachings about the Divine Principle as revealed by True Father over the years to Rev. Jeong Og Yu, who has been directly appointed by True Father as the director of the ODP program. The term, "Original Divine Principle," refers to the principles that would have been taught to Adam and Eve and their descendants in the Original Garden of Eden, if there had been no Fall from God's dominion. ODP is a study on the true nature of God and of human beings, and the proper relationship between the two. It explains God's ideal for all people which has been fulfilled by True Parents, thus allowing for true love, true life and true lineage to take root and multiply through Blessed Families. ODP is a refined expression of the Divine Principle based on a digest of Father's words given over more than 50 years. New concepts, such as "God of Day" and "God of Night" and other new terms introduced by Father, are explained in the ODP Workshop.
Rev. Yu has been trained by True Father for many years in order to become the agent through whom the ODP could be revealed. He is a member of the 430 Couple Blessing and has served as a church leader for over 40 years. He was the top leader of the Japanese movement for over ten years, has been the National Messiah of Uruguay, and is the overall supervisor of the Hawaii providence. In September 2008, True Father gave the direction to Rev. Yu to begin ODP workshops. In October 2008, the first workshop was held in Hawaii with content directly chosen by True Father for all members to hear.
Participants of the 146th ODP workshop also were able to see True Parents directly at Hoon Dok Hae at the Cheon Hwa Gong (Palace of Heavenly Harmony).
ODP workshops are being set up to take place on a regular basis in Las Vegas, with the direct involvement of True Father in their development. The next ODP is scheduled to take place in Las Vegas on July 22, 2011.
Original Divine Principle Workshop Reflections from Las Vegas, June 18-22, 2011
"The Original Divine Principle (ODP) workshop made the Divine Principle relevant to me by taking ideas and points that have always been within the Divine Principle and transforming them into things I should implement within my life. I really began to feel in my heart the true value of True Parents to me, and to the world. Rev. Yu made so much effort and elaborated on ideas deeper than I have ever heard before. The movement and mission became so much clearer: What we have to accomplish, the need to follow True Parents absolutely, and what achievements True Father has succeeded in. It was amazing to see True Parents in Las Vegas as well. This has been an amazing time that has been a blessing in my life."
- Jin Ae Sakai
"One descriptive word that comes to mind about this ODP is "Refreshing." Rev. Yu gives amazing new insights and also shows a good example of being truly united with Father's passion to communicate God's word. The interpreter, Tossa Cromwell, also does an amazing job. Even though I don't understand Korean, I really felt the passion through the voice and spirit of Rev. Yu."
- Frank Davis
"Overall, my experience during this ODP workshop was fabulous. There was so much deep content that helped me to see how the Divine Principle is complete by looking at what our True Parents and True Family are doing. It isn't just information about what the 3-Great-Blessings are, but instead we have a real example by our True Parents of what completing the 3 Great Blessings is all about. I also really appreciate all the information we received about blessed couples. As a newly blessed couple I felt as though I could benefit from it tremendously."
- Shizuka Pehling
"I feel like I was showered with blessings during my time in Las Vegas. From being able to see True Parents, I can only look upon this as a positive experience. What clearly sticks out in my mind from all that I learned at the ODP workshop is the importance of True Mother's position in relation to True Father and God. I learned from Rev. Yu that it is True Mother who will inherit the role of True Parents once Father enters the spirit world."
- Kaeng Takahashi
"The highlight of the experience was to be able to be close to True Parents and to receive much deep heartfelt guidance from True Father. Rev. Yu's lecture was also deep and insightful. The recounting of his experiences with and personal guidance from True Father was very precious."
- Robert Beebe
"I feel deep gratitude for what we have been given here in Las Vegas. The ODP is "red meat," with much more detail than the Exposition of the Divine Principle."
- Anonymous
"I realize how shallow my understanding of the Divine Principle was through studying the ODP. There were a lot of things I heard for the first time during this workshop. I deeply appreciate all the stories, testimonies, and side information regarding True Parents' life course. This is my second time to hear the ODP and it is so much more developed than the first time I heard it. I also appreciate Rev. Yu who because of his close association with True Parents has been able to give us the deep background and history of Fathers' life course. I realize, as we march forward into the future, the preciousness of our elders who had close experiences with Father. Unless these stories are told by elders like Rev. Yu, young people, and future members, cannot know the depth of True Parents' heart, life, and tradition."
- Ernie Ho
"It was really good to have a presentation of the Principle that is directly connected to the current level of the Providence. Although we hear the terms "God of Day and Night," we have not understood them. It was also very good to spend the whole day focusing on the nature of God."
- David Kasbow
"It will take time to review, pray, and digest everything but this was a life-changing workshop. Now I know that there is so much I don't know, but many questions have been answered. Now there is more power in my heart to make a difference in my family and community. Now I understand God so much more than I thought possible. With tears, I am so grateful and honored to be here."
- Judith Lejeune
"The key message I took away from the ODP was that God has to be the center of my life. I also learned much more deeply that True Father's life is the most precious to God in human history, and that Father's life has been one of complete sacrifice, offering, and suffering. I realized that True Parents are the substantial body of Heavenly Father in this world, and that restoration requires us as blessed couples to purify ourselves and let God dwell within us. I greatly appreciated Rev. Yu's personal testimonies with and about True Parents, and I am excited to share these with members in my state of South Carolina. I am determined to share as much of the ODP content with members as possible, and I will strongly encourage them to attend for the sake of their future spiritual lives and their families."
- Timothy Murphy
"My eyes and heart were opened to new depths of how God's providence is unfolding. The ODP should not be missed by any Unificationist who has invested their hearts into Father's work to establish the Kingdom of Heaven. I have a renewed seriousness and feel more confident to grow into perfection."
- Alan Jessen
"I am very happy that I came to this workshop. Originally my mother asked me and I said no, but last minute I decided to go. It has been a very good experience. ODP has made many things clear and some points of the principle have been more practically explained. Also, I was very happy that Rev. Yu was our lecturer. His personal experience with True Father helped me come to a deeper understanding of God and True Parents. This program is something that I would easily recommend to church friends. I think it is something that is necessary for everybody to go through. Also, having Hoon Dok Hae with True Parents during the workshop was an experience that helped me feel more connected to the Principle, and understand its value."
- Izak Hernandez
"I am very happy that I was able to attend this Original Divine Principle workshop because of the interesting and in-depth information that was given. With a great source of new knowledge, and a dedicated speaker, I was to gain more than I expected. With the main focus on the Principle of Creation, I was able to understand it and thinking deeply about my life. Although I've heard it many times, it always felt like a distant thought unrelated to me. Our portion of responsibility expressed as our development of character was mind-blowing, because it logically makes sense that God can't do that; it's the first time it has been explained to me like that. Rev. Yu's explanations and examples given for many small things made me actually grasp previously ungraspable comments. Also, I was extremely grateful for the truth put into blunt terms, instead of vague sentences avoiding the main thought. Also, we were granted the opportunity to have Hoon Dok Hae with True Parents, which was extremely gratifying."
- Mayo Sakai