| | |
| --- | --- |
| | The Words of In Jin Moon from 2010 |
Rev. In Jin Moon Meets with Second Generation and VIPs in Uruguay
James Gavin
August 24, 2010
Montevideo, Uruguay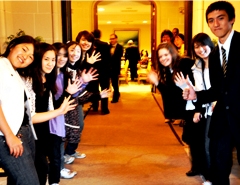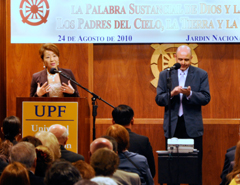 On Tuesday August 24, Rev. In Jin Moon's good will tour of South America came to Uruguay's capital, Montevideo, where In Jin Nim conducted an "Establishment of the Word" program as she did in Asuncion on the previous Sunday. The church members greatly enjoyed hearing the Lovin' Life band perform, and her daughter, Ariana Shin Sun Moon, guided about 50 members on the finer points of ballroom dancing.
On Wednesday, August 25, 2010, In Jin Nim again met with second-generation youth, this time at the Radisson Hotel in Montevideo and counseled them on how to fulfill their mission in life -- "to be happy." She met for breakfast in Montevideo with local businessmen, diplomats, church leaders and heads of various social organizations. After introductions were made, In Jin Nim spoke to the groups about the great investment her father, the Rev. Sun Myung Moon has made in Uruguay for the sake of the country and for the sake of the world. For example, Rev. Moon had invested in the newspaper industry in Uruguay and in America to win the ideological battle over communism during the past several decades.
"Rev. Moon has always been concerned with the breakdown of the family and the corruption of our young people," she said. "The culture is seducing our youth with sex, money and power, and Rev. Moon is spreading the message that God's True Love is the only thing that will build a healthy character in our young people. I met Michael Jackson, who was a great entertainer, but when he passed into the spirit world he could not take his fans or CDs with him. Only the investment we make in our children and in living for others, centered on God, will live for eternity."
"There is a human rights travesty taking place in Japan. People are being kidnapped, being held against their will, physically and mentally abused and women sometimes subjected to rape all in an attempt to break them of their faith. For the past 30 years, members of the Unification Church have had their religious freedom taken away. This is 2010 and just last week two more members of the church were kidnapped," she explained.
She reminded the audience that General Douglas MacArthur has brought the U.S. Constitution to Japan and it was accepted by the Japanese people. "The problem is that the Japanese government is not upholding the constitution. Religious freedom does not exist for everyone in Japan. When members of the Unification Church file charges against kidnappers and faith breakers and the charges are thrown out, because it is not viewed as a crime, but viewed as a family matter, the constitution is not being upheld," she said.
She told the VIP guests that she has taken this issue to the U.S. Congress and her friends on Capitol Hill are writing letters and calling the Japanese embassy to register their concern. The Japanese Ambassador is not responding. He has said in the past that in Japan these issues are considered a family matter, but In Jin Nim pointed out these people being mistreated are not minors; they are 25, 30, some even are over 60 years of age. These people have their rights taken away and no one is doing anything about it. It is becoming an embarrassing matter for the Japanese Ambassador and we have to keep the pressure on them to uphold human rights for members for the Unification Church in Japan.
She mentioned that the kidnapping issue may be compared to Japan's problem of spousal abuse, which until recently was also considered to be a family matter in Japan. Women's groups and human rights groups from outside Japan protested this violation of human rights and now spouse abusers are being prosecuted in Japan.
In Jin Nim asked the managing editor of Ultimas Noticias, the second largest paper in Uruguay, to investigate this issue and to bring it to the attention of the Japanese Ambassador in Uruguay. The editor replied that he was shocked to hear that a powerful nation like Japan could be conducting itself this way and would investigate the issue and call on the Japanese Ambassador.
In Jin Nim concluded by telling everyone that she wanted to work with them to bring North America and South America closer together. She thanked them all for their great work and beautiful hearts and encouraged them to continue to support our movement in Uruguay. In Jin Nim had another meeting to attend and she thanked everyone for coming and briefly talked to individuals as she left for her meeting.
Following the meeting with a government executive Ana Maria Queirolo, who had heard In Jin Nim speak, she commented that she was shocked to hear what was going on in Japan. She said her father was a general and was instrumental in establishing the work of CASUA in Uruguay and that she would get involved in this issue. She said In Jin Nim was fantastic and a very charming person.
Dr. Carlos Flores Santos, a Uruguayan diplomat engaged in developing both commercial and cultural programs with South American countries and Korea, said he was impressed with In Jin Nim's elegance and intelligence. "She impressed me with her concern for social issues," he said. "Of course I will be telling my friends what I heard today about this terrible situation in Japan. It cannot be permitted to be like this. This kind of activity would never be supported in Uruguay and it should not be supported anywhere in the world. I will forward my concerns to the Japanese embassy in Uruguay."
Cono Rossi, a member of the Rotary Club in Montevideo, said he was grateful to learn about the philosophy of the movement to bring solutions for our youth and for our planet. He respects In Jin Nim's appeal to create a common faith so that we can unite together and build a better world.
Mr. Rossi was amazed that Japan, being a modern country, still had such a primitive system. He had always thought Japan was seeking the common good of humanity. He was disappointed that they were not upholding human rights. He said, "I want to work with your movement in order to right the great wrong."
Alvaro Giz, the Chief Editor of Ultimas Noticias, met with Jim Gavin after the meeting and asked what he could do. Mr. Gavin got Dan Fefferman, from the Coalition for Religious Freedom, in Washington D.C., on the phone with Mr. Giz. As a result of their conversation, Mr. Fefferman is now forwarding the information Mr. Giz needs to investigate this issue and also the necessary background information he needs to contact the Japanese Embassy in Uruguay.
In Jin Nim inspired these good people in Uruguay to take action and they responded right away. Wherever In Jin Nim met with people she gave them a vision of a world where we can right wrongs and live lives of passion and commitment. She is inspiring young and old alike to take life head on and live passionately, for the sake of the better world and for our children and future generations.