| | |
| --- | --- |
| | The Words of In Jin Moon from 2010 |
In Jin Moon Makes Good Will Tour of Three South-American Countries
James Gavin
August 24, 2010
Montevideo Uruguay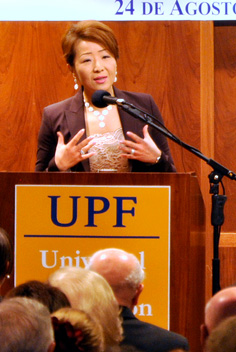 Reverend In Jin Moon (In Jin Nim) has spent the fourth week of August promoting the vision of Unificationism to crowds of church members in Paraguay, Uruguay and Argentina, and has given the autobiography of her father, the Rev Sun Myung Moon, to top officials and lawmakers.
Her 15-person party, which included her daughter, Ariana Shin Sun Moon, Rev. Joshua Cotter, Rev. James Gavin, Kevin Yoon, and members of the Lovin' Life band as well as three Special-Task-Force members, arrived in Montevideo, Uruguay on Tuesday afternoon. Rev. Moon led a special proclamation event in the evening in which she read her father's "Establishment of the Word" speech, which had been presented in the United States on July 24, 2010. In Jin Nim met for breakfast on July 25th in Montevideo with local businessmen, diplomats, church leaders and heads of various social organizations and spoke at length on the crisis of human-rights abuses of Unificationists in Japan. She has been holding similar meetings in Buenos Aires on Thursday and Friday, August 27th.
In Jin Nim's good will tour began in Asuncion, the capital of Paraguay on August 21, 2010. She went directly to the church center where she prayed and met with members of the church. She spoke for 15 minutes about the love that the True Parent's have for the members in Paraguay and that she was looking forward to meeting everyone personally. Several Paraguayan members and their families were introduced, and In Jin Nim was able to talk briefly with each, asking the parents about their children and families.
Later on Saturday, In Jin Nim met with 50 Ambassadors for Peace. Rev. Cotter gave an overview of In Jin Nim's activities in the United States including the progress of Lovin` Life Ministries and her human-rights advocacy work in Washington, D.C. In Jin Nim then addressed all assembled and presented a gift of Rev. Moon's autobiography, As a Peace-loving Global Citizen, to each guest. She took pictures and signed the book for everyone. It was a very warm and friendly meeting. Later in the evening In Jin Nim took many of the local members to a Korean restaurant for food and fellowship.
Youth Get Special Attention at Meetings
On Sunday at the early morning prayer service of Hoon Dok Hae, In Jin Nim gave a special message to the Second Generation youth. Later hundreds of Paraguayan church members from all over the country packed the Church Center to hear In Jin Nim lead the "Establishment of Word' program which included reading the text of the Founder Rev. Sun Myung Moon's proclamation. On Monday, In Jin Nim made courtesy calls to a Senator, a Congresswoman, and the Vice President of Paraguay, and conveyed a similar message to all. She talked about the great investment that Rev. Moon has made to advance his vision in Paraguay and all over the world.
"Even at 90 years old my Father is still very active. He travels and conducts his life with great enthusiasm and vitality," she said. Rev. Dong Mo Shin, the Continental Director for the Unification Church in South America, was introduced to the officials as the chief authority for the church in the region. Rev. In Jin Moon concluded all her meetings by saying that "Rev. Moon's teachings tell me that you are my brother or sister and I am your sister. I want to learn from you, I want to tap into your wisdom and I want to serve and empower you. Please consider me your friend and your sister." The officials said that they could not help but be very moved by the sincerity of her message. All of them said they would assist her and the Unification Church in whatever way they could.
On Wednesday, August 25, 2010, In Jin Nim met again with second-generation youth at the Radisson Hotel in Montevideo and counseled them on how to fulfill their mission in life -- "to be happy." She then met for breakfast in Montevideo with local businessmen, diplomats, church leaders and heads of various social organizations. After introductions were made, In Jin Nim spoke to the groups about the great investment Rev. Sun Myung Moon has made in Uruguay for the sake of the country and for the sake of the world. For example, Rev. Moon had invested in the newspaper industry in Uruguay and in America to win the ideological battle over communism during the past several decades.
"Rev. Moon has always been concerned with the breakdown of the family and the corruption of our young people," she said. "The culture is seducing our youth with sex, money and power, and Rev. Moon is spreading the message that God's True Love is the only thing that will build a healthy character in our young people. I met Michael Jackson, who was a great entertainer, but when he passed into the spirit world he could not take his fans or CDs with him. Only the investment we make in our children and in living for others, centered on God, will live for eternity."
"There is a human rights travesty taking place in Japan. People are being kidnapped, being held against their will, physically and mentally abused and women sometimes subjected to rape all in an attempt to break them of their faith. For the past 30 years members of the Unification Church have had their religious freedom taken away. This is 2010 and just last week two more members of the church were kidnapped," she explained.
She reminded the audience that General Douglas MacArthur has brought the U.S. Constitution to Japan and it was accepted by the Japanese people. "The problem is that the Japanese government is not upholding the constitution. Religious freedom does not exist for everyone in Japan. When members of the Unification Church file charges against kidnappers and faith breakers and the charges are thrown out, because it is not viewed as a crime, but viewed as a family matter, the constitution is not being upheld," she said.
Japan's Hidden Scandal Coming to Light
She told the VIP guests that she has taken this issue to the US Congress and that her friends on Capitol Hill are writing letters and calling the Japanese embassy to register their concern. The Japanese Ambassador is not responding. He has said in the past that in Japan this issue is considered a family matter, but In Jin Nim pointed out these people being mistreated are not minors; they are 25, 30, some ever are over 60 years of age. These people have their rights taken away and no one is doing anything about it. It is becoming an embarrassing matter for the Japanese Ambassador and we have to keep the pressure on them to uphold human rights for members for the Unification Church in Japan.
She mentioned that the kidnapping issue may be compared to Japan's problem of spousal abuse, which until recently was also considered in Japan to be a family matter. Women's groups and human rights groups from outside Japan protested this violation of human rights and now spouse abusers are being prosecuted in Japan. In Jin Nim inspired these good people in Uruguay to take action and they responded right away. Wherever In Jin Nim met with people, she gave them a vision of a world where we can right wrongs and live lives of passion and commitment. She is inspiring both young and old alike to take life head on and live passionately, for the sake of the better world and for our children and future generations.