| | |
| --- | --- |
| | The Words of In Jin Moon from 2010 |
In Jin Moon Gets Warm Welcome in Paraguay
James Gavin
August 22, 2010
Asuncion, Paraguay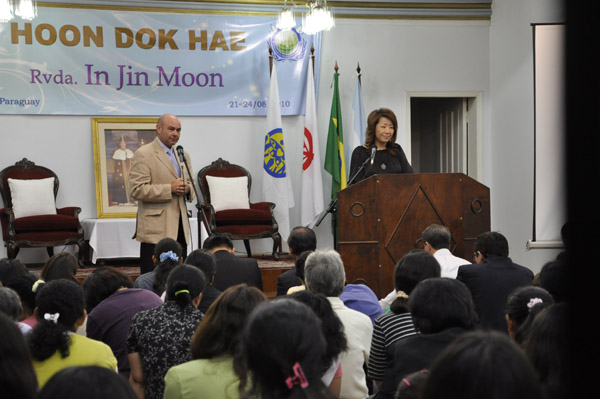 Reverend In Jin Moon is sharing news and pastoral guidance to enthusiastic crowds of Unification Church members in Paraguay and giving True Father's autobiography to top opinion leaders.
Her party, which included her daughter, Shin Sun Moon, Rev. Joshua Cotter, Rev. James Gavin, and two members of the Lovin' Life band arrived in Asuncion, the capital, Saturday and went directly to the church center where In Jin Nim prayed and met with members of the church. She spoke for 15 minutes about the love that True Parent's have for the members in Paraguay and that she was looking forward to meeting everyone personally. Several Paraguayan members and their families were introduced, and In Jin nim was able to talk briefly with each, asking the parents about their children and families.
Later on Saturday In Jin Nim met with 50 Ambassadors for Peace. Rev. Cotter gave an overview of In Jin Nim's activities in the United States including the progress of Lovin' Life Ministry and In Jin Nim's human-rights advocacy work in Washington, D.C. In Jin nim then addressed all assembled and presented a gift of Rev. Moon's autobiography, As a Peace-loving Global Citizen, to each guest. She took pictures and signed the book for everyone. It was a very warm and friendly meeting. Later in the evening In Jin Nim took many of the local members to a Korean restaurant for food and fellowship.
The Hoon Dok Hae prayer meeting at 5:00 a.m. was unusually crowded. In Jin nim told those gathered that "South America has a special responsibility to reside in the heart of Heavenly Parent. And this country has a responsibility to embark upon a revolution of corazon, a revolution of heart."
At Sunday service hundreds of Paraguayan church members from all over the country packed the Church Center to hear In Jin nim's sermon. Many of those present were visibly moved by her message, and they responded with enthusiastic applause at the end of the service. In Jin Nim spent substantial amounts of time with the young members of the church.
In Jin nim's meeting with the second generation Unificationists followed Sunday service. She told them:
"We have such a beautiful future. So now we have to think about how do we keep these Paraguayan treasures strong, and continually growing. You know as BC's we have a special mission, and that mission is to be happy. In a way we need to decide to be happy. Nobody can make you happy, except you. Maybe you are thinking I will be happy if I have a beautiful dress. Maybe I will be happy if I have a motor bike. I will be happy if I have a beautiful house. Maybe if I have a beautiful wife. In New York I have worked with some of the handsomest, most beautiful people in the world. But I have realized that the most important thing in order to have a happy life is to understand God, our Heavenly Parent, and that we are specially prepared sons and daughters of God. And we have been given this beautiful gift of a life, and our responsibility is to be grateful and to decide today to be happy."
As she has done for thousands of churchgoers at the Manhattan Center in New York, Arianna Moon taught ballroom dancing to dozens of young Unificationists at the church center.
Church Assembly Votes to Keep Assets under Church Ownership
The following day, August 23, 2010, a general assembly of approximately 100 church members gathered to discuss the disposition of the 600,000 hectors of land owned by the church. The question for the assembly was whether to keep the land in the name of the church or to transfer it to businesses controlled by a nonprofit corporation. A motion was made to keep the land in the name of the church and the motion carried by a vote of 96 to 0. Lawyers and a notary were present to record the vote. According to local Paraguayan church leaders, this was a major step for the Unification Church in Paraguay to hold on to the assets of the church.