| | |
| --- | --- |
| | The Words of In Jin Moon from 2009 |
Rev. Hyung Jin Moon and Rev. In Jin Moon's Tour Opens in Los Angeles
In Jin Moon
September 1, 2009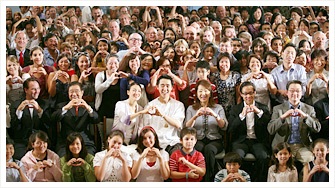 Over 500 members from Los Angeles came together with our International President, Rev. Hyung Jin Moon, and our National President, Rev. In Jin Moon, on the evening of Tuesday, September 1, 2009. This unity came from an outpouring of the heart from the True Children that moved members to tears and formed a deeper level of harmony with our True Parents. It was a new beginning for our congregation. Rev. In Jin Moon, Senior Pastor of the Lovin' Life Ministries, and National President of our movement, has already moved so many hearts through her caring ministry and inspiring teachings in the U.S. Although we prayed for it, we had never dreamed she would be the one to open the very first meeting in our new Los Angeles church facility at 715 S. Brady Street in East Los Angeles. The entertainment of the bands had already stirred-up and exciting atmosphere, but she breathed a special life into the gathered church family through her words.
The feeling of family became evident as she testified to the heart and wisdom of the True Parents. She helped attendees understand the unique role and ministry of her brother, Hyung Jin Nim, and why True Parents have given him the responsibility to guide our movement to higher levels of spiritual renewal.
Rev. Hyung Jin Moon then spoke with honesty and confidence, coaching members by relating to his own personal journey of faith. He explained about the need for pride in our identity as members of the Unification Church. The way of desperate prayer and victorious faith was revealed by retelling the story of Hannah and Peninnah from the Book of Samuel in the Old Testament. His heart-to-heart talk with members about the seven deaths and resurrections of the True Parents exposed the essence of our faith and the core of our hope. It was truly amazing! When he testified to our True Parents' life of "parent's love", the depth of giving and forgetting, members were struck to the heart.
Rev. Hyung Jin Moon revealed the towering beacon of love and life, our own True Parents, in a way that was like giving sight to the blind. So easily one can say, "True Parents'" without awareness of the unspeakable sacrifice and undying love they poured into giving life to sons and daughters of the enemy. Like a new dawning, the realization of what kind of love we must inherit and practice became clear. He revealed True Parents as we have never truly known them before.
Mr. Julian Wema, a Blessed member, reflected that this was just the right timing for Hyung Jin Nim to guide us to be one with True Parents, not because we know of them by Divine Principle, but by spiritually knowing that they have paid a price for us, and that therefore our lives are not our own. By understanding this we must become proud and courageous Unificationists and take action in our daily life. She also shared, "True Children must have been so very tired, and yet they took time to greet each family personally. Amazing love!"
Jatoma Gavin, our Director of the HUB young adult ministry center, remembered Hyung Jin Nim's testimony as a great statement of faith. He also said, "it was great to see the unity of the International and National Leaders demonstrated right there with us. It was important to have guidance about how we can make unity and take the movement to a new level."
Camie Gavin, Jatoma's wife, added "staying to greet the members made a tremendous difference. They demonstrated the Parental Love which sets us apart from other faiths."
Miwa Aparo, who with her husband leads the Project Connect youth service, explained that she "values that Hyung Jin Nim put into a nutshell the true essence of what our movement is all about. He grappled with the question and realized what makes our faith special. I now feel inspired to use this topic as a discussion starter for the young adult service"
Jane Berg, wife of the State Leaders of Arizona, commented that "one could really see the unity, respect and love between the True Children. It is a genuine love for one another. Their couples really modeled cooperation, unity and support for us. Hyung Jin Nim's insight into the essence of the Movement, the Seven Deaths and Resurrections, was truly profound. Our identity became clear as proud Unificationists -- no question that we are Unification Church members first and foremost. No more self-doubt or confusion with questions such as, "Who am I?" I am also amazed at the willingness of the In Jin Nim and Hyung Jin Nim to meet with every brother and sister, despite the fact that they must have been exhausted."
Rick Joswick, our Music Minister, thought Hyung Jin Nim gave a great message this evening. "He spoke very honestly about spiritual struggle and also his triumph in discovering a deeper aspect of the true love of True Parents."
The event was a joyous celebration. Hyung Jin Nim and In Jin Nim cut a ribbon officially opening the sanctuary for ministry. Although there was a general power failure in Los Angeles, which left the surrounding area completely in the dark, the light poured from every window and door of the church that night! Externally, a power backup kept floodlights on, but internally the outpouring of the True Children was highlighted as the direct connection to the source of spiritual light and hope in a world of darkness and confusion. This night marks not only a grand event, but a historical turning point in the development of the Los Angeles family.