| | |
| --- | --- |
| | The Words of Hyung Jin Moon |
Investing in Each Member: - Hyung-jin Nim in Japan
Ken Doo
July 3, 2008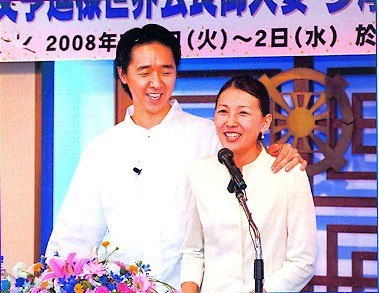 Hyung-jin nim goes economy class every time he flies, so I try to secure him a seat near the emergency exit of the airplane, so that he can at least stretch out his legs. During flights, l notice that Hyung-jin nim doesn't recline his seat, though he would be more comfortable if he did: he has said this is because he is always aware that True Parents are leading the providence without rest.
On June 30, Hyung-jin nim and Yeon-ah nim were on an early morning flight to Tokyo. Rev. Kim Dow-soon, who has overall responsibility for activities in Japan, his wife Shim Woo-ok, and the director of the region in Japan that Hyung-jin nim was to visit were among the welcoming party at Haneda Airport. It was raining heavily during the flight, but just as our plane arrived, the sky cleared. It seemed as if the weather, too, was welcoming Hyung-jin nim to Japan.
We headed straight for the holy ground in Sayama Park, a full one-and-a-half hour's drive from the airport. On several occasions in years past, True Father has spoken to large groups of members at this holy ground.
When we arrived at the holy ground, Hyung-jin nim explained what members should do when visiting a holy ground. He said that because it is land that True Parents have restored from the midst of the fallen world, visiting a holy ground should not be a mere formality. When leaders or other members visit a holy ground, they should do so with a pure and sincerely devoted heart. Upon arriving at a holy ground, a person or group should first offer a bow, recite the Family Pledge and then there should be individual prayer. The Family Pledge is not something one should recite only as a habit before an event. It is in itself a prayer. We should first offer a prayer that shows our resolve as true children of God and True Parents that is, the Family Pledge -- and then offer a personal report in prayer.
With a final bow, we departed for the headquarters church to prepare for the Chil Il Jeol holy day celebration, the following morning. On the way, we stopped so that Hyung-jin nim could shop for a gift for Sun-jin nim and her husband In-sup nim who had invited Hyung-jin nim, Yeon-ah nim, Rev. Kim Dow-soon and his wife to dinner. We then went to a book store, where Hyung-jin nim was especially interested in the books on Japanese art. For almost two hours, he looked through many hooks. At last he said, "This is it!" He had finally found what he had been looking for. It transpired that Hyung-jin nim had been considering how best to place the portrait of True Parents in a sacred way in public places and private homes. He had been looking for an illustration that he could use to demonstrate this.
I felt that the two hours he spent on this revealed his pure heart, which longed for True Parents.
Tuesday July 1
Today marked the eighteenth anniversary of Chil Il Jeol. If Hyung-jin nim had been in Korea, he would have presided over the Chil Il Jeol celebration instead of True Parents, who were out of the country. being aware that the traditions and culture set up by True Parents need to be established in all nations while True Parents are still living, Hyung-jin nim chose to visit Japan. At the celebration, he said that until now doing everything centering on Korean people and Korean things had been emphasized in order to establish a standard, but a global foundation on which all races and nations can serve True Parents should be laid down for the generations to come, for only then could we become a worldwide religion. If we stubbornly insist on what is Korean, True Parents are limited to being the Messiah for the Korean people only and not the Messiah for all humanity. Korean leaders should go beyond guiding non-Korean members from their own standpoint, and relate with them with an even bigger heart than they do Korean members; the leaders should put more effort into nurturing the members so that they can become leaders who inherit True Parents tradition.
Hyung-jin nim also related a story (which he later incorporated into his July 5 sermon at the Korean Headquarters Church) about a boy and his father who saved the lives of may people that were trapped in a runaway train. The heartbreaking history of the providence for the salvation of humanity is depicted in the few words of this story.
After the celebration, we departed for the church in Hachioji, which is a subdivision of Tama, Tokyo, about an hour's drive from the Tokyo headquarters.
The Hachioji church building is very small; the members hold their services in a very cramped space. Because most of their resources are offered for the greater providence, the church in Hachioji, where we actually stayed overnight, was small and humble. Members filled every corner and cranny of it. After Hyung-jin nim spoke, he and Yeon-ah nim took pictures with each of the families.
The speech and photo session ended after two o'clock in the afternoon. Hyung-jin nim then took us to a nearby Chinese restaurant, one of chain he had come across during a prior visit to Japan. It is quite affordable even for large groups and serves a wide variety of teas -- so Hyung-jin nim likes it. After a meeting, Hyung-jin nim invites the church leaders, woman leaders and other hardworking members for a late lunch, during which he encourages them. After the meal, he got ready to visit a family at their home.
This time he visited the home of the Sujimoto family. The parents were blessed in 1997 among the 40 million couples and have very young children. Hyung-jin nim listened earnestly to the couple's testimony The husband and wife are both Japanese. Nevertheless, they said they had had difficulty understanding each other. Hyung-jin nim said that to overcome differences, it is important for a couple to take time together. He mentioned that he and Yeon-ah nim were like an international couple because they do not have the same native language and came from different cultures. In his case, he said, in order to help his wife understand him he would always tell his wife what was on his mind.
The Sujimotos expressed how they valued the blessing through which True Parents had brought them together and resolved to succeed as a blessed couple.
After he shared these things with them, Hyung-jin nim wrote the phrase, Seong ae il shim (Oneness of heart in devotion and love), in Chinese characters for them before returning to the Hachioji church.
Since the Hachioji church is small, the accommodation for Hyung-jin nim and his wife was prepared in the regional director's office by clearing out the desk and other furniture; their entourage was put up in the small hall. Hyung-jin nim feels that as leader of the church he should stay in the church rather than in a hotel. He also doesn't want to use church money unnecessarily.
Wednesday July 2
At 3 am Hyung-jin nim offered his devotions: with members who had come to Hachioji church, held Hoon Dok Hae and listened to the testimonies of the elder members. Around seven in the morning, he departed for his next destination, the church in Adachi. [Daily at 3:00 am at the Headquarters Church in Seoul -- or wherever they may be-Hyung-jin nim and Yeon-ah nim, together with the Headquarters Church staff member and anyone else who wishes to attend, began by bowing to God and True Parents. They then do the special exercises that True father does for physical fitness, following which Hyung-jin nim leads a session of contemplative meditation. Then everyone offers 120 full bows to Heaven. After this, all present go outside to clean up garbage in the vicinity. At 5:00 AM they have Hoon Dok Hae]
To save time and trouble for the visiting church, for breakfast he always drops by some hamburger place along the way and eats simply, arriving at his next destination in time for the church meeting.
The church in Adachi has the greatest number of young people among all the Japanese churches. Some five hundred are working actively; pushing themselves hard. These hardworking young members always welcome visiting leaders, whom they encourage by cheering and applauding loudly during meetings. However, once the meeting starts they are bound to doze off no matter which leader comes to speak to them because they are so tired. This is what their church leader told us, but when Hyung-jin nim was speaking to them, they were all listening intently so they would not miss a word.
He told them he had at one time wandered off the track, but through the help of Young-jin nim, who had passed away, and illumination from True Parents, he had come to a new appreciation of what it means for him to be True Parents' son. He emphasized to the audience that members should strengthen their true character so that the archangel cannot take blessed families to the archangelic side. He went on to say that he had Young-jin nim to turn to for help and to depend on; if the members did not have someone like Young-jin nim to depend on, Hyung-jin nim himself would become their older brother and help them in their needs.
With this precious message, he gave strength and courage to the members. Afterward, he and Yeon-ah nim took individual pictures with the eight hundred audience members. They then took the men and women who lead the church in Adachi out for a meal (at the usual Chinese restaurant) as a way of expressing appreciation for their hard work.
After dinner, they went to visit another family. The families Hyung-jin nim and Yeon-ah nim visit are chosen by lot. In this family the husband and wife were already married at the time they participated in the Blessing of 10 Million Couples. He is in business, and only his wife participates in church activities. However, their son had left our church while in college because he had read some bad stories about the movement. While everyone held hands together, Hyung-jin nim offered a prayer for this family. After the prayer, he said spoke about the need for making conditions for the children. He said that such devoted effort remains eternally and will be utilized as a blessing from God.
He went on to explain that when he had asked True Father what he should consider the greatest moral principle by which to live, True Father had answered, "Offer sincere devotions," and added that when you offer devotions earnestly, God bestows on you blessings equal to or greater than what you have offered. However, you should know that though you may anticipate blessings from God that correspond to the devotions you have offered, the blessings may not come when you want them to. God does not follow our expectations. He has His own timing, which often differs from ours. So when you lead your lives with constant devotion and set conditions, one day God will bestow His blessings on you.
Finally Hyung-jin nim suggested to this lady that certain kinds of conditions are good for children, and suggested she set a number of different ones. For instance, he suggested she carry a picture of True Parents in her purse or write the names of her children in a Divine Principle book, then place it on the prayer table and pray. Before leaving, he wrote a message for the family that he felt was what they needed: Seong ae hwa cheon (Be in harmony with Heaven through devotion and love).
Hyung-jin nim, Yeon-ah nim, Rev. Yim and his wife set off for dinner with Sun-jin nim, who was staying in Tokyo for a while. So they visited one more home! Sun-jin nim served them food that she had spent much time and effort to prepare.
Thursday July 3
On the day of departure after four days in Japan, Hyung-jin nim brought his eleventh visit there to a regretful close by offering the 3 AM devotions with the members including Rev. Tokuno Eiji, who is the new national church leader of Japan, and his wife Hisae. The Tokunos accompanied Hyung-jin nim and Yeon-ah nim through the 3 AM devotions and until they boarded the plane for the flight home. Rev. Tokuno said he realized how devotedly Hyung-jin nim and Yeon-ah nim loved the Japanese members. Based on that love, he said, the Japanese church would develop and grow even further. He resolved to put more effort into witnessing in Japan. He expressed heartfelt gratitude to Hyung-jin nim and his wife on behalf of the Japanese members.
On the way home, Hyung-jin nim sincerely offered thanks to God and True Parents. The Japanese members' love, yearning and passion directed toward True Parents is true faith, he said, and planting the roots of such an attitude in all members of the world as quickly as possible is the best way to lay the foundation stone for the establishment of Cheon Il Guk.
Ken Doo is a special assistant to Hyung-jin nim