| | |
| --- | --- |
| | The Words of Hyung Jin Moon |
Inauguration Ceremony for Dr. Chang Shik Yang as the President of FFWPU-Korea
Hyung Jin Moon
May 26, 2008
FFWPUI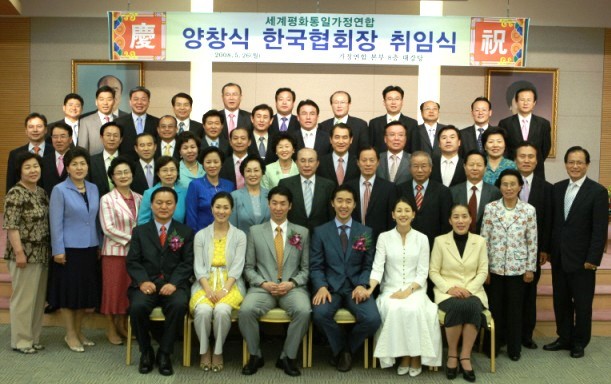 The inauguration ceremony for Dr. Chang Shik Yang as the president of FFWPU-Korea began from 10:30 am. on May 26, 2008, at the 8th floor of the FFWPU-Korea Headquarters Building.
More than 600 people were present that day including Rev. Hyung Jin Moon, FFWPU International President, Mr. Kook Jin Moon, chairman of the Foundation, executives of providential organizations and companies, church elders, national messiahs, church leaders and key members from the metropolitan area.
Rev. Gyu Sam Lee, Director of the General Affairs Department, was the emcee for this day's ceremony. Before the start of the official ceremony, Rev. Lee briefly explained how the ceremony was being held according to True Parents' instructions, and how Dr. Yang will be supporting Rev. Hyung Jin Moon.
Dr. Yang, Rev. Hyung Jin Moon, and Mr. Kook Jin Moon spoke on this occasion.
Before delivering his official inaugural address, Dr. Yang shared his reflections about returning to Korea after offering 14 years in the public mission in America. He talked about his reflections in participating in the first anniversary of the Wonjeon Ceremony for Rev. Hyo Won Yu who had passed into the spirit world thirty-eight years ago. He also introduced stories of his meetings with the early church members, thanking them for being the elder brothers and elder sisters of the Korean Church and the Unification Movement as a whole.
Dr. Yang, filled with emotion, spoke about how he wanted to leave something behind for the American members that could give them ownership when it was decided that he was to leave America after many years attending True Parents in the last stretch of providence in America. He explained how America, as a Christian nation, had the providential mission of welcoming the lord at his second advent. Yet, when True Parents came to America in 1971 they were faced with a difficult situation as there wasn't any foundation prepared for them.
Despite this adversity, True Parents went a long way to establish the Universal Peace Federation saying that its headquarters should be installed in the midst of the US Congress in Washington D.C. Dr. Yang emphasized that without Christianity the very purpose of America's existence in God's providence would be lost.
Dr. Yang also shared his reflections of his experience of attending True Parents during their fifty-state tour, which among many venues took them to Harlem Church and the US Congress building. He stressed that the epitome of all these endeavors was the Coronation Ceremony held in the Senate Building in Washington D.C. on March 23, 2004. This was a historic event culminating the 34-years of True Parents' work in the United States of America.
Dr. Yang also spoke of the new direction of vision in which the first and second generation members of the movement will work centering on the True Children in opening a new era. He introduced the activities of Dr. Hyun Jin Moon centering on UPF's International Leadership Conference, and of the activities led by Rev. Hyung Jin Moon and Mr. Kook Jin Moon emphasizing that the era of indemnity has come to an end.
Dr. Yang expressed his commitment to the promotion of spirituality and growth of the church and his plans for incorporating a new system for developing the church and in creating a model for all mission nations of the world.
Following Dr. Yang's address Rev. Hyung Jin Moon came to the podium to speak. The International President explained that Dr. Yang was appointed by True Father to this new mission. Hyung-jin nim mentioned that Dr. Yang had studied extensively on the conception, growth and establishment of the "mega-churches" in America. He asked for all members to re-discover that burning passion and heart they had when they first joined the movement and to take part in creating a church that they can be proud of.
The Chairman of the Foundation for the Support of HSA-UWC also spoke this day congratulating Dr. Yang in his new mission. Kook-jin nim emphasized that the church needed to strengthen its fundamentals in order to attain greater growth and expressed how he believed that the incoming president would do a good job in his new mission.
The ceremony ended with three cheers of eog-mansei by Dr. Sun Jo Hwang, president of UPF-Korea.
Dr. Chang Shik Yang had arrived on the 22nd of this month. Upon arrival he immediately went to the former headquarters church of Korea, a symbol of True Parents' investment in the early years of our church, where he offered a heartfelt prayer for a substantial amount of time. Later on the 25th Dr. Yang went to the Wonjeon and paid his respects in front of the grave of Rev. Hyo Won Yu, the first president of HSA-UWC.
Dr. Chang Shik Yang was born on July 28, 1953 in Ham Pyung Jeonnam, Korea. He joined the movement on July 4, 1971 at Ham Pyung. His spiritual parent is Mrs. Gil Ja Sa Yu. (Wife of Rev. Hyo Won Yu). On October 14, 1982 he was blessed to Gum Sook Ahn through the 6000 blessing. Between them they have three sons and six daughters.
Dr. Yang attained a Bachelors of Art in Philosophy at Korea University in Seoul, Korea and a Masters of Divinity at a Methodist seminary in Korea. Dr. Yang received a Master of Religious Education degree at the Unification Theological Seminary in Barrytown, NY, followed by a Doctor of Ministry from the New York Theological Seminary. He also served as a professor of Sun Moon University in Cheonan, Korea. He was awarded an honorary PhD by the Sun Moon University.
In Korea Dr. Yang served as a church leader in Jinsan and Yeongi, and as a regional leader in Gyeongnam and Jongro. During the 1980s, Dr. Yang was one of the founding members of the International Christian Student Association (ICSA), an organization dedicated to promoting inter-religious harmony. In August 1994 he went to America and served as the church leader in New York, regional leader of Washington and Continental Director of North America.
Dr. Yang is also chairman of the American Family Coalition (AFC), the American Clergy Leadership Conference (ACLC), the University of Bridgeport, and the Unification Theological Seminary. Additionally, he chairs the New Yorker Hotel Management Company and True World Group.