| | |
| --- | --- |
| | The Words Of Hyung Jin Moon |
Hyo Jin Moon's Memorial Service
Hyung Jin Moon
March 22 2008
Headquarters' Church, Seoul
Transcribed by: Beatrice Clyburn
Edited by: Bruno Klotz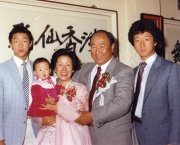 Yeon Ah Ni's Welcome Remarks
As you all heard, on March 20th 2008, there was Hyo Jin Nim's Seung Hwa ceremony. We would like to pay respect to the Seung Hwa of the eldest son of True Parents. So today we would like to do a memorial service for Hyo Jin Nim.
Hyung Jin Nim's Welcome Message:
Good afternoon brothers and sisters. We are very grateful and delighted to have you all here. As my wife just said, we'd like to dedicate this service to our eldest brother Hyo Jin Hyung. And I'd like to share with you something from the Cheon Seong Gyong, where Father talks about prayer; it's on page 1034. Father says, "Even when I spent almost three years in Hungnam Prison in the midst of great hardship, I never forgot to pray for the members each day before bedtime. I continuously prayed even for those who fell away. And a person who fell away appeared spiritually in front of me and spoke mournfully with tears; he sadly confessed that due to the weakness of the flesh he had to leave me and said farewell. In such a miserable circumstance I cannot help feeling pity for him. Even though that person left in such a way, I had to continue to pray for him."
I really want to encourage you all, brothers and sisters, in this time. It's always a time of rebirth and adjustment when we lose our loved one, and I know many of you personally knew Hyo Jin Hyung. And those joining us from overseas via internet, I know many of brothers and sisters from around the world have been sending us a lot of condolences. We are so very grateful for the Blessed Family community who are just sending in their sympathy and empathy, their empathetic words, their encouraging words. We're so very grateful; our whole family is very grateful for that.
And just in that same way as Father said that prayer for people who have left us, the practice of prayer and constantly remembering those who have gone before us is such an important practice. So today we would like to dedicate this service to Hyo Jin Hyung. We want to honor his memory. We'd like to share with you as family some of his songs and some of his stories. We'd like to share from our hearts as well and just remember the very good elements, the many good things that he taught us all.
So, brothers and sisters thank you so much for coming here; we're really very grateful. Once again let's remember the power of prayer, the importance of remembering each other and praying for each other, remembering those who have left before us. Thank you all for coming, and let's take this service to honor our eldest brother Hyo Jin Hyung today.
Brothers and sisters, please join us in prayer:
Dear most beloved Heavenly Father, our most beloved True Parents,
We thank You for gathering us today in this holy sanctuary where our True Father had cried so many of his sermons, his words of tears. Father, we are so grateful that we may be gathered here as a family, Father, to honor You and to bring joy to You. We are earnestly respectful of each other. We truly, Father, feel each other's presence here today. Our eldest brother Hyo Jin Hyung in spirit world, we know that you are with us today. We pray that you may take a seat and enjoy this time that we may share in reflection and that we may share in opening our hearts to each other.
Father please be with us in this place today. Allow us to truly commune with each other, Father, to leave this place with memories that can truly give us joy and lasting peace in our lives. Father, we pray that we may become greater blessings to this world, and whenever any one of us leaves early to the spiritual world, Father, we pray that we may reflect on the value of our existence, the most preciousness of our lives. Father, let us today feel that value, feel Your love flowing through us, and let us be here together as brothers and sisters.
We will be here to honor Hyo Jin Hyung, his memory, and hopefully leave this place, Father, with a new rebirth in our hearts, a new heart, a new page that will be turned in the histories of our lives. And Father, we pray that You may guide us today, be with us today, lead us today.
We thank you and pray these things in the name of Moon Hyung Jin, a member of a blessed central family. Aju!
Hyung Jin Nim's Introduction of Yeon Ah Ni's message:
Brothers and sisters, I want to just briefly introduce our beloved sister Choi Yeon Ah Ni. She's been with Hyo Jin Hyung and her beautiful children, and she's been really such a sign and a testimony of courage. She's really, for the last few days, been our pillar of strength; she has been the one encouraging us throughout these couple of days. She's been in America with Hyo Jin Hyung and they've been ministering in Belvedere church, and I'd like to have this time to allow her to share her heart on this day. She's really been guiding us the last couple of days. She has really shown us tremendous courage and strength, and she has such a depth of heart that we've been continually beginning to understand and realize for ourselves. So I'd like to take this time to invite Yeon Ah Ni to the stage and share a couple of words.
Yeon Ah Ni's Message:
Hello everyone! Thank you for coming today. Really I appreciate your love for us, especially for Hyo Jin Nim and also for True Parents and True Family. I have been in America for at least nine years but at that time I spoke Korean. So actually I'm not sure about my English but I'll do my best, and if I can't express my heart in English I will get help from a brother.
Do you believe I'm the one who lost my beloved husband? If you see my face, yes or no? Do you believe it? Can you believe it? Yeah, I look happy, right? I look happy. Actually I am happy, really. Especially the day of the Ascension Ceremony, that time I really felt lots of love for Hyo Jin Nim and also for True Family from all of the church members, brothers and sisters, and also from True Parents, and also from all the great True Children. So I know I'm not alone and I'm with all of you. That's why I can come here and I want to share something, just a small thing, about this time; and actually I want to encourage all of us, including myself.
First I want start to read Hyo Jin Nim's last speech in America in New York. From the year 2006 he gave speeches -- short speeches of maybe 10 to 20 minutes -- every Sunday whenever he was in America. I want to share the message first, and after that, if I can speak something to you, at that time, I will say more. The message is in the service flyers, so if you want to read it with me you can do that. (She starts reading).
Commitment
Good morning.
Is everybody here committed to something?
When you think about commitment, what does it mean to you?
Why do you want to commit to something?
You want to commit to something because it defines you.
Any kind of commitment that you make will define you, and you will be judged.
That is why you commit to something; Because you know that life is about learning something and life is short, very short.
How about what makes you good, what makes you right?
Even business. I will be away for about two weeks. Okay?
If people give you money you have responsibility, you have commitment.
You have to make them profit.
Otherwise you will not get another opportunity.
So even just dealing with money, you are committed.
That is what it is.
Now think about yourself. What are you thinking?
What terms of thinking are you committed to? What are you reaching out to understand?
Even if you do understand something, achieving it is very difficult. Now, take that to the next level, spirituality.
How are you going to answer that question?
You have to have spirit, mind and body together to be perfect.
That is basic stuff!
And that is what you have to do, basically.
So, where do you stand?
Don't look at the person next to you. Answer that to yourself. You ask that question to yourself and you answer it to yourself.
That is where you stand.
And how do you get better?
By following the basics, doing the basics and doing what is right. There is no other way.
Do you feel big sometimes? Yes, but who cares if it is not real?
It is about you.
Do you think we are living in this world just to think about "me"?
That is not the lesson we are learning here.
It is not about "me". It is about "us".
That is why it hurts.
Because we are "I" to start from, we have to understand "we."
What is family anyway?
Man and woman come together and make family. What is that?
Is it "I" or is it "we?"
And then, you will die. No matter how great you think you are, you will die.
Anything that makes you arrogant, keep it to yourself.
Keep it to yourself!
If you love your children, if you have children, if you have a family, that is what you do to be a good parent. Everybody does that.
Try to be good. Keep it to yourself.
You don't want to be arrogant. Keep it to yourself.
We need commitment because it defines you, and in judgment, you'd better know what that is.
Thank you.
I'm sorry for speaking in Korean because of my English. I think it's better to use Korean. It's better to express myself deeply. Today many young people have come, more than I expected. When Hyo Jin Nim delivered his words in Belvedere, from the beginning of the year 2006, a lot of elder church members came. And this speech which you have heard, it was a speech which he gave in 2008, March 9th, and many young people came. And Hyo Jin Nim was very happy to see them. That is because our hope lies within the young people. So therefore that was one of the reasons which helped me to accept and overcome the fact that Hyo Jin Nim after his Seung Hwa has gone back to the heavens. Because there's hope, and there is a tomorrow and there is a future. I don't look back into the past. I look into the future and tomorrow.
For the past several days I've been up on stage and I have delivered my words. And during that period a lot of my brothers and sisters, and also relatives and also church members have gathered around, have inspired me, encouraged me and comforted me. We have shared a lot together. The first day was a very difficult day for me when I recalled about Hyo Jin Nim. It was not easy to overcome this.
There were many physical difficulties and physical pain, but I do not want to explain why specifically he had pain. The reason why he had physical pain is because he worked hard for the providence and the will and his conviction, and Hyo Jin Nim was really very strict on his physical body. I thought it was a kind of abuse of his physical body. He was that strict and just kept working, and he mentioned about himself that he's workaholic. And I think that this word "workaholic" expresses everything about him. In considering how hard he worked, I can understand that it was possible for him to go back to the heavens at such a young age.
It was about 9 o'clock in the morning when he went back to the heavens. I remember that he suffered the whole night before that morning; but he comforted me, saying, "I am OK, don't worry, I will be OK." And I told Hyo Jin Nim, "If you do not feel well, maybe you can take it easy, maybe you should go to the hospital and check how you are." But Hyo Jin Nim said, "No".
Spiritually, physically and in his mind, he has always been a very, very sensitive person, just as True Parents and all the True Children as well. And I think that Hyo Jin Nim knew what kind of condition he was in. He knew what his condition was, but he comforted me, saying, "I am OK, do not worry", so therefore I was not prepared heartistically. But I feel very grateful now.
Even if I would have known ahead of time, there would have been nothing I could have done for him. Once he is convinced, he sticks to his commitment, and even probably True Parents cannot stop him once he is committed. And perhaps if I had really worried in that last night and felt pain in my heart myself, I believe that Hyo Jin Nim would have felt more pain, and would have been more worried about me.
The day after Hyo Jin Nim went back to the heavens, that day felt very long. It felt like several days. Whenever I am alone, quite alone by myself, I always remember and recall those last hours, last moments, I spent with Hyo Jin Nim. Those last hours cannot be referred to as happy moments. I try to recall those moments of joy and happiness with Hyo Jin Nim but during those hours, I was not able to.
We came to Korea one week before he went back to the heavens, and we spent this one week in Korea. But that one week that we stayed in Korea, meant a lot to us; it had tremendous meaning. It's the nature of people that whenever they feel development, they feel satisfied, and they feel fulfilled. And that one week which we spent together in Korea, was the time in which we were able to make the most development together and most fulfillment.
During that period I was really able to feel how much we truly and sincerely loved each other. And also we were able to feel that we had made our best effort in order to live for the sake of each other.
There are some people who live a happy life, begin happy but end up in unhappiness, becoming enemies or divorcing, and there are some times when they try to avoid each other, and hurt each other. But Hyo Jin Nim and I we loved each other so much. We made our best effort in order to live for each other, so we have no hatred, no negativity against each other and I really miss those moments.
So in that sense, I really spent the most happy and joyful times with Hyo Jin Nim. So in that sense I cannot be sad, I do not feel sad. So I believe that all of you understand why I am able to stand up here on stage with a smile on my face. I am a really happy, happy woman.
During that day when I was facing the most difficulties, True Father came to me and he was with me. True Father and True Mother comforted me and also explained the providential meaning. First I did not know, but later on, gradually, I got to understand that True Parents, and also True Children and the True Family sort of knew about Hyo Jin Nim. I think, "What if Hyo Jin Nim decided to stay in this physical world and not go to the spiritual world; what would the consequence be?" I think that if Hyo Jin Nim would have decided to do so, he would have never been able to forgive himself. Hyo Jin Nim really knew the path which he had to take, and he really has inspired us, given us hope, even me and my children. And we are really, really proud of him. He will be our pride.
And I really want to show my utmost gratitude to True Parents for showing me and giving me hope. And I really want to express my utmost gratitude to True Children who have stayed by Hyo Jin Nim's side and understood him the most. And through this, after Hyo Jin Nim had Seung Hwa and has gone back to the Heavens, I was really able to see and feel how True Children love each other so much, and I was really able to feel that we are all one family. And there is nothing which we are afraid of and that can stop us. All we have to do is march forward. God and True Parents have indicated and shown us the way and all we have to do is just follow, and march forward on the paved road, not separately, not individually.
We have to unify all of our hearts as one and march forward as one. And when we make that march, your nationality, your race, your gender, your age, your social status, nothing is important; it does not matter.
It really is a beautiful sight to see everybody here today. I see many colors in this room, so it's very beautiful. If there was only one color in this room, it would be a very boring sight. Because there is variety, that's why there is more joy and happiness. That's why God has created us in this way.
And what I want to say today is, "Do not look back! Do not turn back!" If I keep on thinking about Hyo Jin Nim, probably I will never be able to get over the pain if I do look back. But if I look into the future, into tomorrow, I can get unlimited strength. All of us, we all have our limitations, however, on the way, when we are facing difficulties we can help each other, and the reason why we can keep on going is because God and True Parents are always in our hearts, because there is a love which embraces us all. So that's why there is hope for us.
Of course, looking back into the past, reflecting about yourself and knowing about yourself is important; from that perspective it is important to know yourself in the past in order to seek your direction in the future. Each and every step we take we have to look upon the details. And if we are able to do so, we will be able to see exactly and most quickly our ultimate destination, where we have to do. If you really knew where you are going, you wouldn't be looking at someone else, in the wrong direction, and there would be no need to waste your time. These wrong directions and these kinds of factors are something which we have to erase from within our lives, if it is not one with God. So it is better for us to understand the clear direction and walk in that direction together, and later in the spiritual world we will be there altogether.
True Father has given us specific missions, and we know we need to go this way, and we understand that if we do not accomplish, fulfill or complete these missions, we cannot go on to the next step. And if we go in the right direction, live our life with our utmost effort, with our best effort, I believe later on there will be no regret. And also we will be able to go to the spiritual world with a happy heart, and also those people who love us so much will be able to march forward with a joyful heart.
Brothers and sisters, therefore please do not be sad! If you want to cry, you may cry, but do not trap yourself in that grief or sadness. After tears, open your eyes to see the next step to go into the future. Hyo Jin Nim has always encouraged our bothers and sisters and church members, saying this, "We clearly know the way which we have to go, we clearly know our ideal and we already know that this ideal is absolute, eternal, unique and unchanging."
So if we look from a social perspective, when we try to compete with the society, we stand at an advantage; that is because the truth is with us. And we understand that with the truth we will clear and correct all of those mistakes in this world. When the people in society cannot fix up society and they are encountering difficulties, we know the truth, therefore we can help and support them. The path which we have to take is a path to live for the sake of this world, this society and also supporting them and living with them. It is not about receiving something from them; it's about giving them 100% what we got.
From an external point of view this society has developed in many ways. We do get some benefit from it, but that is not everything and that is not the end. That is just the basics. Those are all aspects dealing with the physical needs that we have when we live during this physical life. But people in society do not know the spiritual world. They do not know God. Therefore we are the ones who have to help them, and bring them along with us. And each and everyone of us has 5% responsibility, so we have to give our best in order to improve our capability, in order to help these people. If we do, they will recognize us, and they will follow us. They will follow us, even if we would say, "Do not follow us!"
But if we all take different ways, our individual ways, it will be very difficult. That's why open your heart, unite, and unify all of our hearts. And if we want to be unified, there needs to be a center. And the center is God and True Parents, and from our position we are attending that center. We can do it! There is nothing that we cannot do! Even the people in society (can do it), but we have more than the people in society; we can do this. So therefore, everybody please feel hope. Have hope, look forward, march forward! Make your best effort marching forward and when you go to the spiritual world; that is a good life...
Thank you very much. (Long applause, standing ovation).
Hyung Jin Nim:
Thank you, Yeon Ah Ni for those very powerful words. Brothers and sisters, I'd like to share with you just briefly. Yesterday and in the events from the last couple of days we've seen some very miraculous moments. We've really had some amazing moments for our family. I'd just like to share some of these pictures with you. We have a whole series of things that happened. I'd like to explain some of these very interesting things.
Initially we weren't scheduled to carry Hyo Jin Hyung's body to his grave, but we just felt inspired. We all got together and we said, "We want to do that for him; we want to be the last people that help him go to the spiritual world." So we all gathered as a family, all of us, from Ye Jin all the way down to Jeung Jin. We were in one bus, and we decided, "We want to go and take him to his grave. We're going to be the ones who carry our brother home."
So we went, and we told Mother, "Mother, we are going to carry him in." She was absolutely happy about that. And so here is one of the pictures where we carried him up to his final resting place. Let's just go through this quickly.
Actually we went into his resting site. We put his flag down, the Unification flag on top of his casket. We were at times a little disturbed because we wanted to clean the casket off nicely and things like that, and at times, it was not being prepared in that manner, so we just went down. We went down and we really brushed the casket cleanly. We went down and cleaned this casket, and wiped away the dust with brushes
This is one of the scenes. Here is Yeon Ah Ni and her kids looking over Hyo Jin Hyung, leaning over, consoling and embracing her children. As we see here; this is our brother Kwon Jin Hyung, and he is massive! He's got biceps the size of my waist. He was down there, and he was bringing these huge pieces of wood, and going down there, and all of us we were so inspired. All of us were preparing our brother's final resting place.
And it was one of the most miraculous moments in our lives. We've never done that together; we've never come together like that. There are moments in our own lives where we're immature; we're in the growth process as well, as a family, but... This time we really came to the conclusion that when Young Jin Hyung passed, the brother that's right above me, when he passed, we all soul-searched. All of us went inside ourselves, and really tried to find meaning in our lives.
This time when Hyo Jin Hyung passed, he really brought us together; really he brought us, as more mature people, together, and we found that unity, we found that connection. And it was one of the most miraculous moments that I can ever testify to in my family; it's really one of the most inspiring moments I've ever had with our family, and I think every single one of us there felt that exact same thing.
Let's go through these; it was so beautiful. Our brothers and sisters were so gently moving the dirt and the dust away; and here is really one of the most miraculous moments of the day. We were all there praying, and all of a sudden we looked down and the kids were writing something right near his grave site, and they were picking up little rocks without anybody telling them to do so. They were just inspired. They just started picking up rocks and they started writing, "Appa" and "Saranghae," that is: "We love you daddy!" The kids started writing this on the ground.
And if we were only paying attention to the etiquette and the ritual, then we would have said, "Children, stop fooling around", but it was such a beautiful moment because they were inspired and really I felt the children led us that day. They really set the tone for what it was we were supposed to center on that day. And here you can see the children; it was actually Hyo Jin Hyung's first son with Yeon Ah Ni, Shin Chul. He started writing, "Appa, Saranghae".
So we were up on the top of the mound, and we decided," We want to put this on his casket; let's leave this with him forever." So we went down there, and here we are on top of the boards and we brought the children down, all the children, we brought them down, and they started writing, "Appa we love you! Daddy we love you!" And even the baby, the baby came, Shin Soon, she came down and she was like, "I want to put the exclamation mark on the end." So we had the baby girl, she is only like 3 years old, 4 years old, and she wants to put the exclamation mark. You can see her big exclamation mark on the end over there.
Let's pass through this quickly. Here we are; here is Shin Soon, here is the family; we are just gathering around over Hyo Jin Hyung. Here are some of our cousins, Shin Ah and Shin Ye. Hyo Hyung's daughter drew a beautiful heart with stone, through which they wanted to express artistically their real affection for him. We were so inspired because they were so creative. When we let the kids participate, when we didn't just let them observe the ritual but we let them participate in it, when they were free to participate, they really guided everything. And they really showed us incredible creativity.
Here they started giving us roses; the kids went out and got roses, and they gave it to mom, they gave it, and then they passed them down, and everybody then decided, "We're going to put flowers on his grave" and so a whole bunch of flowers came, and we put them into the form of a beautiful heart, a read heart. Can you see it? We put the roses in a heart, and Yeon Ah Ni's heart is right in the middle, and all the kids, they were helping us.
As they brought more flowers, the heart grew bigger and bigger, and it was just one of the most amazing moments that we can ever recall. I've witnessed a couple of these Seung Hwa ceremonies, but we never witnessed something where everybody in our family was participating, where we were not just observing the ritual but where we were actually actively participating and guiding it. And we really felt God's spirit that day. We felt True Parents there with us. We felt Hyo Jin Hyung was there smiling; we felt he was so happy that last day.
Here is Yeon Ah Ni and she is putting down her final sand in the ground; all the children putting down the sand in the ground, even the little children here putting the sand in the ground. This was a really dramatic moment. Kook Jin Hyung, he was so inspired that day, he just got up and he said, "Brothers and sisters, this is true love, this is true love, please don't forget
In our family we really have not been many times given the opportunity to show that we can be unified, we can be mature, we can work together. But I think that's changing; I really saw this with Kook Jin Hyung there and his leadership. Sun Jin Ah was there; she was guiding, she was in Hyo Jin Hyung's site, putting down the flag. Kwon Jin Nim... all our other brothers and sisters were there.
It was really one of the most amazing moments that we can ever testify to. It was really one of the most amazing moments that I've ever had with our family, and I think everybody would say the same as well.
Here is Sun Jin Ah placing down the sand, Yeon Ah, Jeong, our sisters, placing down the sand. And at the end it was amazing, because usually when we do "Og Mansei", we always do it separately; but we just felt inspired, "We're going to hold hands in 'Og mansei'." If you look closer you can see us, we are all holding hands from Ye Jin Ah down to Jeong, and all our brothers and sisters around, everyone is holding hands and doing "Og Mansei."
It was one of the most amazing ceremonies that we've ever had. It really was -- I feel -- a whole new level, a whole new beginning, a rebirth in our own family. I can really testify to that. It was such a precious gift, a miraculous gift that Hyo Jin Hyung left us with. If anything that we gained from that day, we gained the confidence that we are mature, that we can continue to grow together, and that we can do great things in unity.
This was the ceremony after the three days' service that we had after Hyo Jin Hyung's passing. We gathered again at the site, when it was all prepared, and this is the day when again we participated in sending our brother home. And let's just move through this quickly. Here are the children up in the front, praying, here is the family, here is baby Shin Soon. This is Yeon Ah Ni offering the traditional offering after one passes. This is Kook Jin Hyung. For the first time during the Seung Hwa ceremonies, again we were not spectators. We really stood up and said, "No, we're going to speak this time. We're going to have a voice, and we're going to speak on behalf of our brothers and sisters" and we did that.
Here is Kook Jin Hyung sharing his voice; Kook Jin Hyung and Sun Jin Ah shared some amazing words with us, really reminding us of the important lessons that Hyo Jin Hyung left us with and the miraculous moments that he gave us that day. It was such an amazing day! It was really one of the most amazing couple of days.
Yeon Ah Ni shared some words with us; she shared her personal stories with Hyo Jin Hyung. She shared once again, as she shared with us today, how it's so important to move forward, to see our lives with hope, and to always know that spiritual world is with us. And so it was just a remarkable day. I don't know how this happened, but I had the honor of praying that day, and giving the benediction, and it was just an amazing ceremony. Here the family is now putting roses down for Hyo Jin Hyung's final passing.
Again after the rose ceremony there was the distribution of food and everybody shared in communion, eating, breaking bread and communing together. We had brothers and sisters from HQ's church come out there; we were so happy to see the brothers and sisters that came out there, and we just had a time of sharing, a time of feast, a time of unity.
And I really believe it was a real testament to the truth of True Parents' words, when they speak that we can practice true love, that we can practice unity, we can practice harmony. I believe, that day we were not only believers, we were practitioners, and that, I believe, is one of the most important things in our lives as Unificationists, not only to be believers but also to be practitioners. I believe that's the next step, and that's the step that will bring our vision and our ideals into reality.
I'd like to share just a couple more of these with you. We were just so grateful for all the brothers and sisters that were there, for all the family members that came out. It was just one of the most amazing gifts that we've ever received, so we want to offer our thanks to you, brothers and sisters, for offering your prayers, and your devotion and your love, and support.
We could never do it without your condolences and your support. We received so many emails from brothers and sisters around the world just offering their condolences, their support, their love, and we are so thankful for each one of those brothers and sisters and each one of you, and we really want to offer our thanks and praise.
Hyung Jin Nim's Ending Prayer
Dear most beloved Heavenly Father,
Thank You for this day that You have given to us. Father, we have gathered here, in this place, in this sanctuary, Father, to come united as one family. Father, we are so thankful to be given this opportunity to be able to live, to be able to breathe, to be able to be here in the presence of each other. Father, thank You for this time that You have blessed upon us, and we pray that we may move forward with more victory, Father, that we may move forward with more illumination, with more light that we may shed unto this world, that we may cultivate more peace in our hearts, and to be able to spread that peace to the world, becoming greater blessings to this world. Father, we know that You have blessed us to live the blessed life, and we know that it doesn't just stop with us here, but extends beyond us, Father, when we help others attain and live a blessed life as well. Father thank You for this day that You've blessed us with.
Hyo Jin Hyung, thank you for this time that you've given us. Thank you for the miracles that you have afforded us. We really stand before you in thanksgiving and praise. Thank you for this day.
Once more we thank You for all the brothers and sisters that are here, for all the brothers and sisters around the world who have sent in their condolences, and their prayers. Father we are so blessed to be living together at this time. We are truly, truly thankful from beyond the depth of our hearts, and we offer this in our name, Aju!