| | | | |
| --- | --- | --- | --- |
| | The Words of Reverend Moon's Family | | |

Hyung Jin Nim's Special Presentation
February 10, 2006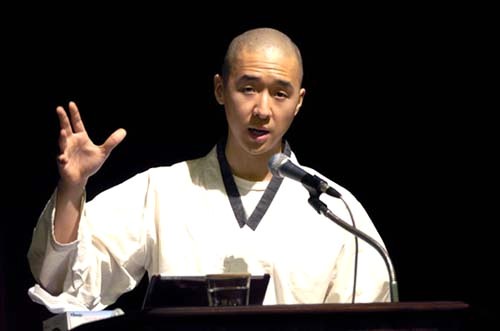 3rd day of the Cheon Il Guk Leaders Assembly 2006, a presentation offered by Hyung Jin Nim, took place in the Chungseong Wanglim Palace (Heavenly Palace) at 8:00 a.m. The topic was about the importance of True Parents.
He firstly started the presentation, by talking about the reason for his appearance, and the feelings that he had for True Father as a child, and present time. "As a member of the church, and specially being the True Parents' son, studying other religions were a surprising shock for the members. However, Father told me to study all the religions, and learn at least 12 languages." Hyung Jin Nim entertained the audience with his great sense of humor, but sent the message out very strongly.
"We have to clarify now, that there will only be True Parents. The future generations shouldn't have the difficulties of understanding this important concept."
Hyung Jin Nim told us that we have to become as one, more than ever.
Finally ending the speech, Hyung Jin Nim thanked all of the members who attend True Parents. Hyung Jin Nim couldn't continue with his speech, because he couldn't stop the tears coming out, for thanking the members.


Download entire book in ZIP format


Table of Contents


Copyright Information