| | | | |
| --- | --- | --- | --- |
| | The Words of Reverend Moon's Family | | |

Hyung Jin Moon, Son of Unification Church Founder, Pays a Courtesy Visit to President of the Jogye Order of Korean Buddhism
Hyung Jin Moon
August 9, 2005
The following is a translation of an article that appeared in a newspaper of the Jogye Order of Korean Buddhism. The Jogye Order has millions of members in Korea and is the largest Korean organization. The president of the Jogye Order, Ven. Bub Jang, met Hyung Jin Nim at Harvard University in June of this year and was very impressed. At that time, President Bub Jang expressed his appreciation for Hyung Jin Nim's ministry and said that he believed that Hyung Jin Nim had an important role to play in building unity among religious people. When Hyung Jin Nim visited the Jogye Order in Korea on August 2nd, President Bub Jang was so happy to see Hyung Jin Nim and then invited him to speak at a major world conference of Buddhism that he is organizing later this year in Singapore.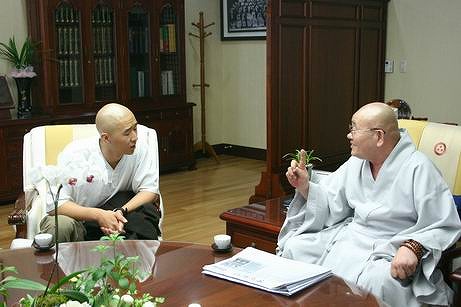 Hyung Jin Moon, Son of Unification Church Founder, Pays a Courtesy Visit to President of the Jogye Order of Korean Buddhism
"Religious people should be of one heart and mind in exploring the path to peace"
http://www.buddhism.or.kr/news/order/board_view.asp?article_id=549&page=1&search_key=&search_value=
"World peace can be achieved if religious people discard their pride."
On August 2nd, Hyung Jin Moon paid a courtesy visit to Ven. Bub Jang, the president of the Jogye order of Korean Buddhism. In his awkward Korean, Mr. Moon emphasized the importance of religion. Mr. Moon is 27 years old and the youngest son of the Rev. Sun Myung Moon, the founder of the Unification Church and the Family Federation for World Peace and Unification.
Mr. Moon and President Bub Jang's relationship goes back to their first meeting when President Bub Jang visited the Harvard Center for the Study of World Religions in Boston.
At that time Mr. Moon had drawn people's attention by saying, "I am deeply interested in Buddhism, so I shaved my head and I am studying meditation." This time, Mr. Moon paid a return visit to President Bub Jang.
In their conversation, President Bub Jang said, "This world is not based on an 'I-You' relationship but on the doctrine of 'dependent origination.' Consequently, what belongs to me is as important as what belongs to you. This indeed is the aim of religion." He also pointed out that, "pastors and monks should not just hold dear their respective titles but should think of the whole and stand strong as guideposts in presenting the values in life that the world's people aspire towards."
To this Mr. Moon responded, "The more I study the world's religions, the more I feel that there is much to learn. I will engrave your guidance in my heart and study even harder to explore a path of co-existence." He also emphasized that, "at a time when terrorism, war and conflict between religions is rampant in many parts of the world, religious people should gain a comprehensive understanding of the world's religions and be of one heart and mind in following the path towards world peace."
To this the Ven. Bub Jang replied, "It is important for people to be able to live as human beings and to be able to change their thoughts. I hope that you, Mr. Moon, can become a person who can present these aims to many people who wonder how to live life to the fullest and how people should think in the proper way."
Also present at this meeting were Ven. Shim Gyeong, head of the Department of Secretarial Affairs; Ven. Jeong Nyum, director of the Missionary Activities Office of the Jogye Order of Korean Buddhism; and Rev. Joo Hyun Pak from the Unification Church.
Translation by Ko, Geon-duk


Download entire book in ZIP format


Table of Contents


Copyright Information