| | |
| --- | --- |
| | The Words of Hyung Jin Moon From 2012 |
True Family Values Awards Banquet in Chicago
Hyung Jin Moon
December 29, 2012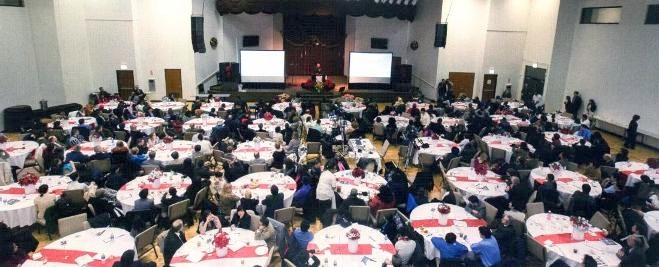 Held in the year of Father's ascension, the seventeenth annual True Family Values Awards Banquet had special significance. On Saturday evening, December 29, hundreds of Christian pastors and evangelists joined Unificationists at Mt. Vernon Baptist Church on Chicago's West Side to honor Father's legacy and to give tribute to his lifelong work to realize God's ideal family as the true model for world peace.

Rev. Hyung Jin Moon spoke plainly and bravely in front of this gathering of prominent faith leaders, explaining that "Absolute Sex" is the very core of Father Moon's teaching. He challenged his audience not only to practice, but also to promote, these values in their family and community. Rev. David Kasbow, state pastor for Michigan, reported:
Rev. Oni Faith heard Rev. Hyung Jin Moon's message on the OSDP broadcast on December 15 and was very inspired by this practical teaching which gave her a strong desire to share it with other pastors. She agreed that no one other than Father Moon is teaching about the pure love of God and good, healthy sex in marriage. Hearing it again tonight only confirmed her desire to share it.